The Checkers returned home last weekend and kept their winning ways rolling by sweeping the Hartford Wolf Pack in their last meetings of the season.
Week in Review
Team Statistics
Overall record

35-24-3

Home record

20-9-1

Road record

15-15-2

Last weeks' record

2-0-0

Last 10 games

6-4-0

Division Standings

4th

Conference Standings

7th

League Standings

11th
Checkers 4, Hartford 3
Returning home for the first time this month, the Checkers rallied back to top the Hartford Wolf Pack. After falling into a 2-0 hole in the first, Valentin Zykov pulled Charlotte back into the contest with a pair of power-play goals to tie the game through 40 minutes of play. The visitors jumped back on top early on in the third, but the Checkers again pushed back. After Janne Kuokkanen ripped a one-timer from the right circle to even the score, Andrew Poturalski picked up the rebound of a Trevor Carrick-shot off the post and banged it home for what would stand as the eventual game winner.
Full recap
Checkers 7, Hartford 3
In their final meeting of the season, the Checkers again got the best of the Hartford Wolf Pack. Charlotte roared out to a three-goal lead through one period of play, but a two-goal frame from the visitors tightened the contest heading into the second intermission. Warren Foegele opened the third with his franchise-best 25th goal as a rookie before Patrick Brown converted a shorthanded breakaway to push the Checkers back ahead by two. The Wolf Pack netted one more shortly after and then pulled their goalie for an extra attacker for one last rally attempt. That would backfire, however, as Nicolas Roy hit the empty net to extend the lead, then Alex Nedeljkovic became the 13th goalie in AHL history to score a goal and sealed Charlotte's 7-3 win.
Full recap
Three Stars Of The Week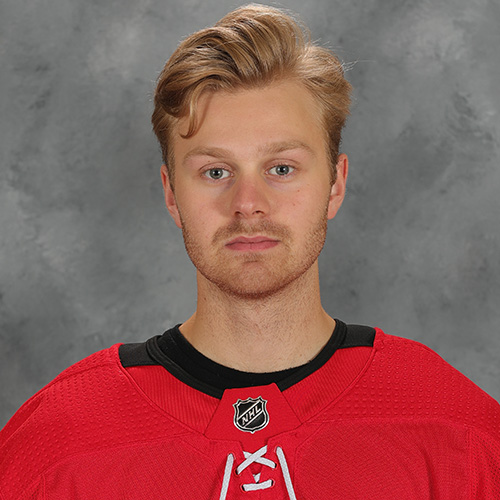 3rd Star
Lucas Wallmark
0g, 4a
2nd Star
Trevor Carrick
1g, 3a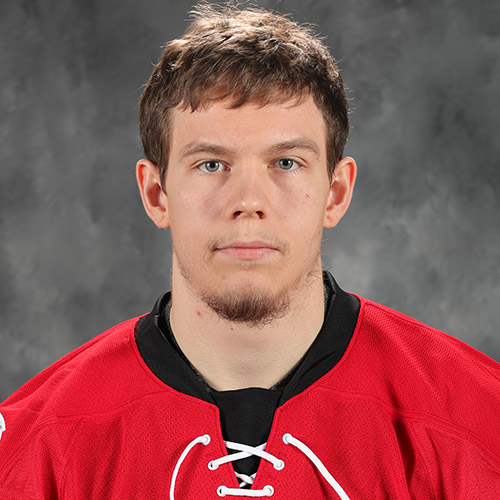 1st Star
Valentin Zykov
2g, 2a
Notables
SNIPER BETWEEN THE PIPES
With the Checkers ahead by three and an empty net for Hartford in the waning minutes of Saturday's game, netminder Alex Nedeljkovic collected a loose puck to the side of the cage and flung it all the way down the ice and into the visitors net. That made Nedeljkovic the 13th goalie in AHL history to score a goal and just the 8th to do so with a shot.
That tally was actually Nedeljkovic's second pro goal, as the netminder scored for the ECHL's Florida Everblades last season as a rookie.
FRESHMAN PHENOM
Warren Foegele earned his spot atop the record books on Saturday as well. A slick wrap-around conversion in the third period brought Foegele's total to 25, breaking Lucas Wallmark's franchise record for goals by a rookie.
The 21-year-old leads all AHL rookies in goals this season, boasting a three-goal lead over the second place skater, and is tied for fourth in the league overall.
CARRICK PITCHES IN
Last weekend's series against Hartford saw Trevor Carrick deliver a big boost to the Checkers' production. The blue liner set a career high with three helpers in Friday's win, then pinched in to collect a rebound goal in Saturday's rematch.
Carrick now has 33 points on the year, putting him into a tie for eighth among all AHL defensemen. The fourth-year pro has especially excelled on the man advantage, as his 19 power-play assists are the second-most by blue liner in the league.
SOLID ADDITION
Carolina's trade deadline acquisition Greg McKegg has made a big splash during his short time with the Checkers. The forward has picked up a point in four of the five games he's played for Charlotte, including his first goal with his new club in Saturday's win.
KUOKKANEN STAYS HOT
The reigning AHL Rookie of the Month continued his hot streak over the weekend, notching three points in the two-game series against Hartford. Kuokkanen's 25 helpers this season, which put him in a tie for fifth among all AHL rookies, are tied for the third-most in a single-season by a Checkers rookie, nine shy of the franchise record set by Zac Dalpe in 2010-11.
Ranks
Valentin Zykov leads the lead in goals (30), power-play goals (16) and shooting percentage (29.4), is tied for second in game-winning goals and is tied for 14th in the AHL in scoring (48)
Andrew Miller is tied for seventh in the AHL in scoring (51) and sixth in assists (36) despite missing the last nine games
Warren Foegele leads all rookies and is tied for fourth overall in goals (25), is tied for second in the AHL in shorthanded goals (4), is tied for the league lead in shorthanded points (6), is tied for second in the AHL in game-winning goals (7), ranks fourth among league rookies in plus-minus (+18), ranks second among rookies in shooting percentage (18.7) and ranks seventh among league rookies in scoring (41)
Trevor Carrick ranks second in the AHL in power-play assists, tied for eighth among league defensemen in scoring (33) and ranks fifth among blue liners in power-play points (21)
Philip Samuelsson ranks second in the AHL in plus-minus (+31)
Roland McKeown is tied for third in the AHL in plus-minus (+30)
Alex Nedeljkovic leads the AHL in wins (27), ranks second in shutouts (5) and ranks third in minutes played (2,368)
Aleksi Saarela ranks fifth in among league rookies in goals (20) and is tied for second in power-play goals (9)
Janne Kuokkanen is tied for fifth among league rookies in assists (25)
INJURIES
Andrew Miller missed nine games starting 2/18
Jake Chelios missed seven games starting 2/24
Marcus Kruger missed five games starting 3/2
Transactions
Incoming
Mar. 11: (G) Callum Booth recalled from Florida (ECHL)
Mar. 8: (C) Lucas Wallmark assigned from Carolina (NHL)
Outgoing
Mar. 11L (RW) Valentin Zykov recalled by Carolina (NHL)
Coming Up
Tuesday, March 13 at 7 p.m. - Checkers vs. Wilkes-Barre/Scranton
Country Boy Landscaping Food Drive - donate at least four cans of food to receive a free ticket for Sunday, April 8
Wednesday, March 14 at 7 p.m. - Checkers vs. Wilkes-Barre/Scranton
GE Iron Grip Adhesive Night - Sponsored by Momentive Performance Materials, the manufacturer of GE-branded sealants and adhesives. Iron Grip is a trademark of Momentive Performance Materials, Inc.
Winning Wednesday presented by Farm Bureau - Enjoy $1 beer presented by Bud Light and get a free ticket to our next Wednesday game if we win
College Night presented by Hendrick Acura - Get $15 best available tickets in the Gold and Attack Zone sections when purchasing online with your valid college email address. Click the button and use promo code CHECKERS (case sensitive).
Saturday, March 17 at 6 p.m. - Checkers vs. Binghamton
St. Patrick's Day presented by Aggressive Hydraulics - players to wear special green jerseys with postgame live auction benefiting the Checkers Charitable Foundation and Dream On 3
St. Patrick's Packs - one game ticket, one beer and a $10 merchandise certificate for just $25 total. Must be 21 or over to purchase. Click here to purchase
Flashlight giveaway to the first 2,000 fans courtesy of Aggressive Hydraulics
Autobell cup giveaway to the first 3,000 fans
Bojangles' Mystery Card giveaway to the first 5,000 fans
Sunday, March 18 at 2 p.m. - Checkers vs. Binghamton
Chubby's Birthday
Checkers Alumni Night - featuring appearances by former players from the 1960s and 70s
Husqvarna Homegrown Series - Plaza Midwood Night
Knights Ticket package - get one ticket to this game and one Charlotte Knights ticket for $25!
Daddy/Daughter Day - includes a special ticket to the game and a pregame event with Disney Princesses
By the Numbers
| | | | |
| --- | --- | --- | --- |
| CATEGORY | RECORD | AHL RANK | LAST WEEK |
| Power play | 20.6% | 4th | 4th |
| Penalty kill | 82.2% | t-21st | t-19th |
| Goals per game | 3.37 | 3rd | 4th |
| Shots per game | 29.65 | 20th | t-18th |
| Goals allowed per game | 2.90 | t-16th | t-14th |
| Shots allowed per game | 27.06 | 3rd | 3rd |
| Penalty minutes per game | 11.97 | 8th | 8th |
LEADERS
| | |
| --- | --- |
| CATEGORY | LEADER(S) |
| Points | Andrew Miller (51), Valentin Zykov (48), Warren Foegele (41) |
| Goals | Valentin Zykov (30), Warren Foegele (25), Aleksi Saarela (20) |
| Assists | Andrew Miller (36), Lucas Wallmark (27), Trevor Carrick (26) |
| Power play goals | Valentin Zykov (16), Aleksi Saarela (9), Andrew Poturalski (6) |
| Shorthanded goals | Warren Foegele (4), Nicolas Roy, Clark Bishop (2) |
| Game-winning goals | Valentin Zykov, Warren Foegele (7), Andew Poturalski (6) |
| Shots on goal | Warren Foegele (134), Trevor Carrick (126), Aleksi Saarela (120) |
| Penalty minutes | Trevor Carrick (81), Josiah Didier (60), Zack Stortini (55) |
| Plus/minus | Philip Samuelsson (+31), Roland McKeown (+30), Warren Foegele (+18) |
| Wins | Alex Nedeljkovic (27) |
| Goals-against average | Alex Nedeljkovic (2.53) |
| Save percentage | Alex Nedeljkovic (.904) |