AHL goal scoring leader Valentin Zykov struck twice, including the winner in overtime, as the Checkers picked up a 3-2 win in Springfield on Saturday to help maintain their hold on a playoff spot.
Zykov, who entered the game on a seven-game scoring drought, sealed the victory just 1:04 into the extra session as the collected the rebound on a shot by new Checker Greg McKegg and beat Springfield's Samuel Montembeault for his 27th of the season. It was the Checkers' second overtime victory of the campaign, both of which were scored by Zykov.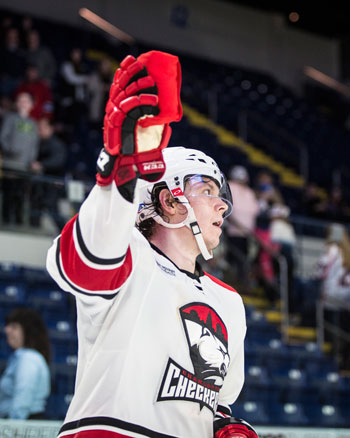 Though he provided the decisive final touch in overtime, Zykov also made his presence felt early as he opened the scoring just 1:50 into the first period. Teammate Aleksi Saarela gave the visitors a 2-0 lead on a power-play goal before the period had ended, only to see the Thunderbirds gradually claw their way back with one goal in the second period and another midway through the third that tied the game.
Goaltender Jeremy Smith made 25 saves for the Checkers to earn his first victory since Dec. 17.
With the win, Charlotte maintains its three-point lead in the Atlantic Division playoff race over Bridgeport, which erased a 2-0 first-period deficit in its simultaneous game against Belleville to win 4-2. Bridgeport, which has won four straight, has one game in hand.
NOTES
Prior to tonight, Zykov's last goal was on Feb. 13 … Prior to his goal, Saarela had just one point in his last nine games … Saarela also scored the Checkers' last power play goal on Feb. 14, with tonight's tally ending the team's 0-for-23 skid that lasted six games … After going eight straight games without allowing a power-play goal, the Checkers allowed one in each of their last two games … Smith has allowed three goals in his last two starts. Prior to that, he had allowed three or more in each of his last five … McKegg has an assist in each of his first two games as a Checker … Charlotte is now 2-0 in games decided during overtime and is 0-3 in the shootout … This concluded the eight-game season series between Charlotte and Springfield, and was the only time that the visiting team prevailed … Prior to tonight, Springfield had won four straight … Forwards Marcus Kruger and Andrew Miller and defenseman Jake Chelios missed the game due to injury … Forwards Mike Ferrantino and Zack Stortini and defenseman Tyler Ganly were healthy extras.
UP NEXT
The Checkers' six-game road swing concludes with a game in Hartford tomorrow (3 p.m.). The team will then begin a six-game home stand against Hartford on Friday, March 9 (7:15 p.m.).