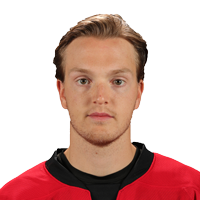 Born: March 22, 1995
Birthplace: Mississauga, ON
Hometown: Milton, ON
Shoots: Right
Drafted: CAR 2013 (6th, 156th)
Career Statistics
Regular Season
Playoffs
Season
Team
League
GP
G
A
PTS
PIM
GP
G
A
PTS
PIM
2012-13
Sault Ste. Marie
OHL
62
0
17
17
64
6
0
0
0
0
2013-14
Sault Ste. Marie
OHL
67
3
18
21
62
9
0
2
2
8
2014-15
Sault Ste. Marie
OHL
38
2
14
16
33
14
2
7
9
4
2015-16
Florida
ECHL
15
0
1
1
2
-
-
-
-
-
Charlotte
AHL
26
0
2
2
23
-
-
-
-
-
2016-17
Florida
ECHL
11
0
1
1
0
-
-
-
-
-
Charlotte
AHL
2
0
0
0
0
-
-
-
-
-

---

AHL TOTALS
28
0
2
2
23
-
-
-
-
-
NHL TOTALS
-
-
-
-
-
-
-
-
-
-
PRO TOTALS
54
0
4
4
25
-
-
-
-
-
Biography
Signed a three-year, entry-level contract with Carolina on 6/1/15.
Personal
Grew up a fan of the Toronto Maple Leafs and his favorite player was Niklas Kronwall … Favorite type of music is alternative rock and his favorite band is Arkells … Likes the Harry Potter movies ("all of them") and his favorite TV show is How I Met Your Mother … Favorite food is pizza … Favorite place to visit is Ireland … Hobby away from the rink is rock climbing … His biggest talent outside of hockey is "anything active" ... Is a fan of the Toronto Blue Jays and Raptors and his favorite athlete of all time is Roger Federer ... Claims to be a MASTER USA Today crossword solver.
2016-17
Split his second professional season between the Checkers and the ECHL's Florida Everblades … Suffered an injury during training camp that kept him out of action until February … Picked up an assist in first game of the season with the Everblades at ATL (2/3) … Joined Charlotte on 3/3 after playing 11 games with Florida … Played on the wing in his only two AHL games with the Checkers on 3/18 and 3/21.
2015-16
Completed his first professional season, splitting time between the Checkers and the ECHL's Florida Everblades … Made his AHL debut, recorded his first AHL point with an assist and was a season-best plus-2 in the Checkers' first game of the season at IA (10/10) … Assigned to Florida on 12/8 … Returned to Charlotte on 1/19 after posting one assist in 15 ECHL games with the Everblades … Assisted on Ethan Werek's first-period goal at GR (2/19) … Dropped the gloves with Yannick Veilleux for his first pro fight and set a season high with 15 penalty minutes (game misconduct, secondary altercation) vs. CHI (3/10) … Served as a healthy extra 34 times
Junior
Totaled 54 points (5g, 49a) in 167 games across three OHL seasons with Sault Ste. Marie ... Served as assistant captain each of the last two seasons ... Ranked second among team defensemen in scoring during the 2015 playoffs with nine points (2g, 7a) in 14 games ... Ranked third among team defensemen in scoring during the 2013-14 season