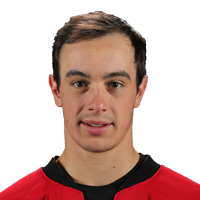 Born: Jan. 14, 1994
Birthplace: Williamsville, NY
Shoots: Right
Drafted: Undrafted
Career Statistics
Regular Season
Playoffs
Season
Team
League
GP
G
A
PTS
PIM
GP
G
A
PTS
PIM
2011-12
Cedar Rapids
USHL
2
2
1
3
0
-
-
-
-
-
2012-13
Cedar Rapids
USHL
53
12
21
33
43
-
-
-
-
-
2013-14
Cedar Rapids
USHL
60
27
37
64
28
4
2
1
3
2
2014-15
New Hampshire
NCAA
40
14
15
29
16
-
-
-
-
-
2015-16
New Hampshire
NCAA
37
22
30
52
24
-
-
-
-
-
Charlotte
AHL
16
2
3
5
0
-
-
-
-
-
2016-17
Charlotte
AHL
74
19
33
52
34
5
0
0
0
5
Carolina
NHL
2
0
0
0
0
-
-
-
-
-

---

AHL TOTALS
90
21
36
57
34
5
0
0
0
5
NHL TOTALS
2
0
0
0
0
-
-
-
-
-
PRO TOTALS
92
21
36
57
34
5
0
0
0
5
Biography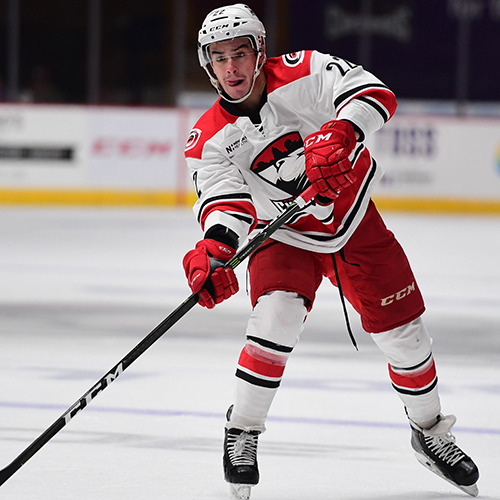 Signed a two-year, entry-level contract with Carolina on 3/8/16.
Personal
Favorite team growing up was the Buffalo Sabres and favorite player was Sidney Crosby ... Favorite type of music is country and favorite band is Old Dominion ... Favorite movie is The Dark Knight and favorite TV show is Game of Thrones ... Favorite food is pizza and favorite place to visit is Cape Cod ... Biggest talent outside of hockey is golf, where he owns a 1 handicap ... Also enjoys fishing ... Favorite sports team outside of hockey is the Buffalo Bills ... Andrew says something interesting about him is that he is three inches taller than teammate Andrew Miller.
2016-17
Led the Checkers with 52 points and 33 assists in his first full professional season while also appearing in the NHL for the first time with Carolina … Point total ranked third among AHL rookies and was the second-highest rookie total in team history (Zac Dalpe, 2010-11) … Led the team with six power play goals and ranked second with 74 games played … Scored goals in each of his first three games of the season, culminating with a four-point (2g, 2a) effort at IA (10/21) that tied the most points and highest plus/minus rating (+4) by a Checkers skater this season … Picked up an assist at SA (11/18) to give him 13 points (5g, 8a) in his first 13 games of the season … Marked two three-game point streaks, separated by one game, from 1/10-1/14 and 1/18-1/22 … Had two goals, including the overtime winner, vs. CLE (2/24) ... Set a career high with an eight-game point streak from 2/4-2/25, the longest by a Checker this season (4g, 6a) … Held off the score sheet just three times in 18 games from 1/10-2/25 (6g, 11a) … Had three points (1g, 2a) and was plus-3 in the 5-4 shootout win vs. MIL (3/1) ... Recalled to Carolina on 4/3 and made his NHL debut on 4/4.
2015-16
Signed an entry-level contract with Carolina on 3/8 at the conclusion of his sophomore season at the University of New Hampshire … Signed an amateur tryout contract with Charlotte on 3/10 … Scored a goal, the eventual game winner, on the first shot of his professional debut vs. RFD (3/12) … Notched his first professional assist with the primary helper on Erik Karlsson's goal at MB (3/26) … Scored his second goal of the season vs. TEX (4/1) … Fired a season-high four shots on goal vs. RFD (4/5) … Set up the Checkers' only goal of the game, a power-play tally by Anthony Camara, vs. RFD (4/6) … Assisted on Justin Shugg's goal vs. MIL (4/9), giving him points in consecutive games for the first time (0g, 2a).
College
Totaled 81 points (36g, 45a) in 77 games over two seasons at the University of New Hampshire … Ranked second in the NCAA in scoring at the conclusion of his sophomore season with 52 points (22g, 30a) in 37 games, earning first-team All America honors … Also named a Hobey Baker Memorial Award Finalist, a New England Hockey Division I All-Star and a Hockey East First-Team selection … Led the Wildcats in goals and points, was tied for first in power-play goals and ranked second in assists … Ranked fourth on the team in goals and points in his freshman season.
Junior
Totaled 100 points (41g, 59a) in 115 USHL games with Cedar Rapids before heading to the University of New Hampshire