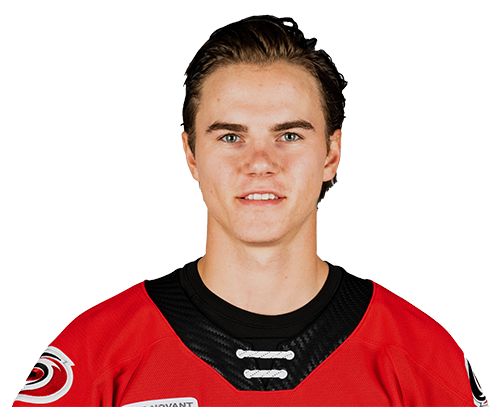 Born: June 9, 1998
Birthplace: Calgary, AB
Shoots: Left
Drafted: CAR 2016 (1st, 13th)
Career Statistics
Regular Season
Playoffs
Season
Team
League
GP
G
A
PTS
PIM
GP
G
A
PTS
PIM
2014-15
Calgary
WHL
51
5
34
39
2
7
2
4
6
0
2015-16
Calgary
WHL
68
24
40
64
28
5
0
2
2
2
2016-17
Calgary
WHL
43
8
37
45
14
4
0
2
2
0
2017-18
Calgary
WHL
25
5
22
27
12
-
-
-
-
-
Tri-City
WHL
32
7
14
21
10
14
1
17
18
2
Charlotte
AHL
-
-
-
-
-
1
0
0
0
0
2018-19
Carolina
NHL
2
0
0
0
2
-
-
-
-
-
Charlotte
AHL
70
13
31
44
26
15
1
4
5
10

---

AHL TOTALS
70
13
31
44
26
16
1
4
5
10
NHL TOTALS
2
0
0
0
2
-
-
-
-
-
PRO TOTALS
72
13
31
44
28
16
1
4
5
10
Signed a three-year, entry-level contract with Carolina on 7/9/16.
PERSONAL
Favorite team growing up: Calgary Flames … Favorite player growing up: Pavel Datsyuk … Favorite Song: "Happy Hour" by Cole Bradley … Favorite movie: Harry Potter … Favorite TV show: Entourage … Favorite vacation spot: Scottsdale, AZ … Dogs or cats: Dogs … Favorite emoji: 🙂 … Interesting fact: He's an avid golfer and ping pong player
2017-18
Joined the Checkers at the conclusion of his junior season with Tri-City and made his professional debut in Game 3 of the second-round playoff series vs. LV (5/8).
JUNIOR
Totaled 196 points (49g, 147a) in 219 WHL games over four seasons with Calgary and Tri-City … Ranked fourth among WHL defensemen in playoff scoring with 21 points in 2018 ... Led all WHL defensemen in goals in 2015-16 … Named to WHL (East) Second All-Star Team … Ranked second on the Hitmen in goals and third in points in 2015-16 … Ranked second among team blue liners in scoring as a 16-year-old in 2014-15.
INTERNATIONAL
Represented Canada at the 2017 (silver) and 2018 (gold) World Junior Championships.