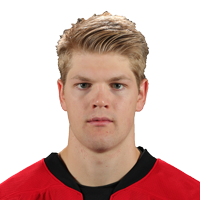 Born: April 1, 1996
Birthplace: Markham, ON
Shoots: Right
Drafted: CAR 2014 (3rd, 67th)
Career Statistics
Regular Season
Playoffs
Season
Team
League
GP
G
A
PTS
PIM
GP
G
A
PTS
PIM
2014-15
New Hampshire
NCAA
34
5
11
16
26
-
-
-
-
-
2015-16
New Hampshire
NCAA
5
0
1
1
4
-
-
-
-
-
Kingston
OHL
52
13
35
48
44
9
8
2
10
12
2016-17
Kingston
OHL
28
11
20
31
20
-
-
-
-
-
Erie
OHL
33
16
16
32
20
22
13
13
26
25
2017-18
Charlotte
AHL
73
28
18
46
40
8
0
3
3
12
Carolina
NHL
2
2
1
3
0
-
-
-
-
-

---

AHL TOTALS
73
28
18
46
40
8
0
3
3
12
NHL TOTALS
2
2
1
3
0
-
-
-
-
-
PRO TOTALS
75
30
19
49
40
8
0
3
3
12
Biography
Represented the Checkers at the AHL All-Star Classic in 2018 … Holds Checkers rookie records for goals (28), game-winning goals (9), shorthanded goals (4), shorthanded points (6) and plus/minus (plus-22) … Set a Checkers single-season record with four shorthanded goals in 2017-18, tying him for third on the franchise's all-time list … Ranked tied for fifth in franchise history with six shorthanded points … Ranked tied for fifth in team history with nine game-winning goals ... Signed a three-year, entry-level contract with Carolina on 3/31/17.
2017-18
Played the majority of his first professional season with the Checkers while also appearing at the NHL level with Carolina … Scored 28 goals to rank second on the Checkers, second among AHL rookies and 11th among all AHL skaters … Led the league with nine game-winning goals … Ranked fifth on the Checkers, first among Checkers rookies and eighth among AHL rookies with 46 points … Posted a plus-22 rating to rank third on the Checkers and fifth among league rookies … Earned AHL Player of the Week honors in his first week as a professional (period ending 10/8) after posting four goals, including two shorthanded and two game winners, in his first two games … Posted his first three-point game with a goal and two assists vs. PRO (11/25) … Extended his point streak to three games (4g, 3a) with the first hat trick of his career, including his fourth shorthanded goal of the season, vs. SPR (12/1) … Had three points (2g, 1a) for the third time in his last 10 outings vs. LAV (12/17) … Scored three points (2g, 1a) and tied his career high with six shots on goal vs. BRI (1/16) … Represented the Checkers at the 2018 AHL All-Star Classic in Utica and tied for the Atlantic Division team lead with four assists during the round-robin tournament on 1/29 … Suspended one game for boarding during a 3/17 game vs. BNG … Recalled to Carolina for the first time on 3/25 and scored a goal and an assist in his NHL debut vs. OTT on 3/26 … Scored again in his second NHL game at NJ (3/27) … Reassigned to Charlotte on 3/28 after scoring three points (2g, 1a) in his first two NHL games … Scored twice in the regular-season finale at BRI (4/15).
JUNIOR
Totaled 111 points (40g, 71a) in 113 OHL games with Kingston and Erie … Tied for sixth on Erie in goals despite playing only 33 games in 2016-17 … Ranked fourth on the team in postseason goals and helped lead the Otters to an OHL championship and a berth in the Memorial Cup Final … Tied for third on Kingston in assists in 2015-16.
COLLEGE
Totaled 17 points (5g, 12a) in 39 NCAA games with the University of New Hampshire … Played alongside Andrew Poturalski both seasons … Ranked seventh on the team in goals as a freshman in 2014-15.