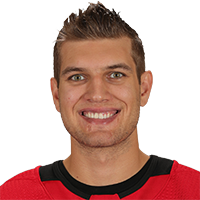 Born: June 18, 1992
Birthplace: Spruce Grove, Alberta
Shoots: Right
Drafted: WPG 2013 (7th, 190th)
Career Statistics
Regular Season
Playoffs
Season
Team
League
GP
G
A
PTS
PIM
GP
G
A
PTS
PIM
2008-09
Spokane
WHL
57
1
8
9
12
8
0
0
0
0
2009-10
Spokane
WHL
70
4
15
19
21
7
0
0
0
4
2010-11
Spokane
WHL
64
23
58
81
31
17
1
10
11
2
2011-12
Spokane
WHL
71
17
57
74
49
1
0
1
1
0
2012-13
Spokane
WHL
71
22
63
85
30
9
2
5
7
6
2013-14
St. John's
AHL
76
10
38
48
14
21
2
5
7
2
2014-15
St. John's
AHL
65
8
21
29
32
-
-
-
-
-
2015-16
Manitoba
AHL
68
11
30
41
36
-
-
-
-
-
2016-17
Manitoba
AHL
63
1
22
23
52
-
-
-
-
-
2017-18
Charlotte
AHL
63
4
20
24
61
8
0
3
3
0

---

AHL TOTALS
335
34
131
165
195
29
2
8
10
2
NHL TOTALS
-
-
-
-
-
-
-
-
-
-
PRO TOTALS
335
34
131
165
195
29
2
8
10
2
Biography
Signed one-year, two-way contract with Carolina on 7/1/17.
2017-18
Completed his fifth professional season and first with the Checkers … Ranked second among team defensemen in assists (20) and points (24) … Tied for fourth on the team with a career-high 61 penalty minutes … After missing the first seven games due to an injury suffered during the preseason, had two assists in his Checkers debut vs. UTI (10/28) … Scored his first goal of the season on the power play vs. BEL (11/21) … Had an assist vs. PRO (11/25) to extend his point streak to a season-long four games (1g, 3a) … Picked up an assist and fired a career-high six shots on goal vs. LV (12/13) … Posted an assist for the third consecutive game (3a) and was plus-2 vs. HER (12/21) … Scored the Checkers' lone goal and was plus-1 in a 3-1 loss vs. SYR (2/18) … Posted his second multi-assist/point game of the season with a pair of helpers vs. HER (4/7) … Recorded a positive plus/minus rating in six consecutive games from 3/30-4/8 (+7) … Assisted on Lucas Wallmark's overtime goal and was plus-2 in the Checkers first game of the playoffs, a 3-2 win vs. WBS (4/20).
2016-17
Ranked second among Moose defensemen in scoring … Ranked sixth on the team and first among blue liners in penalty minutes.
2015-16
Led all Manitoba skaters in points and assists ... Led Manitoba blue liners with a career high 11 goals.
2014-15
Ranked second among St. John's defensemen in goals, assists and points.
2013-14
Named to the AHL All-Star Game … Named to AHL All-Rookie Team … Led all AHL rookies in assists … Led Moose defensemen in goals, assists and points … Ranked second on the team in assists … Tied for eighth on the team in postseason assists and helped lead the IceCaps to the Calder Cup Final.
JUNIOR
Totaled 268 points (67g, 201a) in 333 games over five WHL seasons with Spokane … Served as team captain in 2012-13 and alternate captain in 2011-12 … Won Bill Hunter Trophy in 2012-13 as the league's top defenseman … Led all WHL blue liners in points and assists for three consecutive seasons from 2010-2013 … Named to Western Conference First All-Star Team in 2011-12 and 2012-13 and to Western Conference Second All-Star Team in 2010-11 … Ranked second on team in postseason assists in 2010-11.