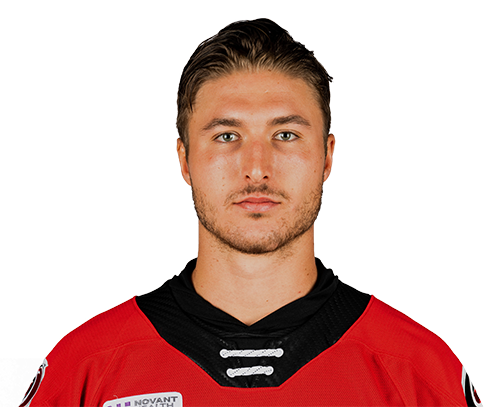 Born: May 12, 1994
Birthplace: Marysville, MI
Shoots: Right
Drafted: Undrafted
Career Statistics
Regular Season
Playoffs
Season
Team
League
GP
G
A
PTS
PIM
GP
G
A
PTS
PIM
2011-12
Green Bay
USHL
59
16
20
36
33
12
1
5
6
0
2012-13
Green Bay
USHL
59
32
39
71
27
4
1
2
3
2
2013-14
Ohio State
NCAA
37
13
13
26
12
-
-
-
-
-
2014-15
Ohio State
NCAA
33
10
12
22
6
-
-
-
-
-
2015-16
Ohio State
NCAA
36
19
22
41
12
-
-
-
-
-
2016-17
Ohio State
NCAA
35
27
14
41
11
-
-
-
-
-
2017-18
Charlotte
AHL
48
5
7
12
6
-
-
-
-
-
2018-19
Florida
ECHL
2
0
2
2
0
-
-
-
-
-
Charlotte
AHL
64
15
22
37
12
19
1
7
8
10

---

AHL TOTALS
112
20
29
49
18
19
1
7
8
10
NHL TOTALS
-
-
-
-
-
-
-
-
-
-
PRO TOTALS
114
20
31
51
18
19
1
7
8
10
Biography
Signed an AHL contract with Charlotte on 6/1/18.
Personal
Favorite team growing up: Detroit Red Wings … Favorite player growing up: Pavel Datsyuk … Favorite artist: Dierks Bentley … Favorite movie: Superbad … Favorite TV show: The Office … Favorite video game: NHL … Favorite restaurant in Charlotte: Common Market … Favorite vacation spot: Sarasota, FL … Dogs or cats: Dogs … Last thing you watched on Netflix: Ozark … Fun facts: Enjoys the outdoors, winter sports, fishing and hunting in the offseason
2017-18
Spent the entirety of his first professional season at the AHL level with the Checkers … Scored the game-winning goal on the power play in his AHL/professional debut vs. BRI (10/14) … Scored the go-ahead goal on the power play in the third period of an eventual 6-4 win at TOR (10/22) … Picked up an assist at SYR (11/11), extending his point streak to a season-long three games (1g, 2a) and giving him six points (3g, 3a) in his first eight games of the season … Scored his second game-winning goal of the season at BNG (12/9).
COLLEGE
Totaled 130 points (69g, 61a) in 141 games over four seasons at Ohio State University … Served as team captain his junior and senior years … Led the Buckeyes and ranked third in the nation in goals as a senior … Named to Big-10 Second All-Star Team during his junior and senior seasons … Named to conference All-Rookie Team during his freshman year.
JUNIOR
Totaled 107 points (48g, 59a) in 118 games over two USHL seasons with Green Bay … Helped lead the Gamblers to a Clark Cup in 2014.