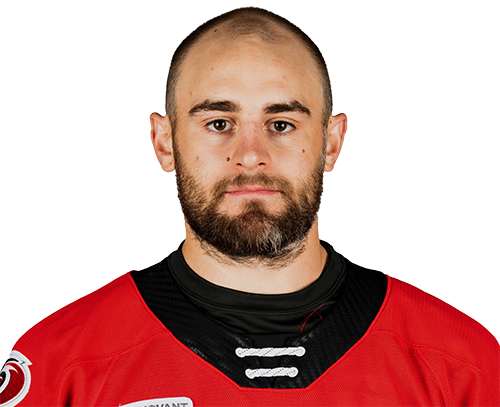 Born: April 8, 1993
Birthplace: Littleton, CO
Shoots: Right
Drafted: MON 2011 (4th, 97th)
Career Statistics
Regular Season
Playoffs
Season
Team
League
GP
G
A
PTS
PIM
GP
G
A
PTS
PIM
2010-11
Cedar Rapids
USHL
58
8
13
21
81
8
0
2
2
7
2011-12
Denver
NCAA
41
0
3
3
36
-
-
-
-
-
2012-13
Denver
NCAA
31
0
7
7
48
-
-
-
-
-
2013-14
Denver
NCAA
36
1
7
8
61
-
-
-
-
-
2014-15
Denver
NCAA
40
3
8
11
58
-
-
-
-
-
Hamilton
AHL
8
0
1
1
5
-
-
-
-
-
2015-16
St. John's
AHL
53
0
5
5
58
-
-
-
-
-
Brampton
ECHL
4
1
0
1
4
-
-
-
-
-
2016-17
St. John's
AHL
39
2
6
8
25
4
0
0
0
0
Brampton
ECHL
1
0
1
1
0
-
-
-
-
-
2017-18
Florida
ECHL
12
3
4
7
27
-
-
-
-
-
Charlotte
AHL
54
4
5
9
79
5
1
2
3
0
2018-19
Charlotte
AHL
41
2
8
10
52
19
0
4
4
4

---

AHL TOTALS
195
8
25
33
219
28
1
6
7
4
NHL TOTALS
-
-
-
-
-
-
-
-
-
-
PRO TOTALS
212
12
30
42
250
28
1
6
7
4
Biography
Signed an AHL contract with Charlotte on June 1, 2018.
Personal
Favorite team growing up: Colorado Avalanche … Favorite player growing up: Nicklas Lidstrom … Favorite song: "Colorado" by Florida Georgia Line … Favorite movie: Gladiator … Favorite TV show: Sons of Anarchy … Favorite video game: Fortnite … Favorite restaurant in Charlotte: Tupelo Honey … Favorite vacation spot: Maui … Dogs or cats: Dogs … Last thing you watched on Netflix: Peaky Blinders
2017-18
Split his third professional season between the Checkers and the ECHL's Florida Everblades … Set career highs at the AHL level in games played (54), goals (4), points (9), penalty minutes (79) and plus/minus (+10) … Ranked second on the team in penalty minutes … Led the team with a plus-6 rating in the playoffs … Joined the Checkers for the first time on 11/2 after beginning the season with ECHL Florida and picked up an assist in his debut at BEL (11/3) … Returned to Florida on 11/11 after posting one assist and a plus-3 rating in four AHL games … Recalled from Florida on 11/20 and spent the remainder of the season with Charlotte … Scored his first goal of the season in a 3-2 shootout loss at HFD (1/26) … Scored a goal at HER (2/4), giving him three points in his last four games (2g, 1a) … Posted an even or better plus/minus rating in 12 consecutive games from 1/21-2/18 (+9) … Set a career high with 17 penalty minutes due to fighting at puck drop vs. SYR (2/18) … Scored on one of his career-high six shots on goal and was plus-2 at PRO (3/2) … Suspended one game for elbowing during a 3/14 game vs. WBS … Tied his career high with 17 penalty minutes as the result of a single interference incident vs. BNG (3/18) that resulted in a three-game suspension … Had a goal and an assist for his only multi-point game of the season in a 3-1 win vs. HER (4/8) … Scored the game-winning goal with 5:42 remaining in regulation and was plus-3 in the Game 2 playoff win vs. WBS (4/21) … Had two assists and was plus-3 in the series-clinching Game 3 playoff win at WBS (4/26) … Left the Checkers' Game 2 win at LV on 5/5 due to injury and did not play again this season.
2016-17
Scored his first AHL goal at HER (2/5) … Made his professional playoff debut and appeared in 4 Calder Cup playoff games with St. John's … Recorded one assist in his lone ECHL game with Brampton.
2015-16
Ranked fifth among IceCaps defensemen in games played … Appeared in four ECHL games with the Brampton Beast … Scored his first pro goal vs ADK (10/23).
2014-15
Joined Hamilton at the conclusion of his collegiate career and appeared in eight games … Made his pro debut vs CHI (4/2) … Dropped the gloves with Gemel Smith for his first pro fight at TEX (4/11) … Recorded his first pro point with an assist at OKC (4/14).
COLLEGE
Totaled 29 points (4g, 25a) in 148 games over four seasons at the University of Denver … Served as alternate captain during his junior and senior years … Led Denver in penalty minutes during his junior and senior seasons … Helped lead the Pioneers to a National Championship in 2014.
JUNIOR
Totaled 21 points (8g, 13a) in 58 games over one USHL season with Cedar Rapids … Led RoughRiders defensemen in goals and ranked second among all team skaters in penalty minutes.