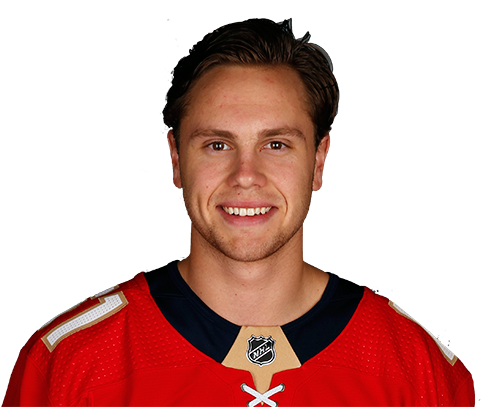 Born: March 9, 1998
Birthplace: Peterborough, Ontario
Shoots: Left
Drafted: FLA 2016 (4th, 114th)
Career Statistics
Regular Season
Playoffs
Season
Team
League
GP
G
A
PTS
PIM
GP
G
A
PTS
PIM
2014-15
Oshawa
OHL
9
0
0
0
5
-
-
-
-
-
2015-16
Oshawa
OHL
62
6
15
21
69
5
0
0
0
2
2016-17
Oshawa
OHL
62
11
22
33
76
11
1
9
10
8
2017-18
Oshawa
OHL
29
1
12
13
52
-
-
-
-
-
Hamilton
OHL
33
4
17
21
28
21
5
9
14
23
2018-19
Springfield
AHL
59
4
13
17
52
-
-
-
-
-
Florida
NHL
1
0
0
0
2
-
-
-
-
-
2019-20
Springfield
AHL
25
3
3
6
20
-
-
-
-
-
Florida
NHL
34
0
5
5
14
3
0
0
0
0

---

AHL TOTALS
84
7
16
23
72
-
-
-
-
-
NHL TOTALS
35
0
5
5
16
3
0
0
0
0
PRO TOTALS
119
7
21
28
88
3
0
0
0
0
BIOGRAPHY
Signed a three-year, entry-level contract with the Florida Panthers on 3/4/18 ... Son of former NHL forward Cory Stillman. Together, they are the first father/son duo to ever play for the Panthers.
2019-20
Began his second professional season with AHL Springfield but spent significant time in the NHL with Florida through four separate recalls ... Fought Travis Hamonic in his first NHL game of the season at CGY (10/24) ... Back in Springfield, recorded his first multi-goal game as a pro with two vs. LAV (11/30) ... Picked up his first NHL point with an assist at OTT (1/2) ... Had four assists during a span of six NHL games from 1/2-1/12 ... Recalled to Florida on 1/30 and spent the remainder of the season with the Panthers ... Played in three games of the Panthers' play-in series vs. NYI, marking his professional playoff debut.
2018-19
Spent the majority of his first professional season with AHL Springfield ... Led Springfield defensemen and ranked fourth on the team with a plus-8 rating ... Made his professional debut at WBS (10/6) ... Recorded his first professional point with an assist vs. LV (10/13) ... In his first game playing forward, scored his first professional goal vs. PRO (1/5) ... Recalled to Florida for the first time on 2/26 and recorded a team-high five hits in his NHL debut at ARI later that day ... Returned to Springfield on 3/1 ... In his first game back from Florida, scored the game-winning goal, added an assist and was plus-3 in a 4-2 win vs. PRO (3/2) ... Recorded a season-best three points, all assists, and was plus-3 vs. BNG (3/22).
JUNIOR
Compiled 88 points (22g, 66a) and 230 penalty minutes in 195 career OHL games with Oshawa and Hamilton ... OHL champion with Hamilton in 2018 ... Scored 24 points (6g, 18a) in 37 career OHL playoff games ... Alternate captain with Oshawa for three seasons.