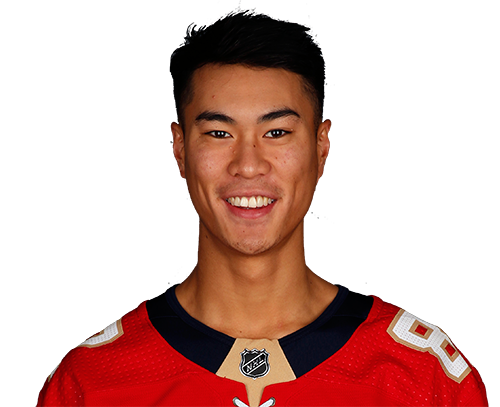 Born: Jan. 31, 1998
Birthplace: Markham, Ontario
Shoots: Right
Drafted: FLA 2016 (4th, 94th)
Career Statistics
Regular Season
Playoffs
Season
Team
League
GP
G
A
PTS
PIM
GP
G
A
PTS
PIM
2014-15
Peterborough
OHL
59
10
10
20
18
5
0
1
1
4
2015-16
Peterborough
OHL
68
21
28
49
44
7
3
6
9
2
2016-17
Peterborough
OHL
67
27
32
59
75
12
7
4
11
6
2017-18
Peterborough
OHL
39
15
28
43
69
-
-
-
-
-
Sarnia
OHL
26
10
17
27
18
12
2
7
9
8
2018-19
Springfield
AHL
75
5
20
25
42
-
-
-
-
-
2019-20
Springfield
AHL
49
7
14
21
24
-
-
-
-
-

---

AHL TOTALS
124
12
34
46
66
-
-
-
-
-
NHL TOTALS
-
-
-
-
-
-
-
-
-
-
PRO TOTALS
124
12
34
46
66
-
-
-
-
-
BIOGRAPHY
Signed a three-year, entry-level contract with the Florida Panthers on 11/16/17.
2019-20
Spent the entirely of his second professional season with the Springfield Thunderbirds (AHL), setting a career high with seven goals ... Tied for the team lead with a plus-12 rating ... Ranked second on the team with two shorthanded goals ... Scored two points (1g, 1a), including the second shorthanded goal of his career, in the season opener vs. BRI (10/5) ... Scored his first career power-play goal at HFD (10/12) ... Posted seven points (1g, 6a) over the course of a career-long, six-game point streak from 12/22-1/10 ... Scored twice for his first career multi-goal game vs. HER (1/22).
2018-19
Spent the entirety of his first professional season with Springfield (AHL) ... Picked up his first AHL goal while shorthanded and added an assist for his first AHL multi-point game at LAV (10/19) ... Assisted on Dryden Hunt's game-winning goal in the third period vs. SYR (12/19) ... Had a career-high three points (1g, 2a), including the game-winning goal, vs. PRO (1/5).
JUNIOR
Totaled 198 points (83g, 115a) in 259 career OHL games with Peterborough and Sarnia.