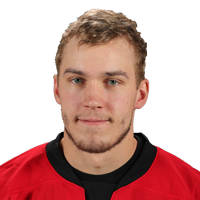 Born: January 7, 1997
Birthplace: Helsinki, Finland
Hometown: Laitila, Finland
Shoots: Left
Drafted: NYR 2015 (3rd, 89th)
Career Statistics
Regular Season
Playoffs
Season
Team
League
GP
G
A
PTS
PIM
GP
G
A
PTS
PIM
2012-13
Lukko Rauma
SM-Liiga
3
1
1
2
0
-
-
-
-
-
2013-14
Lukko Rauma
SM-Liiga
12
0
2
2
2
-
-
-
-
-
2014-15
Assat Pori
SM-Liiga
51
6
6
12
18
2
0
1
1
0
2015-16
Assat Pori
SM-Liiga
51
20
13
33
14
-
-
-
-
-
2016-17
Lukko Rauma
SM-Liiga
49
15
13
28
10
-
-
-
-
-
Charlotte
AHL
9
6
4
10
2
5
0
0
0
2

---

AHL TOTALS
9
6
4
10
2
5
0
0
0
2
NHL TOTALS
-
-
-
-
-
-
-
-
-
-
PRO TOTALS
175
48
39
87
46
7
0
1
1
2
Biography
Traded from New York Rangers to Carolina on Feb. 28, 2016, in exchange for Eric Staal.
Personal
Favorite team growing up was Rauman Lukko of the Finnish league and his favorite player was Sidney Crosby ... Favorite food is pasta and favorite thing to do away from the rink is relax.
2016-17
Spent the majority of the season with Lukko Rauma in Finland's SM-Liiga, leading the team with 15 goals and ranking fourth with 28 points ... Joined the Checkers on 3/27 following the conclusion of Lukko Rauma's season ... Scored a goal in his North American debut at CLE (3/28) … Had two assists and was plus-2 in his second game of the season at CLE (3/30) … Scored two goals and was plus-3 in his third game with the Checkers at GR (3/31) … Named AHL Player of the Week for the period ending 4/2, his first week in the league, after posting six points (4g, 2a) and a plus-5 rating in four games … Extended his goal streak to three games with the game winner in the third period vs. SA (4/4), giving him seven points (5g, 2a) over a five-game point streak to start his North American career … Recorded a season-high three points (1g, 2a) vs. TEX (4/8).
2015-16
Set career highs in goals, assists and points … Led Assat Pori and tied for fourth in the league in goals
2014-15
Completed his first full season in Finland's top league … Ranked 10th on the team in goals as a 17-year-old … Made his postseason debut and recorded one assist in two games
2013-14
Split his season between Lukko's junior team and the top club … Ranked seventh on the junior team in scoring despite only playing 17 games
2012-13
Made his SM-Liiga debut at 15 years old
International
Ranked fourth on the team in goals and helped lead Finland to a gold medal at the 2016 World Junior Championships alongside current Hurricane Sebastian Aho … Ranked third on the team in scoring and helped lead Finland to a silver medal at the 2015 U-18 World Juniors