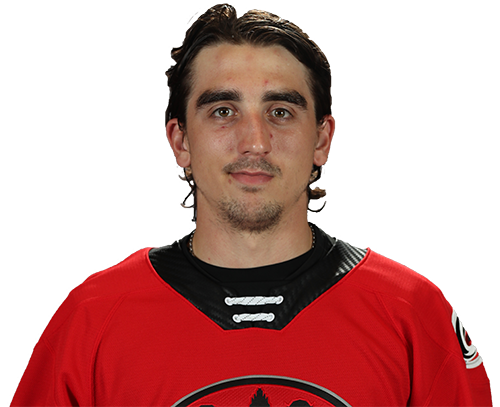 Born: Jan. 7, 1996
Birthplace: Parma, OH
Catches: Left
Drafted: CAR 2014 (2nd, 37th)
Career Statistics
Regular Season
Playoffs
Season
Team
League
GP
W
L
O/T
SO
GAA
SV%
GP
W
L
SO
GAA
SV%
2012-13
Plymouth
OHL
26
19
2
2
2
2.28
.923
15
9
4
1
2.71
.908
2013-14
Plymouth
OHL
61
26
27
7
1
2.88
.925
5
1
4
0
4.41
.905
2014-15
Plymouth
OHL
55
20
28
7
5
3.13
.916
-
-
-
-
-
-
Florida
ECHL
3
2
1
0
0
3.38
.841
-
-
-
-
-
-
2015-16
Flint
OHL
19
9
7
2
1
3.21
.907
-
-
-
-
-
-
Niagara
OHL
30
15
13
2
1
2.72
.907
17
12
5
0
2.81
.903
2016-17
Charlotte
AHL
25
8
14
1
1
3.40
.881
-
-
-
-
-
-
Florida
ECHL
12
6
4
0
1
2.97
.903
7
1
4
0
1.92
.930
Carolina
NHL
1
0
0
0
0
0.00
1.000
-
-
-
-
-
-
2017-18
Charlotte
AHL
49
31
12
3
5
2.55
.903
8
4
4
1
2.11
.919
2018-19
Charlotte
AHL
51
34
14
1
4
2.26
.916
15
10
4
1
2.34
.916
Carolina
NHL
1
1
0
0
0
2.00
.923
-
-
-
-
-
-
AHL TOTALS
125
73
40
5
10
2.59
.904
23
14
8
1
2.25
.917
NHL TOTALS
2
1
0
0
0
1.33
.953
-
-
-
-
-
-
PRO TOTALS
127
74
40
5
10
2.62
.903
30
15
12
1
2.18
.920
Biography
Holds the team record for wins in a single season (31) that was set during the 2017-18 campaign … Is the only Checkers goaltender in history to score a goal … Finished the 2017-18 season ranked fourth on the team's all-time games played list among goaltenders (74) … Was third in wins (39) and shutouts (6) ... Signed a three-year, entry-level deal with Carolina on 3/27/15.
PERSONAL
Favorite team growing up: New Jersey Devils … Favorite player growing up: Martin Brodeur … Favorite song: "Snapback" by Old Dominion … Favorite video game: Fortnite … Favorite movie: The Lord Of The Rings Trilogy … Favorite TV show: How I Met Your Mother … Favorite restaurant in Charlotte: Famous Toastery … Favorite vacation spot: Dominican Republic … Dogs or cats: Dogs … Favorite emoji: ? … Last thing you watched on Netflix: White Collar … Interesting fact: Loves to wear hats and collect new ones
2017-18
Tied for first among AHL goaltenders with a team record 31 wins that was nearly four times as many as his rookie season … Tied for third in the league with a career-high five shutouts … Also set career bests with a 2.55 goals-against average and .903 save percentage … Scored a goal for the second consecutive season after doing so in the ECHL in 2016-17 … Started the season with seven consecutive wins from 10/6-11/10 … After suffering his first two losses of the season on 11/15 and 11/18, put together a five-game win streak from 11/21-12/9 … Made 20 saves to record his first shutout of the season vs. HER (12/21) and improve to 13-3-0 on the season … Posted a 25-save shutout vs. BRI (1/16) … Recorded consecutive shutouts vs. SPR and HFD on 2/10 and 2/13, respectively, making a total of 44 saves … Made 23 saves vs. SYR (2/17) to record his third shutout in four games and extend his winning streak to five games … Became the 13th goalie in AHL history and the first in Checkers history to score a goal during a 7-3 win vs. HFD (3/10). It marked his second consecutive season with a goal (also with the ECHL's Florida Everblades in 2016-17) … Posted a 13-3-1 record, 2.25 goals-against average, .915 save percentage and three shutouts over his final 17 appearances of the regular season (2/9-3/30) … Won the first three playoff games of his career to earn a first-round sweep vs. WBS, stopping 78 of 84 total shots … Made 26 saves for his first career playoff shutout in Game 2 of the second round at LV (5/5) … Set a Checkers playoff record with 51 saves in a 2-1, Game 4 loss vs. LV (5/9) that went to five overtimes and ended as the longest game in AHL history.
2016-17
Played at the NHL, AHL and ECHL levels over the course of his rookie season ... Led Checkers goalies with 25 games played … Ranked second among qualified ECHL playoff goalies (at least 180 minutes played) with a 1.92 goals-against average and fourth with a .930 save percentage … Made his AHL debut on opening night at TEX (10/14) … Earned his first AHL victory at IA (11/10) … Assigned to ECHL Florida for the first time this season on 12/28 … In his second start with Florida at ATL (12/20), stopped 39 of 42 shots and became the first goalie in team history and 12th in ECHL history to score a goal … Recalled to Charlotte on 1/12 … Made a season-high 42 saves in regulation and overtime and stopped all four in the shootout to pick up a 3-2 win vs. CLE (1/13) … Earned his first NHL recall to Carolina on 1/16 … Made his NHL debut in his hometown of Columbus on 1/17, stopping all 17 shots he faced over 29:57 of relief … Returned to Charlotte on 1/19 … Made 26 saves in a 3-1 win vs. TUC (1/21), marking his season-best third consecutive victory … Made 32 saves to earn his first professional shutout at RFD (2/18) … Assigned to Florida on 3/8 and spent the remainder of the season with the Everblades … Earned his first ECHL shutout with a 20-save effort in his final regular-season appearance vs. ORL (4/8) … Earned his first playoff victory in Game 2 of the second-round series vs. SC (4/29) … Stopped 37 of 38 shots in a 1-0, double-overtime loss in Game 3 at SC (5/1).
2014-15
Joined the Everblades at the conclusion of his junior season and made his pro debut vs REA (4/3).
JUNIOR
Compiled a 89-77-20 record, 2.88 goals-against average and a .918 save percentage in 191 OHL games with Plymouth, Flint and Niagara ... Named to the OHL Third All Star Team in 2015-16 … Helped lead Niagara to the OHL Final and ranked fourth among playoff netminders in goals-against average … Ranked first among OHL goaltenders in saves (1,827) and shots faced (1,994), tied for third in shutouts (5), was fourth in games (55) and minutes played (3,206), was fifth in save percentage (.916) and was 12th in goals-against average (3.13) with Plymouth in 2014-15 ... Named OHL Goaltender of the Year and a member of the OHL First All-Star Team following the 2013-14 season after posting 26-27-7 record, 2.88 goals-against average and a .925 save percentage in 61 games.
INTERNATIONAL
Helped lead Team USA to a Bronze Medal at the 2016 World Junior Championship ... Won a Gold Medal with Team USA at the 2014 U18 World Junior Championship and recorded a tournament-best 1.84 goals-against average.