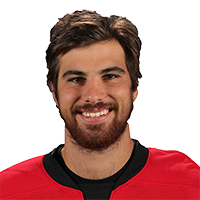 Born: March 8, 1991
Birthplace: Chicago, IL
Shoots: Left
Drafted: Undrafted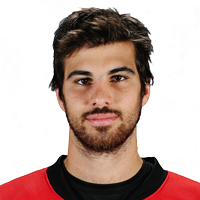 Jake Chelios - #27
| | |
| --- | --- |
| Position | Defenseman |
| Height | 6'2" |
| Weight | 185 |
| Shoots | Left |
| Born | March 8, 1991 |
| Birthplace | Chicago, IL |
| Drafted | Undrafted |
| Twitter | Follow @JChelios42 |
Career Statistics
Regular Season
Playoffs
Season
Team
League
GP
G
A
PTS
PIM
GP
G
A
PTS
PIM
2009-10
Chicago
USHL
52
12
22
34
45
-
-
-
-
-
2010-11
Michigan State
NCAA
37
8
6
14
34
-
-
-
-
-
2011-12
Michigan State
NCAA
39
2
7
9
44
-
-
-
-
-
2012-13
Michigan State
NCAA
42
5
5
10
79
-
-
-
-
-
2013-14
Michigan State
NCAA
36
2
19
21
38
-
-
-
-
-
Toledo
ECHL
7
1
1
2
2
-
-
-
-
-
Chicago
AHL
4
0
1
1
4
-
-
-
-
-
2014-15
Chicago
AHL
41
1
14
15
32
-
-
-
-
-
Kalamazoo
ECHL
8
1
2
3
2
4
1
1
2
2
2015-16
Charlotte
AHL
73
7
24
31
44
-
-
-
-
-
2016-17
Charlotte
AHL
76
4
28
32
54
5
0
1
1
6

---

AHL TOTALS
194
12
67
79
134
5
0
1
1
6
NHL TOTALS
-
-
-
-
-
-
-
-
-
-
PRO TOTALS
209
14
70
84
138
9
1
2
3
8
Biography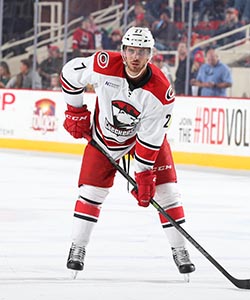 Signed a two-way NHL contract with Carolina on 6/27/17.
Personal
Son of Hall Of Fame defenseman Chris Chelios ... Grew up a Detroit Red Wings fan … Likes rock music and his favorite artist is Johnny Cash … His favorite movie is Scarface and favorite TV show is Californication … Favorite food is Asparagus … Favorite place to visit is California … He says his biggest talent outside of hockey is Mario Kart … Favorite thing to do when not on the ice is swimming in a pool … Spent his summer laying on the beach and surfing … In 2007, Chelios was awarded Most Improved Player on his high school varsity tennis team.
2016-17
Completed his third professional season, setting career highs in points (32), assists (28), penalty minutes (54), plus/minus (+8) and shots on goal (152) … Served as alternate captain and team captain at various points throughout the season … Ranked fifth on the team and first among defensemen in scoring … Ranked third on the team in assists … Led the team in power-play assists (11) and points (12) … Ranked third on the team in penalty minutes … Ranked second on the team in shots on goal … His plus-21 rating from 1/10 through the end of the season ranked second among all AHL skaters … Was the only Checker to play all 76 games … Marked his first point of the season with a helper and tied a career high with a +3 rating at IA (10/21) … Scored his first goal of the season, the overtime winner, and fired a career-high nine shots on goal vs. IA (11/26) … Set a career high with three assists vs. MB (12/13) … Marked his second multi-assist game of the season with a pair of helpers at MIL (1/10) … Posted 10 points, all assists, and a plus-11 rating over a 13-game stretch from 1/10-2/11 … Scored two points (1g, 1a) and was plus-8 over the course of a three-game stretch from 2/19-2/25 … Named team captain on 3/1 after Patrick Brown's NHL recall, returning to an alternate position upon Brown's return on 3/26 … Put together a career-best, five-game point streak (6a) from 4/4-4/12 … Picked up an assist and was plus-4 in his Calder Cup Playoff debut, a 4-0 win in Game 1 vs. CHI (4/20).
2015-16
Completed his second professional season and first with the Checkers, setting a career highs with seven goals … Was third on the team with 73 games played … Ranked seventh on the team and second among defensemen with 31 points … Was fourth on the team in power-play assists (13) and tied for fourth in power-play points (16) … After sitting out the first two games of the season as a healthy extra, set a career high with three assists in his Checkers debut, a 7-3 win at MIL (10/16) … Scored his first goal as a Checker against his former team at CHI (10/17) … Picked up an assist at GR (10/23) to extend his season-opening point streak to four games (1g, 5a) … Scored on the power play with 25 seconds remaining to give the Checkers their first win of the season at Bojangles' Coliseum, 3-2 vs. MB (11/8) … Assisted on both Checkers goals in a 6-2 loss at TEX (11/20) … Dropped the gloves with Paul Bissonnette for his first fighting major of the season vs. ONT (12/5) … Had a goal, an assist and a season-best, plus-3 rating in a 4-3 overtime win vs. LE (12/20) … Scored the game-tying goal with 5:25 left in regulation to extend his point streak to four games (2g, 3a) in an eventual 3-2 shootout loss at SJ (12/30) … Opened the scoring on the power play and assisted on Mike Cornell's eventual game winner in a 3-2 victory at SD (1/8) … Assisted on Ethan Werek's overtime winner vs. MB (1/16) … Picked up an assist to record his third four-game point streak of the season (0g, 4a) vs. MB (1/17) … Recorded nine points (1g, 8a) in 10 games from 1/8-1/29 ... Scored on one of his then-career-high six shots on goal to tie the game with 5:10 remaining in regulation of an eventual 2-1 shootout win at MIL (3/18) … Had a goal, an assist and tied his season high with a plus-3 rating in a 7-3 win at CHI (3/23).
2014-15
Spent the majority of his rookie season with the Chicago Wolves, recording 15 points (1g, 14a) in 41 games ... His 14 helpers ranked second among all team blueliners ... Appeared in eight games at the ECHL level for the Kalamazoo Wings, scoring three points (1g, 2a).
2013-14
Made his pro debut after completing his collegiate career at Michigan State ... Played seven games for the Toledo Walleye of the ECHL, putting up two points (1g, 1a), and played four games for the Chicago Wolves, notching one assist.
College
Totaled 54 points (17g, 37a) in 154 games over four seasons at Michigan State University ... Led all Spartan defensemen in scoring during his senior season.
Junior
Prior to starting at Michigan State, played one USHL season with the Chicago Steel ... Put up 34 points (12g, 22a) in 52 games, leading team defensemen and ranking third overall.