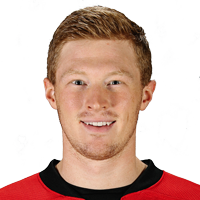 Born: May 29, 1992
Birthplace: Bloomfield Hills, MI
Shoots: Right
Drafted: Undrafted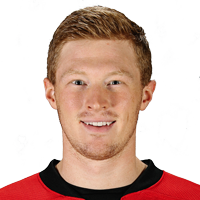 #24 Patrick Brown
| | |
| --- | --- |
| Position | Center |
| Height | 6'1" |
| Weight | 197 |
| Shoots | Right |
| Born | May 29, 1992 |
| Birthplace | Bloomfield Hills, MI |
| Drafted | Undrafted |
| Twitter | Follow @PattyBC23 |
Career Statistics
Regular Season
Playoffs
Season
Team
League
GP
G
A
PTS
PIM
GP
G
A
PTS
PIM
2010-11
Boston College
NCAA
29
0
1
1
8
-
-
-
-
-
2011-12
Boston College
NCAA
13
1
0
1
6
-
-
-
-
-
2012-13
Boston College
NCAA
38
5
6
11
14
-
-
-
-
-
2013-14
Boston College
NCAA
40
15
15
30
30
-
-
-
-
-
2014-15
Carolina
NHL
7
0
0
0
4
-
-
-
-
-
Charlotte
AHL
60
2
8
10
34
-
-
-
-
-
2015-16
Carolina
NHL
7
1
1
2
4
-
-
-
-
-
Charlotte
AHL
70
13
12
25
29
-
-
-
-
-

---

AHL TOTALS
130
15
20
35
63
-
-
-
-
-
NHL TOTALS
14
1
1
2
8
-
-
-
-
-
PRO TOTALS
144
16
21
37
71
-
-
-
-
-
Biography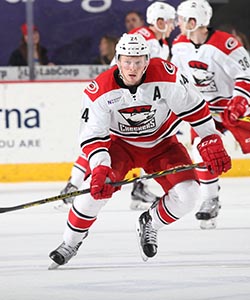 Finished the 2015-16 season tied for fifth on the Checkers' all-time list in shorthanded points (four) and tied for fourth in shorthanded assists (three) ... Signed a one-year, two-way contract with Carolina on 6/28/16.
Personal
Father, Doug Brown, played 14 NHL seasons with the New Jersey Devils and Detroit Red Wings, winning two Stanley Cups ... Grandfather Wellington Mara was co-owner of the New York Giants from 1959-2005 ... Actresses Kate and Rooney Mara are his cousins ... Uncle Greg Brown is an assistant coach at Boston College.
2015-16
Completed his second professional season and second with the Checkers, serving as alternate captain for the first time … Set career highs with 13 goals, 12 assists and 25 points … Ranked eighth on the team in scoring and tied for fifth in goals … Ranked second on the team with two shorthanded points (1g, 1a) … Scored his first two goals of the season, one of which was the first shorthanded tally of his career and the other of which held up as the game winner, and fired a career high five shots on goal in the Checkers' third game of the season at MIL (10/16). His two goals equaled his total from his 60-game rookie season … Scored the Checkers' lone goal, his third of the season, in a 3-1 loss vs. SJ (11/25) … Assisted on David Wohlberg's shorthanded goal that held up as the game winner at SJ (12/28) … Dropped the gloves for his first and only fighting major of the season at ONT (1/2) … Recorded his second two-goal outing of the season at IA (1/29) … Recorded his third multi-point game of the season with a goal and an assist vs. RFD (3/12) … Extended his point streak to a career-best four games (2g, 3a) with the Checkers' first goal in an eventual 4-1 win vs. RFD (3/13) … Recalled to Carolina for the first time this season on 3/25 and played his first NHL game since 10/24/14 vs. NYI the following day … Scored the first two points of his NHL career and posted a plus-3 rating in the Hurricanes' win vs. NYR (3/31) … Returned to Charlotte on 4/8 after posting two points (1g, 1a) in seven NHL games with Carolina … Extended his AHL point streak to three games (1g, 2a) with an assist on Wohlberg's goal vs. MIL (4/10) … Had nine points (3g, 6a) and a plus-7 rating in 11 AHL games between 3/8-4/10.
2014-15
Completed his first professional season … Ranked second on the team and tied for second among AHL rookies with two shorthanded assists … Began the season with the Carolina Hurricanes and made his professional and NHL debut in the Hurricanes' opener vs. NYI (10/10) … Reassigned to Charlotte on 10/17, played his first two AHL games vs. GR on 10/17 and 10/18 and returned to the NHL on 10/19 … Appeared in each of Carolina's first seven games of the season, recording no points … Reassigned to Charlotte for the final time this season on 10/28 … Recorded his first pro point, an assist on Greg Nemisz' opener, vs. HAM (11/2) … Sustained an upper-body injury vs. TEX (11/8) and missed the next 11 games … Scored his first pro goal, the eventual game winner, vs. TEX (1/4) … Assisted on Alex Aleardi's goal to record points in back-to-back games (1g, 1a) for the first time in his career … Earned his first career fighting major from a bout against Julius Honka at TEX (1/31) … Picked up his first career shorthanded point with the lone assist on Chad LaRose's goal vs. IA (2/18) … Dropped the gloves with Nathan McIver and posted a career-best, plus-2 rating vs. NOR (3/8) … Ended an 18-game scoring drought with an assist on Trevor Carrick's goal vs. OKC (4/2) … Had the lone assist on LaRose's shorthanded opener vs. OKC (4/3) … Scored the Checkers' first goal of the game vs. RFD (4/12), giving him three points (1g, 2a) in his last four games.
College
Totaled 43 points (21g, 22a) in 120 games over four years at Boston College ... Ranked third in goals (15) and fourth in points (30) while serving as team captain in his senior season at BC ... Scored the game-winning goal of the Beanpot final against Northeastern his senior year ... Helped team to back-to-back Hockey East titles in his freshman and sophomore years and an NCAA National Championship in 2011-12.