Checkers broadcaster Jason Shaya checks in each week with his 10 Thoughts - a series of observations about the team and the hockey world in general. This week: bouncing back against Texas, new overtime rules, Checkers rookies and more.
1)
History repeats itself: On Friday, Jan. 17, of last season, the Checkers were routed by Texas 7-1. The next day, Charlotte defeated Texas 6-1. Even though the game on Monday this week was close, it shows how head coach Jeff Daniels can get his team to bounce back and have short memories after an ugly loss.
2)
Brock McGinn had several real good scoring chances in two games agianst Texas but just couldn't score. He put up 43 goals in 58 games last year for Guelph so, even if he is frustrated from the lack of production, he isn't playing like it on the ice. He is getting better and better every game.
3)
AHL President Dave Andrews recently did an interview with Sportsnet radio. He said last year, 65 percent of AHL overtime games went to the shootout. In contrast, so far this season, with the 3-on-3 play instituted, only 16 percent of the games have progressed to the shootout. Andrews said NHL GMs have contacted him about the change but no one from the NHL office has asked him his opinion. I'd hope that this new format gets instituted in the NHL when possible. The less shootouts, the better.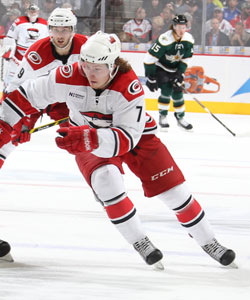 4)
A player to watch after back-to-back games against the Stars is Justin Dowling. He showed tremendous skill this weekend and is on pace for a point-per-game season where he left off during the Calder Cup run. He was really impressive.
5)
Hockey analytics researcher
@joshweissbock
recently compiled the Fenwick numbers for the AHL. These numbers contrast the shots for and against (without taking into consideration blocked shots like Corsi does). Fenwick numbers compiled in close game scenarios has the Checkers at second to last in the AHL at just under 42 percent. Which means in a close game, if both teams took 100 shots, Charlotte would only be responsible for 42 of those. In contrast, the best team in the league is Utica which is at 58.1 percent. The team Charlotte just played, Texas, is ranked fifth at 54.2 percent.
6)
Hope everyone noticed the classy play by Chad LaRose to forgo an empty net goal and pass the puck to Brody Sutter so he could score. LaRose, a good Michigan boy, made a gesture that won't be forgotten in that dressing room.
7)
Carter Sandlak made a very poor choice on Saturday night when hitting Gemel Smith. The league suspended him for four games, which was the correct decision. I don't think great detail is needed about the incident but there is absolutely no place for that in our sport. Let's hope Sandlak will learn from what happened. I'm sure he will have to answer for it at some point in the next six games against the Stars.
8)
The more scouts I talk to, the more I hear rave reviews for Trevor Carrick. It won't be long before he scores his first pro goal and it may be the spark he needs to begin putting up numbers regularly. He's already worked himself into a spot on the top two defense pairings.
9)
During Monday's broadcast, color commentator Chris Jablonski and I talked about how there was every reason to believe goalie Drew MacIntyre would be the best player on the ice that night. A veteran goalie always bounces back after a tough game and that's exactly what he did.
10)
Two games this weekend in San Antonio. Friday: Pregame Show begins at 8:15 EST. Puck drops at 8:30 EST. Saturday: Pregame Show begins at 7:45 EST. Puck drops at 8:00 EST. Always join us when you can and submit questions or comments on Twitter to me
@jason_shaya
and we will read them on the air whenever possible.