It wasn't an ideal start to the season for the Checkers.
Traveling to Texas for the season opener last Friday, Charlotte came out swinging but was unraveled by a four-goal first period and stumbled to a 6-2- loss.
The lopsided affair came with a similar diagnosis across the board.
"I think in the first game we looked like a team that had never played together, which we hadn't," said head coach Ulf Samuelsson. "It was a very fast game and we had some issues with our structure."
"We definitely didn't come out with a cohesive effort," said team captain Derek Ryan. "We were working hard but we weren't playing structured in our system and that was evident in the opportunities we were giving the other team."
The Checkers also dropped the following night's rematch by a score of 4-2, but the general sentiment was that, score aside, the team is moving in the right direction.
"I thought we corrected a lot of that for the second game," said Samuelsson. "I thought the boys played a hard game on Saturday, we just couldn't score enough to get the W. It was frustrating but I felt like we played well as a team in the second game."
"Anyone who watched the game on Saturday knows that we gave them a pretty good run there," said Andrew Poturalski. "I don't know how we didn't get one in, but we played pretty well."
Indeed, the Checkers' offense was firing on all cylinders on Saturday, outshooting the Stars 45-21, but simply couldn't put enough behind netminder Maxime Lagace.
"The second night we were a lot better, we got better every period," said Ryan. "The second and third we dominated and had the puck for most of the period. You can't ask for more than that, we just need to bury our opportunities."
"Looking at the weekend, as far as our scoring chances, I think we were slightly ahead," said Samuelsson. "If you stay with that, that's a recipe for success."
One of the biggest struggles for the team has been a lack of chemistry out of the gates. As Samuelsson has pointed out, the team as it was constructed on opening night had been together for a very short amount of time. That certainly presents a hurdle for a team trying to mesh.
"Last week I think we maybe had two practices together as lines and it's tough to get going like that," said Poturalski. "But it's the beginning of the season and that's how it is. We just need to get better every day and get to know each other's tendencies and know where we are on the ice."
The biggest takeaway, it seems, is that this is no time to panic.
"It's early on, we can't get down on ourselves," said Poturalski. "We just need to stick to it, fix a few minor things and we'll be fine."
"I think we just throw that first game out and look at the second one," said Samuelsson. "We have some things we can build off of from there."
Some early adversity might even prove to be a catalyst for the team to come out stronger.
"It can bring a group together, guys can stay together and fight through the tough stretch and get right back on the winning side," said Ryan. "That brings the group together rather than guys thinking it's easy to go out and win in this league every night. I think maybe this can be beneficial to us in the long run."
Some other news and notes from this week:
TOP LINE CLICKING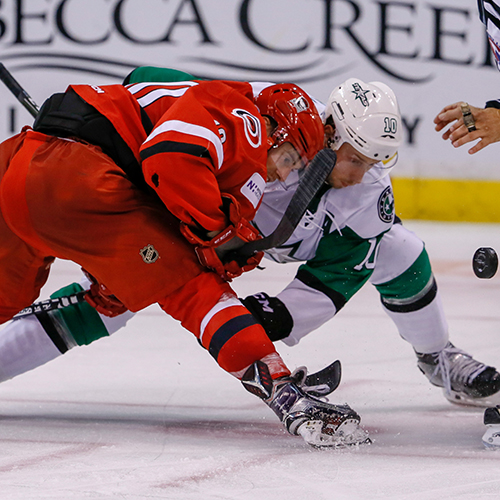 One of the earliest combinations to present itself was the top line of Brock McGinn, Derek Ryan and Valentin Zykov. Samuelsson went into the thought process behind the move last week [LINK], and it appears to be working out. The line was one of the strongest looking for Charlotte over the weekend, and the trio combined for a goal in Friday's contest (albeit on the man advantage).
The new makeup of his line is something that has added some familiarity and comfort for the Checkers captain.
"That's what I've played with for most of my career," said Ryan. "Another skill guy and then a bigger guy who can get on the forecheck."
After a quick two-game cameo at the end of last season, Zykov is showing glimpses of the force that the team hopes he can be up top.
"Z isn't crazy physical but he's a big guy and he can go to the front of the net and can win the board battles and win the puck for us in the offensive zone," said Ryan. "In the second game, we spent a lot of time in the offensive zone as a line getting scoring chances, the puck just wouldn't go in for us."
The next step in the decision-making process is to see whether the coaching staff wants to keep the groups together or begin tinkering with the combinations.
"That's always the dilemma," said Samuelsson of the decision. "I thought we had four lines that were pretty solid. We'll see if we have one or no changes heading into this weekend."
With it sounding like the coaches will be trotting out similar lines, this weekend will be a prime example of how that line has grown, even with just an extra week together.
"As we continue to develop chemistry between us three and get to know where each other is on the ice, I think we'll continue to score goals," said Ryan.
POTURALSKI STARTING STRONG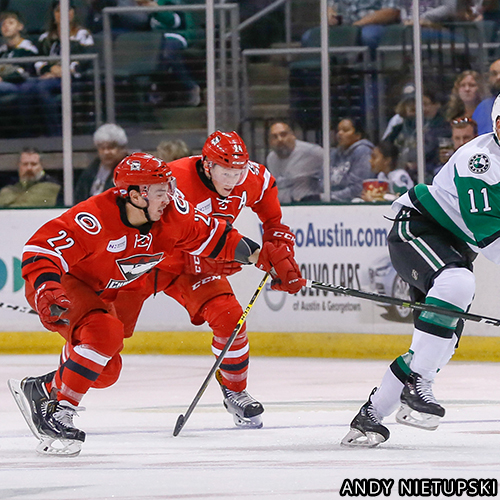 Despite the final scores, the Checkers' offense had some bright spots over the weekend. Perhaps the brightest was rookie forward Poturalski.
The 22-year-old lit the lamp in each of the first two games, skillfully redirecting a point shot on Friday and showing off his lightning quick release on a wrister wired to the top corner on Saturday.
"I just think our line has been buzzing," said Poturalski. "We've been pretty good on the forecheck and have had a lot of chances. I feel comfortable and I'm just trying to play my game."
While Samuelsson seems unsurprised by the rookie's offensive flair, it was his all-around play that caught some eyes.
"Everyone knows the book on him offensively," said Samuelsson. "He's capable, he has high-end skill. But I'm excited about the way he played away from the puck."
While he is technically a rookie this season, fans are already familiar with Poturalski. After ranking second in the nation in scoring as a sophomore at the University of New Hampshire, Poturalski inked a deal with Carolina this past March and joined the Checkers for a 16-game stint to wrap up the AHL season.
Even though it was short stay, Poturalski's time with the Checkers last season has proved to be extremely valuable.
"Getting to know the guys and the organization and getting to know what the AHL is like was huge for me," said Poturalski. "It's a great league, guys are bigger and faster and you spend less time with the puck, so I had to adjust a little bit last year and I think that helped me this year."
Poturalski will continue to be looked to for an offensive boost throughout the season, and if he continues to trend the way he's been going over the last few months, he could be a key piece of this Checkers team.
"He did a lot of things this weekend better than in Traverse City already," said Samuelsson, referring to the annual prospects tournament that the Hurricanes won this past September. "So he seems to be a quick learner."
INJURY UPDATES
The Checkers seemingly escaped opening weekend without any major injuries, as there was only one body missing from the team's practice Monday morning: Jake Chelios. The good news, however, is that whatever ails him doesn't seem to be serious.
"It's just a maintenance day for him," said Samuelsson. "He's got a little issue but as of right now he should be fine for the weekend."
In other injury news, Andrew Miller, who has been skating with the Checkers for the past few weeks draped in the yellow 'no contact' jersey, was a full participant in Monday's skate.
"He's cleared for contact so it's a big day for him," said Samuelsson after Monday's practice. "He's obviously a player that we want to get back in the lineup as quick as we can. But he had a big surgery and it'll be a process before he's ready to go."