Naturally,
Rick DiPietro
's goal is to get back to the NHL. That said, he's not going to rush things.
Practicing in Charlotte Monday for the first time
since signing a professional tryout contract with the Checkers
midway through their six-game road trip last week, the longtime New York Islander stressed that he's going to make sure he's prepared before he takes the next step in his comeback. That would most likely be with the Carolina Hurricanes, who brought him into the fold when injuries to Cam Ward and Anton Khudobin rocked their goaltending depth for the second consecutive season.
"The goal is to get there, but I want to get there and be helpful," said DiPietro, the former first overall draft choice, NHL All-Star and U.S. Olympian. "I don't want to go there and put them in a bad position where I'm not good. When I go up there, I want to feel good about myself and where my game's at."
That's where the Checkers come in. While DiPietro, 32, certainly has the talent and experience to be a dominant goalie, he's admittedly still working back into top form. In his first two games with the Checkers, both losses, he allowed nine goals for a 4.53 goals-against average and .875 save percentage.
He didn't have a particularly easy draw for either. In his debut on Wednesday, he went up against the defending Calder Cup champion Grand Rapids Griffins, who were eager to avenge a 5-0 defeat to the Checkers less than a week earlier and now sit atop the Western Conference at 7-2-2. On Saturday, his 38 saves were the most by a Checkers goalie this season as the team, according to coach Jeff Daniels, "hit a wall" during their sixth road game in nine days.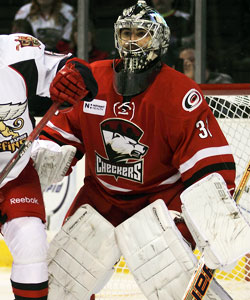 "I had to shake a little rust off," said DiPietro, who did not have the benefit of a training camp or exhibition game. "In hindsight you'd like to sprinkle a few more practices in, but you also don't want to sit too much without getting an opportunity to play."
"He's been fine, and I think he'll get more comfortable and he gets in more practices and more games," said Daniels. "It's no different from a forward or a defensemen where it's just hard to replicate those game situations until you're there."
With DiPietro's background – 318 NHL games played over the last 11 seasons – the hope is that the sharpness will come. Teams like Carolina will be just as eager to see his physical condition, as he's played just 50 NHL games over the last five seasons – four of which were limited to eight or fewer – due to a multitude of injuries.
Because of that experience, DiPietro, who worked with a new strength and conditioning coach and did pilates to improve his flexibility over the summer, says he has a different approach. Past decisions, including those involving which procedures to undergo to correct problems and whether or not he should play when not feeling 100 percent, were made to get back in the lineup as soon as possible. It's a mentality he said he picked up from his father, who fought in the Vietnam War at age 19.
"When you're younger you think you're Superman," he said. "You don't think you have to ice and you don't think you have to warm up, and now you have to warm up for an hour. As you get older you get smarter."
Aside from his injury history, DiPietro also made headlines for the 15-year contract he signed with the Islanders in 2006 that marked the longest in the history of the league. It came to an abrupt end this summer when the team executed an amnesty buyout, a new concept introduced to the league in the most recent collective bargaining agreement that allows teams limited chances to shed contracts without salary cap ramifications.
"If I was smarter I would have voted against that," joked DiPietro, a member of the NHLPA's negotiating committee when that particular issue came up.
Of course, DiPietro, who still had eight years remaining on that megadeal, will still be well compensated. The Islanders will pay him $1.5 million per year for the next 16 years, which is nothing to complain about but also not what he pictured.
"It was always my goal and dream to play for one team in my whole career," he said. "It's just weird that it's gone."
Since his buyout on July 1, DiPietro, his family and his representation had kept an open mind on his next step while he spent time working with goalie coach Steve Valiquette, a former teammate.
"There was a lot of talk but teams were hesitant because I haven't played for so long and teams already had goaltending set," he said. "We knew going in that there were going to be limited opportunities, if any, and for us it was just about making sure we took the best opportunity for me to be successful physically."
That opportunity came when Carolina became the first NHL team to go through a goalie crisis, having lost its starting tandem of Ward and Khudobin to significant injuries within two weeks of each other. In the interim, DiPietro and old friend Ron Hainsey, a Hurricanes defenseman, had spent time together ahead of the Carolina's game at Long Island on Oct. 19 and joked about becoming roommates with the Canes.
The following week, DiPietro was on his way to Charlotte. If he plays up to his demonstrated ability, that reunion with Hainsey may not be far off.
"Goalies go down and the end of the day there's going to be opportunity," said DiPietro. "When it comes, you just have to make sure you give yourself an opportunity to be successful."