Public Address Announcer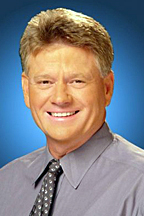 Officer Brian Stickley has been broadcasting in his native Charlotte since 1982, including area traffic reports and a short stint as a morning show co-host for WSOC-FM 103. Stickley joined the Charlotte Police Department (now Charlotte-Mecklenburg Police Department) in 1973 as a police dispatcher. Three years later, he completed rookie school and became a sworn police officer serving the citizens of Charlotte until 2001. He began part-time helicopter traffic reporting in 1979 with WSOC-FM 103, WSOC-AM 93 and WSOC-TV Channel 9. In 1988, he left law enforcement for a full-time career in broadcasting.
Stickley, who held the same role with the NFL's Carolina Panthers, has been the public address announcer for the Charlotte Checkers since 1999. In addition, he is also an active Realtor licensed in both North and South Carolina.
Stickley has also enjoyed coaching youth athletics and serving as a deacon and Sunday school teacher at his church. He and his wife, Beckie, have three sons, Jason, Greg and Blake, and six grandchildren.