The Checkers nearly pulled off their comeback magic once again, but their rally attempt fell just short in a 5-2 loss to Bakersfield.
The Condors roared out of the gate with a tally four minutes in on the power play before doubling that advantage later in the frame, with both goals stemming from sharp bounces off the end boards behind the Charlotte net. That lead would extend even more early on in the middle frame, and after 20 minutes of play the Checkers found themselves in a sizeable 3-0 hole.
The Checkers bounced back in the third, however, with Andrew Poturalski sniping a laser top shelf 70 seconds in, followed by a Kris Newbury strike two minutes later. With a rejuvenated attack, the Checkers pressed on for the equalizer for the majority of the rest of the period, doubling up the visitors in shots, but couldn't quite put one home. Desperate in the waning moments of regulation, the Checkers pulled their goalie in favor of an extra attacker, but the Condors made them pay, depositing two pucks into the empty net to seal their 5-2 victory.
Quotes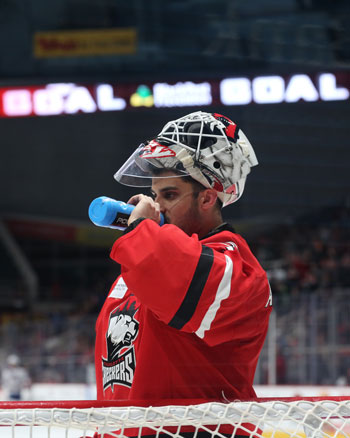 Head coach Ulf Samuelsson on his message in the second intermission:
"Start skating. We were hesitant and we weren't playing our game. We were kind of sitting back and playing the system too much. It looked like we were thinking, because we were for sure not skating."
Samuelsson on his team's slow start:
"It was more us. We weren't playing our game for two periods but found a way to come out, have some energy and get the crowd going in the third. It wasn't any big surprises really from them. It's a good team, it's a fast team and if you're not on your toes you're going to give up some chances like we did."
Samuelsson on the bounces that led to Bakersfield's first two goals:
"The boards are definitely livelier, and the glass behind there as well. You've got to make sure you're back to the post quick."
Kris Newbury on not letting slow starts become a habit:
"It's just a mindset really. You've got to be focused on winning every shift, and the first five or 10 minutes of a game are crucial. A lot of games are won there, so we've got to find a way to be better tomorrow."
Newbury on facing a hot goalie:
"We just keep throwing them at the net and get bodies to the net. What he can't see, he won't stop. We've just got to stick to our game. We know what makes us successful, so if we do that we'll be alright."
Newbury on what Bakersfield brings to the table:
"They're a fast team and they like to control the puck. We've got to better in the neutral zone, create more traffic in there and make it harder for them to get in our zone. The more we have the puck and they don't, the better for us."
Newbury on the key to getting a win tomorrow:
"I think a good start. Stay out of the box and try to win a special teams battle. The power play has got to be better and our penalty kill has to be a little bit better. I think if we do that we'll be alright."
Notes
The Checkers fell to 0-2-1 against Bakersfield this season, with the four-game series concluding tomorrow afternoon ... Lander now has 17 points in 16 career games against Charlotte … The Checkers are now 8-3-0 in their last 11 home games … Poturalski's goal gave him six in his last eight games in 14 points in his last 11. He ended the game tied for second among all AHL rookies with 42 points … Connor Brickley had an assist to extend his point streak to four games (1g, 3a) … The Checkers power play fell to 0-for-19 over its last seven games … The team's penalty kill has allowed seven goals in its last eight … Newbury has three goals in his last six games … Bryan Bickell has three assists in four games as a Checker … Forwards Patrick Dwyer Kyle Hagel and Mitchell Heard and goaltender Michael Leighton missed the game due to injury … Forward Erik Karlsson and defenseman Tyler Ganly were healthy extras.
Up Next
The Checkers wrap up their home stand tomorrow afternoon with a rematch against the Condors. Puck drops at 1 p.m.