Welcoming their final California opponent to town this season, the Checkers' offense battled through for a 5-3 win over the Ontario Reign.
An extended power play led to the Checkers opening the scoring late in the first period off the stick of Andrew Poturalski, but former Checker T.J. Hensick pulled off a wraparound in the waning seconds to even the score through 20 minutes.
The offensive push carried over into the rest of the game, as the Checkers pumped out a pair of strikes early in the second before seeing their lead erased by the five-minute mark of the third. But with time ticking down in regulation the home squad pulled ahead, with Patrick Dwyer finding Connor Brickley for the second time on the night to lift the Checkers on top. The Reign pushed for the equalizer down the stretch, but Lucas Wallmark buried them with a late empty netter to close out Charlotte's 5-3 victory.
Quotes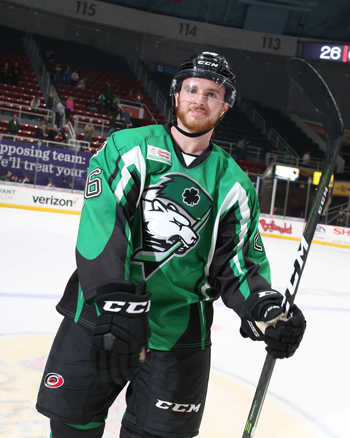 Head coach Ulf Samuelsson on his team's performance:
"I thought we played a very good game against a very good team. We came out and we played with energy, poise and confidence. I thought it was one of our better games of the year."
Samuelsson on Ontario rallying:
"It was kind of an ebb and flow. We had the momentum a lot to start with, they rallied back and got some energy from their goals and then we were able to get back to our forecheck. I thought that's where it turned around. Our power play was good today and moved the puck around and had a lot of good looks."
Connor Brickley on his hot streak:
"I like to consider myself a player that can be counted on to put points on the board. I was playing a tough role at the beginning, but you've got to do what you got to do. I was playing hard but there were a lot of opportunities that I wasn't burying but I'm happy that they're starting to fall."
Brendan Woods on players stepping up offensively:
"Throughout my past years I've shown that I can score and that I have a little bit of an offensive side. Same with Bricks – he's been in the NHL and put up numbers in this league. I don't think there's anything new to any of us, but it's definitely good and hopefully we can keep that up because we're going to need it in this next stretch of games. We've got 17 in the last 30, so it's going to be a grind, but as long as we can stay healthy and keep going I think we'll be good."
Brickley on the depth scoring:
"It's coming down to it at the end of the season with playing some tough teams. Guys have to step up because it's a close playoff race right now and you need four lines contributing because that's how you win in playoff hockey as well."
Samuelsson on his new fourth line:
"The fourth line was really good. Unfortunately Bishop may not be available for a little bit. He's really matured into a good player and made a good complement to Woods and Heard. I thought our fourth line provided a lot of energy."
Samuelsson on Connor Brickley:
"He is feeling it right now. He's been working hard all year and had a little bit of a lull when he got hurt, but he found his game and I'm really excited for him that he's getting rewarded."
Samuelsson on the team's recent success:
"I think we feel the urgency and know how the standings look and know how we need to produce. We're not letting our guard down here tomorrow. We're looking to make this a real good weekend."
Woods on the playoff push:
"When you look at the standings every day when you walk into the room, you see that we're fighting for that last spot. They're a good team in their division and those are big points. We're going to enjoy it for a little bit but we've got another game tomorrow and we've got to be ready."
Brickley on the mood in the locker room:
"It's really high. We're playing a great Ontario hockey team and we came out with a big W in front of our home crowd. We've obviously got them again tomorrow, so a sweep would be big for the standings and to help keep this train rolling."
NOTES
The postgame green jersey auction raised $21,275 for the Checkers Charitable Foundation … Iowa lost to Milwaukee tonight, putting the Checkers just four points back for the final playoff spot in the Central Division with one game in hand … The Checkers are on their fifth winning streak of three or more games this season … Brickley (4g) and Wallmark (3g) each extended their goal streaks to three games, which tied their career highs and the longest posted by a Checker this season … Brickley has eight points (5g, 3a) in his last eight games … Poturalski (1g, 1a) now ranks second among AHL rookies with 45 points … Poturalski's power-play goal was the Checkers' first since Feb. 17, ending a 10-game, 0-for-25 drought … Dwyer, who returned to the lineup after missing the last 11 games due to injury, had three assists to extend his point streak to four games (0g, 6a) … Dwyer had three points (2g, 1a) in 24 games in 2016 but has scored 14 (5g, 9a) in 18 games in 2017 ... Tom McCollum is now 2-0-0 as a Checker … Checkers forward Kris Newbury played his 900th professional game … Hensick had three goals in three games against his former team this season … Forwards Bryan Bickell, Kyle Hagel, Erik Karlsson and Danny Kristo and goaltender Michael Leighton missed the game due to injury … Defenseman Tyler Ganly was a healthy extra.
Up Next
The Checkers will host this same Ontario Reign team tomorrow for their season-series finale. Puck drops for Golf Night at 6 p.m.