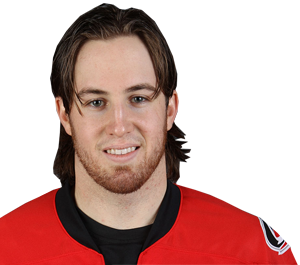 #31 Mike Murphy
| | |
| --- | --- |
| Position | Goalie |
| Height | 5'11" |
| Weight | 172 |
| Catches | Left |
| Born | Jan. 15, 1989 |
| Birthplace | Kingston, Ontario |
| Drafted | CAR 2008 (6TH, 165TH) |
| Twitter | Follow @michaelmurphy31 |
Career Statistics
Regular Season
Playoffs
Season
Team
League
GP
W
L
O/T
SO
GAA
SV%
GP
W
L
O/T
SO
GAA
SV%
2005-06
Belleville
OHL
3
1
1
0
0
5.80
.842
-
-
-
-
-
-
-
2006-07
Belleville
OHL
18
8
6
2
0
3.68
.900
-
-
-
-
-
-
-
2007-08
Belleville
OHL
49
36
7
4
3
2.24
.929
19
14
3
1
1
2.32
.927
2008-09
Belleville
OHL
54
40
9
4
5
2.08
.941
17
10
7
0
0
2.56
.902
2009-10
Albany
AHL
20
10
9
0
2
2.81
.917
-
-
-
-
-
-
-
2010-11
Charlotte
AHL
39
21
11
3
2
2.53
.919
14
7
7
0
1
2.57
.919
2011-12
Charlotte
AHL
37
18
15
2
1
2.74
.908
-
-
-
-
-
-
-
Carolina
NHL
2
0
1
0
0
.000
1.00
-
-
-
-
-
-
-
2012-13
Spartak
KHL
7
1
5
0
0
4.34
.877
-
-
-
-
-
-
-
Charlotte
AHL
1
0
1
0
0
5.04
.857
1
0
0
0
0
6.95
.800
2013-14
Charlotte
AHL
19
4
11
0
0
3.99
.881
-
-
-
-
-
-
-

---

AHL TOTALS
116
53
47
5
5
2.89
.909
15
7
7
0
1
2.75
.914
NHL TOTALS
2
0
1
0
0
.000
1.00
-
-
-
-
-
-
-
PRO TOTALS
125
54
53
4
5
2.94
.907
15
7
7
0
1
2.75
.914
Biography
Finished the 2013-14 season as the all-time leader in games (96) and minutes (5,189) played by a Checkers goaltender … Also ranked first with 2,433 saves … Ranked second all-time with 43 wins ... Is the first goaltender in history to record an NHL loss before allowing an NHL goal ... Signed a one-year, two-way contract with Carolina on 7/11/13.
Personal
Grew up rooting for the Toronto Maple Leafs and their goaltender Felix Potvin … Says his biggest talent outside of hockey is beating Zach Boychuk in Mario Kart … Favorite things to do away from the rink are "listen to Boychuk stories" and fish … His favorite movie is Blow and his favorite TV show is Suits… He enjoys all types of music but says his favorite artist is Taylor Swift … His favorite meal is lobster ... Favorite teams outside of hockey are the Toronto Blue Jays and Dallas Cowboys… Attended Michal Jordan's wedding in the Czech Republic over the summer.
2013-14
Completed his fifth professional season and fourth with the Checkers … Ranked second on the team with 19 games played … Stopped 22 of 24 shots to win his season debut at OKC (10/5) … Recalled to Carolina on 10/25 and backed up 10 games before returning to Charlotte on 11/18 … Missed six games due to injury from 11/19-12/1 … Played his first game since 10/20 vs. RFD on 12/7 and stopped 22 of 26 shots to take the loss … Stopped 32 of 35 shots to pick up his first win since 10/5 vs. TEX (1/3) .. Made a season-high 41 saves in a 5-2 win at OKC (1/10) … Allowed a season-high six goals on 22 shots vs. TEX (1/17) … Stopped 28 of 32 shots to earn his fourth and final win of the season vs. ABB (2/16) … Played in seven of a possible eight games from 2/4-2/21 … Took the loss despite making 40 saves vs. LE (3/16) … Allowed four goals on 12 shots before giving way to John Muse in his final appearance of the season vs. OKC (3/30) … Games missed while on NHL recall: 11 (10/25-11/16) … Games missed due to injury: 6 (11/19-12/1).
2012-13
Completed his fourth professional season, all with the Carolina Hurricanes organization, and third with Charlotte … Began the season in the KHL (Russia) with Spartak Moscow before joining the Checkers in March … Played seven games with Spartak after signing a two-year contract as an NHL restricted free agent, posting a 4.34 goals-against average and .877 save percentage, before the team released him on 11/2 … Signed a professional tryout contract with Charlotte on 3/26 and dressed for that night's game vs. NOR as the backup … Made his Checkers season debut at MIL (4/19), making 30 saves on 35 shots in the loss … Entered Game 4 of the Checkers' first-round playoff series vs. OKC on 5/3 in relief of Rob Madore in the second period, stopping 16 of 20 shots.
2011-12
Completed his third professional season, all with Carolina's top minor-league affiliate … Led the Checkers in games played (37), minutes played (2,038) and wins (18) … Played his first two games at the NHL level, going 0-1-0 without allowing a goal in a total of 36 minutes played … Made 40 saves in his first start of the season – a 4-3 loss at NOR (10/8) … Stopped 31 of 32 shots to pick up his first win of the season vs. PEO (10/16) … Made 24 saves in regulation and overtime and stopped all five in the shootout vs. HOU (10/22) … Made a season-high 44 saves in a win vs. NOR (10/23) … Stopped 35 of 36 shots to record his fourth straight victory at SA (10/29) … Won four consecutive starts from 10/22-10/29, allowing just one goal in each game (0.98 goals-against average, .969 save percentage) … Made 27 saves vs. LE (12/4) to record his third consecutive win (2.30 goals-against average, .920 save percentage) … Earned his first career NHL recall on 12/6 and made his NHL debut in relief at CGY later that day, stopping both shots he faced in 8:37 of game action … Became the first goaltender in league history to record an NHL loss before allowing an NHL goal after the CGY's empty-net tally when he was the goalie of record became the game-winning goal on 12/6 … Made his second NHL appearance in relief and stopped all seven shots he faced in 27:29 of game action at WPG (12/9) … Returned to Charlotte on 12/14 …Returned to game action for the first time since 1/21 (lower body), stopping 18 of 20 shots in a 3-2 shootout loss at LE (3/3) … Stopped all 22 shots to record his first shutout of the season and fifth of his career vs. CHI (3/11) … Was the only Checkers goalie to record a win between 2/25 and 3/29, posting a record of 2-2-1 during that span.
2010-11
Led Charlotte in goals-against average (2.53) and shutouts (2), earning 21 wins in 39 games… Was 12th in the AHL in save percentage (.919)… Went 17-3-1 in 21 starts from 11/7-3/4… Started Charlotte's first-ever AHL game at Connecticut on 10/9 and earned Charlotte's first AHL win at Springfield (10/10)… Became first visiting goaltender to get a shutout at HER in two seasons (2/20)... Reached 20 wins for first time in his pro career at BRI (3/16)... Went 7-0-1 in eight February starts... Was 7-7 with a 2.57 goals-against average in 14 Calder Cup Playoff games, helping Charlotte reach the conference final… Earned his first career playoff win vs. Hershey (4/20) and first playoff shutout vs. Wilkes-Barre/Scranton (5/4).
2009-10
Played in 20 AHL games for Albany during his first professional season, posting a 10-9-0 record with a 2.81 goals against average and a .924 save percentage… Made his pro debut and stopped 28 shots for his first career win vs. Rochester (10/10/09)… Recorded his first career professional shutout at Adirondack (12/31/09).
Junior
Completed four seasons in the Ontario Hockey League (OHL) with Belleville prior to turning pro, establishing Bulls career regular-season franchise records for wins (85), shutouts (8), goals-against average (2.42) and save percentage (.929)… Also holds Belleville's franchise record for most playoff wins (24)… Participated in the OHL All-Star Classic in 2008 and 2009, as well as the 2008 ADT Canada-Russia Challenge… Was named OHL Goaltender of the Month five times in his junior career, and was the first netminder to ever win the OHL Goaltender of the Year award in consecutive seasons (2007-08, 2008-09)… Was an OHL First Team All-Star in 2007-08 and 2008-09, and Belleville's team MVP each of those seasons… Led the OHL in goals-against average (2.24) and save percentage (.929) in 2007-08, helping Belleville capture the Eastern Conference regular-season title… Played in 19 of Belleville's 21 playoff games in 2008, leading the Bulls to the OHL Finals with a record of 14-3, a goals-against average of 2.32 and one shutout… After falling to host Kitchener in the OHL Finals, Belleville advanced to the 2008 Memorial Cup, where he went 2-1-1, with a 4.73 goals-against average… Was named the Goaltender of the Year for the entire Canadian Hockey League in 2008-09, after posting career-bests in wins (40), goals-against average (2.08), shutouts (5) and save percentage (.941)… Established Belleville franchise records in each of those categories… Led the OHL in goals-against average (2.08) and save percentage (.941) for the second consecutive season… Was also named a 2008-09 CHL First Team All-Star… Was 10-7 with a 2.56 goals-against average and .916 save percentage in 17 playoff games, as Belleville advanced to the 2009 Conference Final.