During the season, Checkers broadcaster Jason Shaya checks in each week with his 10 Thoughts - a series of observations about the team and the hockey world in general.
---
1)
I recently spoke with Checkers owner Michael Kahn on numerous topics. Here are a few quotes he gave me for an interview that will air tonight during the pre-game and second intermission.
Michael's thoughts on the Hurricanes' new ownership and the relationship with the Hurricanes:
"I'm very pleased with all my conversations with Tom Dundon. I think he is going to do some very good things for both teams. In my world and the way I view things, it [the sale] can only benefit us. We have a very good relationship with the Hurricanes. I want to see hockey sold to the Carolinas. Not just to Charlotte and not just to Raleigh. Tom Dundon understands that. So, we are going to start some marketing that needs to be done. This is a wonderful sport and the more eyes lay on it, the more fans this sport is going to have."
2) Michael on head coach Mike Vellucci:
"Mike Vellucci might be our MVP so far this year. He understands this level. He understands developing players and he understands what it takes to win at this level. He's bringing the guys along at a proper pace."
3)
To the best broadcaster in the NHL, happy birthday (tomorrow) to John Forslund. I have never been so intimidated in my life to step into the Hurricanes' broadcast booth knowing I had to "fill-in" for John. It's like someone asking if I could play a game in place of Nick Lidstrom for a night. There really isn't any way to do it as well. So, for his, let's say, 40th birthday,
here's a link so some of his best calls
.
4)
With the season winding down and the Detroit Red Wings looking like they will miss the playoffs yet again, I am suggesting that longtime general manager Ken Holland will not return to the team next year. It's total speculation on my part but I thought it would be fun to guess who might follow after Holland leaves. This is probably a long shot but how about a man who built a hockey stopover for players on their way to the West Coast. A great man. A man of vision and guts. And there isn't a serious position for this man anywhere in the league. This man's name is Wayne Gretzky and he always wanted to be a Red Wing. I know he currently has a role with the Edmonton Oilers but this would be a chance for Gretzky to helm a team and build it again to greatness. So, who better than the Great One?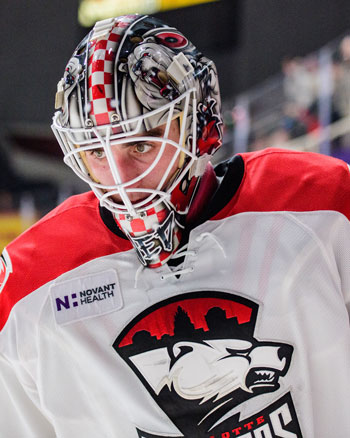 5)
There is no better defenseman right now for Charlotte than Roland McKeown. With five points in his last six games, (2g, 3a), he is playing with confidence and making strides every night. This has been an excellent year for Roland and it seems to be getting better. His progress reminds me of Haydn Fleury's ascent during the second half of last season.
6)
With Alex Nedeljkovic currently displaying the best hockey of his pro career, there leaves little room for anyone else in the Checkers' crease. His first star role in the win against Springfield last Saturday was well deserved. It really was the most confident I've ever seen him play. No matter what Springfield tried that night, it was clearly not going to work. Nedelkjovic was on a mission that night. The recent recall of goaltender Callum Booth gives the team one more goalie than necessary but this was always part of the plan to get Booth some time in the AHL. Having said that, I am convinced that when Jeremy Smith gets his chance again, he will be more than ready.
7)
Thanks to everyone who sent tweets and reached out to me during my second NHL game last week against Philadelphia. It was my fourth game in five nights and my voice was suffering, but we pushed through. Due to flight cancelations, I drove eight hours from Raleigh to Allentown to call the Checkers vs. Phantoms game the following day. I got to the arena an hour before puck drop but was more than happy to be back with my team. Once again, Tripp Tracy was incredible to work with and so was producer Jim Mallia. Can't wait for the next one, which is scheduled for Monday, March 26, vs. Ottawa.
8)
Speaking of the Hurricanes - another huge game today vs. Los Angeles. They entered the day once again in the playoffs. If the previous two games are an indication of how things will go down the stretch, Canes fans should be ready for a lot more hockey.
9)
The line of Josh Jooris, Clark Bishop and Warren Foegele was phenomenal in its first game together Saturday. We should probably point out that Bishop has been playing the best we've seen from him and I have a feeling the kid has even more in the bag. Bishop's game translates perfectly to the NHL. Once he gets there, he won't have any problems making the adjustment. No one competes harder than him on a nightly basis. He finishes his checks and he's showing he has the hands to bury offensive chances.
10)
Hartford has won nine of their last 10 but they're also depleted a bit in goal and on the back end. The addition of Brendan Smith should help but I think the Checkers are more than ready for redemption from the last visit to Hartford with back-to-back losses. The pre-game show tonight is at 6:45 p.m. and we should have some color commentators in the booth for Tuesday and Wednesday night. Join the show if you can.