Have a hockey player in your family? The Checkers host 6U and 8U Mini Checkers programs, are involved with various Learn to Play programs and also offer youth hockey at the highest level with the Tier AAA Jr. Checkers program.
The Learn to Play programs outlined below (First Goal and Mini Checkers) are for kids aged 8 and younger.
If your child is older and has no previous experience, please check out
the Hockey U program
at Extreme Ice Center. If your child is older and does have experience, please find their appropriate age group in Extreme Ice Center's
Metro League
or
Rush Travel
programs.
FOR TRUE BEGINNERS - FIRST GOAL PROGRAM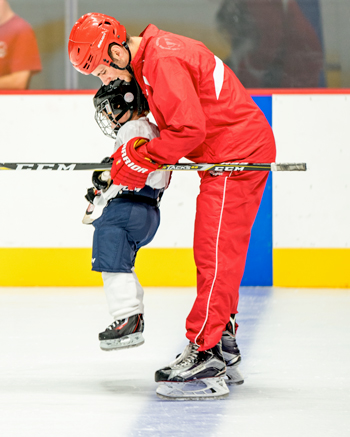 The Carolina Hurricanes' First Goal program, held each summer, offers six full on-ice sessions and a full set of hockey gear to keep. Previous skating experience at one of Extreme Ice Center's Learn to Skate programs is recommended but not required. This program is open to kids aged 5-9.
This initiative is for kids who have not already played in a house league or higher or have previously been registered to a USA Hockey or Hockey Canada sanctioned minor hockey program. This is an introduction to the great game of hockey for first-time players. At the conclusion of the First Goal program, participants will receive a recommendation to continue with one of two programs listed below.
NEXT STEP - 5-STAR PROGRAM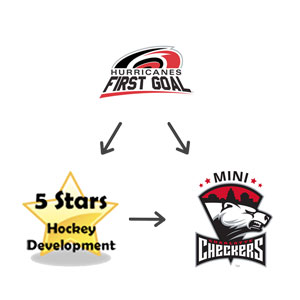 Depending on the evaluations of coaches from the First Goal program, participants may receive a recommendation to continue playing in
the 5-Star program at Extreme Ice Center
.
The program consists of five different levels (Star 1 through Star 5), each of which focuses on different skating techniques and hockey skills. This is a year-round program open to ages 3-6 that consists of consecutive six-week sessions. The First Goal program is not a prerequisite for the 5-Star Program, but some previous skating experience (through Extreme Ice Center's Learn to Skate program or by an in-person evaluation) is required. Certain pieces of equipment are included with each level.
For the latest 5-Star dates and registration info as well as a breakdown of skills covered in each level, please visit
Extreme Ice Center's website
.
NEXT STEP - MINI CHECKERS U6 AND U8 PROGRAMS
For kids with playing experience from First Goal, 5 Star or another youth program, 6U and 8U Mini Checkers teams, presented by Labcorp, are held at Bojangles' Coliseum and Exteme Ice Center. Program details will be posted here when they are availble.
COMPETITIVE TRAVEL HOCKEY - JR. CHECKERS AAA
This competitive travel program pulls players from all over the southeast. Practices and games are held at rinks throughout the region, including Bojangles' Coliseum.
The Jr. Checkers are pleased to announce that the organization is planning on having 2007, 2008 and 2009 birth year teams for the 2020-21 season. Please
visit the Jr. Checkers website
for updated tryout information.
For more information on the Jr. Checkers AAA program, please contact Derek Wilkinson at
[email protected]
.