During the season, Checkers broadcaster Jason Shaya checks in each week with his 10 Thoughts - a series of observations about the team and the hockey world in general.
---
1.
The first time I met "Mean" Gene Okerlund, I was 17 years old. My childhood was spent watching him on television so it was surreal seeing him in person. I was extremely intimidated by him but the fact is, he was truly a nice man and was respected by everyone. Whenever he walked into the squared circle, he brought instant credibility to the situation. Believe me when I write, there will never be another like him again. RIP.
2.
The return of three-time AHL All-Star and former U.S. Olympian Bobby Sanguinetti to the Checkers is one of the best midseason pickups in team history. The possible defense combinations are exciting to think about. There will be an adjustment however, since Bobby has only played on international ice for the last few years. I expect him to have a few practices under his belt before making his season debut next week.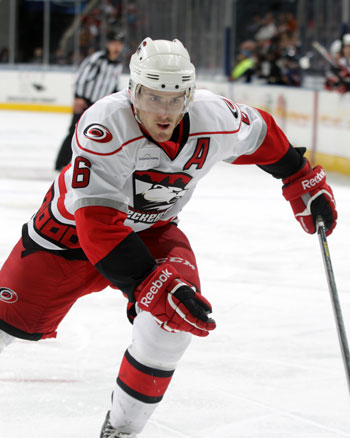 3.
One more word about Bobby: everyone knows he's an extraordinary player. But the one thing that stands out about him is his character. He is the ultimate teammate and a phenomenal person. The organization is looking forward to him putting on the number six sweater again.
4.
Here's a moment that can change the course of an entire game: during Monday's game against Toronto, Julien Gauthier had a near breakaway stopped when a Marlies defenseman blatantly interfered with his progress. No penalty was called and on the same play Toronto gets a breakaway and scores about 20 seconds later. The Checkers didn't receive many favorable calls that afternoon.
5.
While the Checkers continue to lead the league in the standings, there is a bit of concern considering the last few games they have found themselves down by goals early. This has to be figured out soon because the magic of comebacks isn't going to last for long.
6.
In his second year as coach of the team, Mike Vellucci will coach in the All-Star game. Between his work in the OHL and with Charlotte, Mike has developed many quality NHL players. He does that by putting players in the best position to succeed. His attention to detail is the best I've ever seen and he is respected across the board. His many years as head coach means he has a wealth of experience to draw from in order to find solutions and to avoid the thing he hates most - losing. Mike is very excited to spend a few days in Springfield representing Charlotte and the AHL.
7.
Why does a team pick up a player on waivers and never use him? Valentin Zykov basically never played for the Oilers during his stint. When he did get into games, he averaged barely five minutes a night. As he moves on to Vegas, I hope head coach Gerald Gallant lets Zykov have a chance to prove himself. I'm a big fan of the Oilers and I have been since I was a kid so I don't like to criticize, but that kind of decision making is hard to understand.
8.
The last two weeks for Roland McKeown is easily his best stretch with Charlotte this year. With a team-leading +13, he's simplified his game and is making plays with more confidence. In about half the games played this year compared to last season, he is only two assists away from tying last year's career high of 16.
9.
In the 2018 calendar year, no goalie in the AHL had more wins (32) than Alex Nedeljkovic. He continues to be a rock in the crease for Charlotte.
10.
For a single game, the LA Kings are bringing back the old glow puck from the 1990's when the NHL was on Fox. Many people don't realize the technology involved with the glow puck is responsible for many of the things you see in current sports broadcasting. This includes the first-down line in football. I know I'm of the minority here but I do think that technology, which was totally hated by hockey media, wouldn't be a bad thing to re-investigate.
Three games in three days to finish out this long road trip. With a 7 o'clock puck drop in Belleville on Friday, the pregame show will begin at 6:45 PM. We are happy to be joined by Matt Medaglia, former legendary Checkers PR intern and Ottawa Senators expert on both broadcasts in Belleville.