The American Hockey League today announced that the Charlotte Checkers received the Eastern Conference's Excellence in Community Service Award for the 2017-18 season at the annual Board of Governors' meeting in Hilton Head, S.C. on Thursday.
This marks the fourth time in eight AHL seasons that the Checkers have won their conference's award for exceptional community relations efforts. This season, the team reached its highest fundraising total in five years with total donations of $383,415 through cash and in-kind contributions.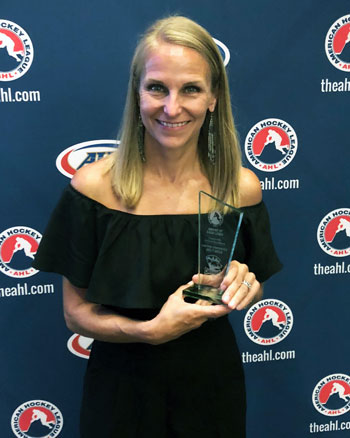 Dating back to when Michael Kahn took ownership of the Checkers in 2006, the Checkers have made $4.4 million in total contributions to the Charlotte community.
This season's community relations efforts were highlighted by four specialty jersey sales totaling $84,000, the Pass it Forward program with Verizon that surprised patrons with $10,000 worth of gift cards throughout the season, special events such as Tip-a-Checker at Pizza Peel and the Teddy Bear Toss presented by Novant Health, and several school programs that resulted in nearly $100,000 worth of grants.
Through monetary donations, ticket donations and volunteer appearances, the Checkers worked with more than 250 local organizations throughout the campaign.