The Checkers couldn't get back on track in front of packed crowd on NASCAR Night, falling to the Toronto Marlies 3-1.
The two squads once again locked in a defensive battle, going the first 40 minutes without either side finding the back of the net. The goaltending dual between Alex Nedeljkovic and Calvin Pickard was finally broken up early in the third when Jeremy Bracco redirected a point shot into the top corner to put Toronto ahead.
The Marlies would double up that advantage later in the frame off another tip-in out front, but Charlotte's offense would finally find an answer shortly after, with Andrew Poturalski getting a piece of a Jake Chelios shot in front to make it a one-goal contest with five minutes to play.
The Checkers would push to complete their comeback down the stretch of regulation, but struggled to create any offensive zone pressure. Their efforts would then be thwarted by a late empty netter that secured a weekend sweep from the visiting Marlies.
QUOTES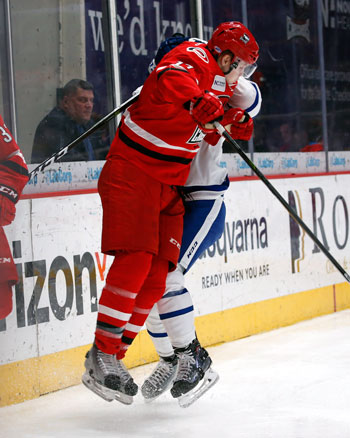 Coach Mike Vellucci on the game
I actually thought we had a really good game. They're a really good team and have a lot of veterans. I thought we played really well and out-chanced them and both goalies played well. It was just a mental mistake by one of our players that gave up the first goal. The game is a matter of who's going to make the first mistake, and we did, but we fought back, stayed with it and kept battling as hard as we could.
Vellucci on getting back to game action on Tuesday
We're not going to dwell on it. It's not like we got blown out. They're the top team in our conference, we're short-staffed, they had a full lineup and that's the way it goes. You've got to move on to the next game.
Jake Chelios on the team's recent struggles
Our biggest problem hasn't been our work ethic or anything like that. I just think one or two times a game we're breaking down mentally in the defensive zone, and in this league you just can't do that and not get scored on.
Chelios on the state of the team during this losing streak
It's mental, especially when goals aren't coming everyone gets frustrated, especially on the power play. This team does a good job of not getting too down. It's a young team, so the older guys try to keep them a little more level headed. I wouldn't say we're at the point where we need to panic. It's been a stretch where we haven't scored a lot, but we've just got to keep doing what we're doing.
Chelios on being able to play again on Tuesday
That helps a lot. When you get into a groove of playing a lot of games that's awesome. Those long weeks are tough where you practice a lot but you sit around a lot too and aren't really up to game speed. To get into a groove and start scoring a lot more, it's easier when you've been playing a lot of games.
NOTES
Charlotte has dropped each of its last four games in regulation, tying its longest losing streak of the season … The Checkers have just three total goals in their last four games … Including an 0-for-6 showing tonight, the Checkers are 1-for-31 on the power play in their last seven games … Charlotte was 3-for-3 on the penalty kill, ending a six-game streak of allowing at least one power-play goal … Poturalski has goals in each of his last two games and three in his last five … The Checkers have an all-time record of 2-10-0 against Toronto, including a 1-3-0 mark in this season's series that has now concluded … Forwards Aleksi Saarela and Sergey Tolchinsky missed the game due to injury … Forward Zack Stortini and defenseman Dennis Robertson were healthy extras.
UP NEXT
The Checkers won't have to wait long for their next contest as they host the Bridgeport Sound Tigers Tuesday for the sold-out 1950s Night.