Though some stretches are more grueling than others, schedules in both the AHL and NHL are designed to prevent players from playing too many games in too short a time. It's when those schedules overlap that things get interesting.
Zach Boychuk and Chris Terry experienced that firsthand last week, as holes created by injuries and illnesses in Carolina closed just in time for the Checkers to play three games in three nights. The end result was that each accomplished the rare four-in-four, a feat that took place in three different cities.
To the surprise of both, it wasn't quite as difficult as they imagined.
"Each game I felt fine, energy wise," said Terry. "The last two games I fought the puck a little bit, but fatigue-wise I was good. "
"Honestly, after that fourth game was over I felt like I could have played another couple of periods," said Boychuk, who scored two goals in the Checkers' last-minute loss on Sunday. "Once that adrenaline gets going and the game's so close, to lose in such a heartbreaking fashion really boils your blood."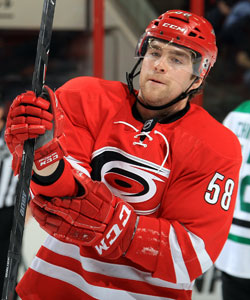 The week started differently for each player. Terry had already been in the NHL for a few days, with his appearance in Thursday's win over Dallas the second of his recall. Boychuk had been on the ice for practice in Charlotte that morning, with Checkers coach Jeff Daniels pulling him off the ice after five minutes to tell him to head to the airport.
"Normally we drive, so the writing was kind of on the wall a little bit that I'd be flying somewhere else," said Boychuk of the predictably short recall.
That flight could have been to Oklahoma City, where he'd await the Checkers' arrival from playing in San Antonio on Friday.
"They said that they were a little concerned about me playing four games in four nights," said Boychuk of conversations between Daniels and Ron Francis, the Hurricanes' vice president of hockey operations. "I said I wanted to try and help the team as much as I can, so I told them I wanted to play. Right away they booked me a ticket and I was going to San Antonio."
The team didn't even present Terry with the option. Four games in four nights was one thing. Five in six (he also partook in Carolina's game on Tuesday) was another.
"I was originally going to fly to Oak City and get a rest, but Chucky was already going there so I just suggested I go too," said Terry. "We're in the playoff hunt and I'd been here all year, so I wanted to play."
The two received little in the way of objection from Daniels, who put his top two scorers in the lineup right away.
"When your best players want to play, you've got to put them on the ice," he said.
First was a flight from Raleigh to Dallas, and another from Dallas to San Antonio that saw them arrive just in time for the game against the Rampage. The Checkers lost 5-2 that night, with their second goal a power-play tally scored by Boychuk on a primary assist from Terry, who notched the first two helpers of his NHL career against Dallas the night before.
Given that the Checkers lost despite their presence, Boychuk and Terry could have been forgiven for regretting their decision when the team's sleeper bus broke down and they had to wait two hours for a coach bus to embark on the seven-hour trip to Oklahoma City. For a league affectionately known as the Iron League, it was the most Iron League thing ever.
"Me and Terry were looking at each other like, 'Could this day get any longer? Could this weekend be any tougher?'" said Boychuk.
"We definitely fought our own adversity on that trip," said Terry. "It would have been nice to have a bunk, but the worst part was that we sat after the game in the parking garage almost until 11:45 waiting for the bus to show up. We could have gotten on our way an hour or two earlier."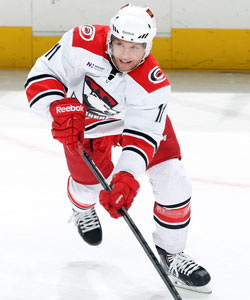 The whirlwind was enough to make finishing the trip by playing two games in less than 24 hours easy by comparison to the earlier travel involved. They at least had a chance to gather their bearings and spend two nights in the same place, at least until an additional two flights brought them home to Charlotte on Monday.
"You're just kind of running off fumes and trying to get that adrenaline to kick in as quick as you can," said Boychuk. "I was surprised. I actually felt really good. That's where your training in the summer really helps."
"I thought I had legs and I thought I was skating," said Terry. "For whatever reason my hands weren't there so I tried to be good in other aspects. On Sunday I made a mental error taking that five-on-three penalty, but other than that the power play scored when it needed to on Sunday and other guys stepped up. That's what our team's been all year – different guys contributing at different times."
Even though the weekend didn't work out in terms of wins and losses at the AHL level, the win in Carolina and the initiative shown by each player in volunteering themselves for the workload won't hurt in their bid to get noticed. Boychuk said he was pleased with his performance in a fourth-line role for Carolina, while his successful return to Charlotte has him in the running to finish the year as the AHL's goal-scoring champion. Meanwhile, Terry saw his recall, something that's becoming more frequent since he earned his first chance in four seasons a little over a year ago, as another step in the right direction.
"Each time I've gone up I've gone with more confidence," said Terry. "That one game in Columbus (on March 18), I thought I played well, and then to get a call Tuesday morning and go up for those two games, I got a great opportunity to play with Eric Staal and (Andrei) Loktionov so I wanted to take advantage of that and I thought I did. The power play has been a big part of my game the last few years, and hopefully I left a good, lasting impression up there."