The Checkers swung an AHL trade of sorts on Monday, receiving high-scoring forward Andrew Miller from the Bakersfield Condors in exchange for all-time points leader Zach Boychuk.
The transaction is technically an exchange of loaned players, made on the day of the AHL's trade/loan deadline. As such, the players' NHL rights have not changed, with the Carolina Hurricanes retaining Boychuk and the Edmonton Oilers, Bakersfield's parent club, retaining Miller.
In Miller, the Checkers add a 27-year-old forward who ranked second on the Condors in scoring with 39 points, including a team-high 24 assists. He immediately becomes Charlotte's second-highest scorer behind captain Derek Ryan, who returned from the Hurricanes on Sunday.
Although personally not too familiar with Miller, Checkers coach Mark Morris welcomes the chance to add fresh blood and offensive talent to a team that has struggled to score goals during a recent slide down the standings.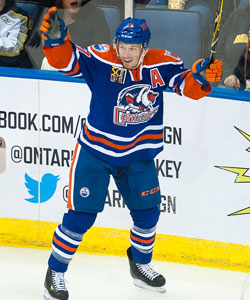 "Rick Olczyk (an assistant general manager with Carolina) described him as a guy who's a dangerous forward who can make plays and is a competitor," said Morris, who believes that Miller can play both at center and on the wing.
Now in his third professional season since signing with the Oilers as an undrafted free agent from Yale University, where he earned Frozen Four MVP honors while captaining the team to the 2013 NCAA national championship, Miller has 133 points (50g, 83a) in 159 career AHL games. The Checkers know him well from his time with Oklahoma City, where he victimized Charlotte for 17 points (9g, 8a) in 16 head-to-head matchups.
"We're looking for (scoring) from any source," said Morris. "We'd like to see a jump in that and perhaps a fresh face, new energy and a new opportunity will spark more offensive thrust."
Miller (5-foot-10, 181 pounds) has also seen time in the NHL, posting six points (1g, 5a) in 15 total games with Edmonton. Last season, he became the first Oilers player to score his first NHL goal on a penalty shot.
Miller also becomes the Checkers' fourth Ivy League product and fifth Michigan native. One of those Michigan boys, fellow Bloomfield Hills native Patrick Brown, has known Miller since he was 6 years old, with the two going on to play high school hockey together along with Checkers defenseman Jake Chelios.
"It's always tough to see someone go because Chucky is a great guy, but Miller coming in is going to help our team win," said Brown, who still skates with Miller every summer. "We played (Oklahoma City) last year and I'm pretty sure he had a hat trick against us and another time had an overtime winner. I'd obviously rather have him on my team (than play against him)."
Boychuk, who departs as the Checkers' all-time leader in points (275), goals (123), assists (152) and games played (337), ranked tied for fifth on the Checkers with 25 points (9g, 16a) in 56 games this season – a pace lower than what the former Willie Marshall winner as the AHL's top goal scorer and second-team AHL All-Star had maintained in previous seasons.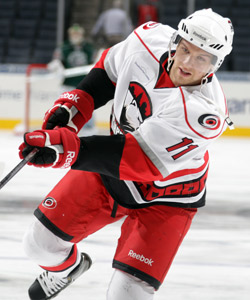 "It's been an odd season for me," said Boychuk. "I didn't start off on the right foot and felt like I was playing catch-up for the rest of the season. It's one of those years where we weren't really scoring a lot at five-on-five and I wasn't getting as much ice time as I had hoped. It's probably better to make a change and move on. I'm looking forward to a fresh start."
"I'm hopeful that he finds his way," said Morris. "Obviously the expectations are high for a guy like him that's had previous success in the league, and for whatever reason it didn't unfold for him. My hope for Zach is that he finds a good fit for himself and continues to grow. He's still a young guy. He's got all the skill in the world, and you'd like to see those guys max out their potential."
Boychuk, whose contract with the Hurricanes is up after this season, is now focused on helping the Condors, who, like the Checkers, are currently just outside of the playoff bubble, qualify for the postseason.
"The plan is to go there and impress the organization, whether it's Bakersfield or the Oilers," said Boychuk. "I think this is a great opportunity for me to set myself up for the next couple of years.
"It's probably one of those things where guys get swapped for a change in scenery. I know from playing Oklahoma City in the last few seasons that Miller is a very good player and I'm sure he'll help the Checkers."
Along with Michal Jordan and Rasmus Rissanen, Boychuk is one of three players to play at least one game with the Checkers in all six of their AHL seasons.
According to Morris, Miller was expected to arrive in Charlotte Monday evening and be in the lineup for the Checkers' Tuesday home game against the Chicago Wolves.