To request any of the experiences listed here, please fill out the form that can be found at the bottom of this page or
by clicking this link
.
Video Scoreboard Message
With a $50 donation to the Checkers Charitable Foundation, you can have a personalized birthday, anniversary or other special announcement read over the PA with accompanying photo display on the video board. These requests will be fulfilled on a first-come, first-served basis within available time constraints. Each game, the Checkers list birthdays (without PA read or photo) on the video board free of charge.
Requests for personalized scoreboard messages will not be accepted on the day of the game
.
Personalized Dasher Board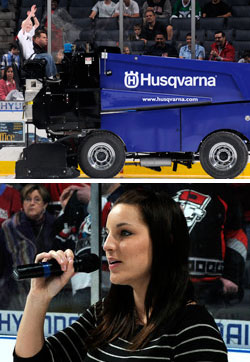 A $300 donation to the Checkers Charitable Foundation gets you your very own dasher board! Add a birthday announcement, anniversary announcement, proposal, congratulations, and more! These requests must be submitted at least two weeks prior to the game.
Ultimate Announcement Package
This $500 package is our most popular proposal and promposal package. Includes your own dasher board, TV time on the video board, a commemorative photo, a video copy of the proposal or promposal, and you and your loved one down on the ice in front of all of Bojangles' Coliseum. These requests must be submitted at least three weeks prior to the game.
Zamboni Rides
The Charlotte Checkers operate two Zambonis prior to and during the first and second intermissions of each home game. With a $50 donation to the Charlotte Checkers Charitable Foundation, you can ride the Zamboni at a Checkers home game.
All Zamboni riders must be 7 years of age or older. Zamboni ride requests must be completed 48 hours before the requested game. Zamboni ride requests will be completed based on availability.
National Anthem
If you are interested in auditioning to sing the national anthem at a Charlotte Checkers game this season, you can do so by sending an .mp3 or YouTube link to
[email protected]
or by sending a CD or DVD to the following address:
Anthem Inquiries
Charlotte Checkers Hockey
2700 E. Independence Blvd.
Charlotte, NC 28205
Due to the volume of demos received you will only be contacted should you be selected to perform. All CDs and DVDs become property of the Charlotte Checkers and will not be returned.
Nonprofit Messaging
The Charlotte Checkers are proud to help nonprofits and other advocates use our games to raise awareness and funds for their cause. Some of the ways we do this include ticket sales fundraisers, allowing organizations to set up concourse tables to share their stories and including these organizations' messaging in our in-game presentation.
Based on availability and discretion, the Checkers will do everything possible to share the messaging of participating nonprofits as it fits into the overall game presentation that is designed to entertain in a fun, family-friendly atmosphere. Messaging that highlights an organization's efforts in the community and provides clear calls to action for the audience to take is strongly preferred.
To learn more, contact a group sales representative at (704) 342-4423 or email
[email protected]
.