John Muse
's first week back in the AHL went pretty well. Better than anyone else's, actually.
The league named the 25-year-old Checkers' goalie the CCM/AHL Player of the Week for the period ending Oct. 27 – one that saw him post shutouts in both of his starts. Muse, who
rejoined the team on a professional tryout contract
on Wednesday, made
30 saves to defeat the Grand Rapids Griffins
on Friday and
27 more to thwart the Chicago Wolves
on Sunday – both road victories.
Muse, who played 31 total games for the Checkers in the 2011-12 and 2012-13 seasons, leads the league in shutouts and is one of three goalies who have played at least one game to boast perfect goals-against and save percentage numbers.
"He proved two years ago what he's capable of doing," said coach Jeff Daniels, who saw Muse make a similar start to his Checkers career in December of 2011, earlier Monday morning. "He definitely looks like he's back to his old self."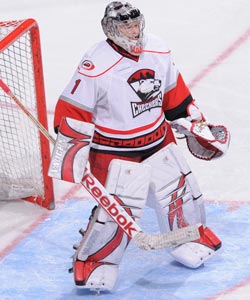 Muse's active shutout streak of 120 minutes ranks third in Checkers history behind
Justin Peters
' mark of 143:48 and Dan Ellis' record of 153:18, both set last season. Ellis' streak, which was still ongoing exactly one year ago today, earned him the Checkers' most recent player of the week award prior to that of Muse. Ellis, an NHL veteran who later signed with Carolina, was also on a tryout contract at the time.
Using a combination of Muse and Allen York, another tryout signing that the team has since released, the Checkers held opponents to a total of one goal while posting a record of 2-0-1 in a three-games-in-three-days stretch that was played in three different cities over the weekend.
"Those goalies made some great saves and kept us in the game at times, but it was a total team effort," said Daniels, who said he would be keeping tabs on York should he need to find another goalie later in the season. "The D played really well with some guys playing a lot of minutes, and the forwards have been committed to working and helping out."
Muse, who was playing with Fort Wayne of the ECHL at this time last week, is in his third season with the Checkers. He played under an AHL contract in 2010-11 and with an NHL contract from Carolina last season, but departed as an unqualified restricted free agent after posting a 3.22 goals-against average and .891 save percentage in 16 games following the end of the NHL's lockout.
Including one game played with Portland following the conclusion of his final collegiate season, Muse now has a 20-10-3 record to go along with a 2.37 goals-against average, .922 save percentage and four shutouts as an AHL player. He also holds a decorated record at the lower levels, earning the 2012 Kelly Cup MVP award in the Florida Everblades' championship run and two NCAA national titles at Boston College.
With the release of York, Muse and longtime New York Islander
Rick DiPietro
are the only goalies on the Checkers roster – one that has seen Peters and
Mike Murphy
join the Carolina Hurricanes to cover for injuries. Daniels said Monday that DiPietro was likely to play at least one of the team's next three games as the team concludes a six-game road trip in Grand Rapids, Rockford and San Antonio starting Wednesday.