Rick DiPietro's time with the Charlotte Checkers has come to an end.
Coach Jeff Daniels confirmed Tuesday morning that the team has released the 32-year-old veteran of 318 NHL games from his professional tryout contract. Since
joining Charlotte on Oct. 26
, exactly one month ago, DiPietro went 0-4-0 with a 5.18 goals-against average and .846 save percentage.
Following Tuesday's practice, Daniels said that, although he had not spoken directly to DiPietro, he understood the move to have come from the goaltender rather than the Carolina Hurricanes organization, which originally signed the longtime New York Islander following injuries to Cam Ward and Anton Khudobin.
"He called Jim Rutherford last night and thanked him for the opportunity," said Daniels. "He just didn't think it was going to go anywhere.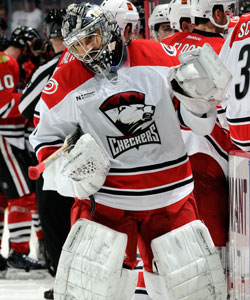 "I talked to him last week and said right now we have three goalies here and we're waiting for one of them to step up and be the guy. The opportunity was there for him to do that, but he didn't feel that it was going to go his way."
DiPietro actually played one of his better games with Charlotte during the team's most recent game on Sunday, a 26-save effort in a 4-3 loss to Rockford, though it still may not have been up to the standards of a player who became the first overall selection in the 2000 NHL draft, earned an NHL All-Star selection in 2008 and represented the United States in a handful of international competitions, including the 2006 Winter Olympics.
In that game on Sunday, his first start since allowing five goals on 15 shots in a loss to Hershey two weeks earlier, the first goal against him was one he wanted to have back, a shot from along the wall by the IceHogs' Adam Clendening that beat him cleanly. It left DiPietro upset after the game despite rebounding with a handful of good saves in the second period.
"It was a garbage first goal that kind of contributed to us losing," he said following Sunday's game. "I just got crossed up, and there's no excuse for that."
In an immediate follow-up question about where he considered himself to be in his attempt to come back from injuries that derailed his NHL career and led to the Islanders' buyout of his 15-year, $16.5 million contract over the summer, DiPietro did not give a clear response.
"I don't know," he said. "I haven't even thought about that, to be honest."
DiPietro's departure leaves the Checkers with two goalies –
John Muse
and
Mike Murphy
– on their roster, though Murphy is suffering from an injury that prevented him from dressing for games on Saturday and Sunday and will also cause him to miss Wednesday's game in Norfolk. Murphy was again limited in Tuesday's practice, which has been the case ever since he returned from the Carolina Hurricanes.
Daniels said that he will add a goalie later in the day on Tuesday.
Jesse Deckert
, who signed an AHL contract with Charlotte over the summer and is now with ECHL Florida, is not an option after suffering a season-ending injury earlier this month.
Allen York, the last goalie to sign a tryout with Charlotte, has since been picked up by the Texas Stars, where has posted a 3-0-1 record with a 2.20 goals-against average and .924 save percentage. York, who the Checkers released to make room for DiPietro, stopped 28 of 29 shots in his only game with Charlotte, a 2-1 shootout loss in Rockford on Oct. 26.
In other injury news, Daniels said that defenseman
Michal Jordan
, who he initially believed to have a chance of returning this week, is now out indefinitely.
Sean Dolan
will also miss Wednesday's game after returning to his home in St. Louis to attend to a family matter.