Before the Checkers called in October,
John Muse
only had the chance to play one ECHL game. Given the way he's performed since, the team has taken a step to keep it that way.
Coach Jeff Daniels announced Tuesday that the Checkers have agreed to an AHL contract with Muse that will last the rest of the season, replacing the
professional tryout contract he initially signed on Oct. 23
. In 16 games this season, Muse, 25, has posted a 9-6-0 record to go along with a 2.29 goals-against average, .922 save percentage and two shutouts.
"He's earned the right to be in the net based on his play," said Daniels, who has started Muse in each of the team's last three games, all victories. "He's given us a chance to win, and that makes our job a little easier."
"It's nice, but it's not like it's over," said Muse, who
earned the AHL's Player of the Week award
by picking up two shutouts in his first two starts with Charlotte. "Every day is a tryout, so I need to continue to keep working hard in practice."
Among the franchise-record seven goalies that the team used for the first third of this season, Muse emerged as the top option still available to Charlotte, having been in net for every one of the team's wins over the last two months. Checkers goaltenders not named John Muse have a combined 2-8-1 record with a 3.74 goals-against average and .865 save percentage.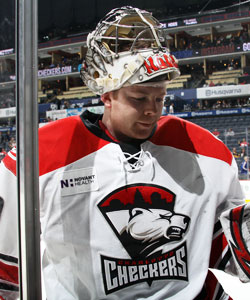 "I've always had confidence in myself and the big thing is keeping that confidence and being consistent on a nightly basis," said Muse.
To get to this point, Muse had to start with the ECHL's Fort Wayne Komets, who he signed with after the Carolina Hurricanes chose not to offer him a new contract last summer. It only took a few weeks for injuries to hit his old organization – a primary reason Muse accumulated 32 games with the Checkers over the previous two seasons, both of which he also started at the ECHL level.
"Honestly I felt like I played pretty well last year, just things didn't work out the way I wanted or the way the team wanted," said Muse, who finished with a 3.22 goals-against average and .891 save percentage after the end of the NHL's lockout led to his return to Charlotte. "I stuck with it over the summer with my training and have been able to keep my attitude positive, and that's helped a lot coming into the year."
"Mentally, he's in the right place right now," said Daniels. "Last year he was set on being here and then we signed Dan Ellis and it shuffled him down a bit, but he's pushed himself all summer. He's earned this opportunity here with us."
This marks Muse's second AHL contract with Charlotte, adding to the one he signed prior to his rookie season in 2011-12. That campaign saw him make enough of an impression – he went 10-3-2 for Charlotte and won the ECHL's playoff MVP award, adding to the two championships he picked up as a four-year starter with Boston College – to earn the NHL contract the following season.
His current deal assures that what happened to him in that rookie season – Justin Peters and current teammate
Mike Murphy
returned to the lineup at close to the same time, leading to his abrupt return to the Florida Everblades – won't happen again. That's true even with the possibility that the Checkers may soon get another goalie from the NHL as the
Hurricanes declared Anton Khudobin ready to return from injury
on Tuesday, giving them three capable goalies along with Peters and Cam Ward.
Muse said the possibility of that creating more competition in Charlotte doesn't cause him any concern. He's actually used to it, having watched Murphy, Allen York, Rick DiPietro and Rob Madore come and go this season while he continued to receive the bulk of the starts.
"There are always guys trying to take your spot, and I think coming in and being on a PTO, I've had to work and re-prove myself in the organization," he said. "As long as you work hard and be a professional about it, people take notice."
Now that he's under a more permanent contract, Muse has the green light to move out of a Charlotte hotel, find his own place and return to Indiana to get his car and a host of other belongings. One never knows how long a PTO might last, but it's safe to say that he didn't pack for two months.
"It's crazy how things work," he said of the quick promotion from the ECHL. "In my first year there were a couple of injuries right away and I was able to come up, and last year I was down there for an extended period of time when I thought it was going to be here. You never know what's going to happen, but luckily it worked out the way it did."