Ryan Murphy
's assignment to Charlotte was part technicality, but he and the Hurricanes are still hoping the experience can do him some good.
By
sending Murphy to the Checkers before last Friday's deadline
, the Hurricanes ensured that their 20-year-old, 2011 first-round draft pick would be eligible to continue playing in the AHL during the NHL's upcoming Olympic break. As long as he stays with Charlotte until that break begins on Feb. 9, he'll be able to log heavy minutes for six additional games while the Hurricanes disperse.
That said, an intended benefit of having him gain confidence in the AHL could already be occurring.
"(The Hurricanes) gave me a lot of opportunity and pretty much put me in every situation possible, other than the penalty kill, and I wish I would have taken more advantage of it," said Murphy. "Our power play wasn't very good and I wish I could have helped that. (Carolina coach Kirk Muller) told me to come down here and gain some more confidence on the power play so that if I'm back up I get another chance."
In his lone Checkers game so far,
a 9-3 win over Oklahoma City
on the night of his assignment, he had three assists on the man advantage as Charlotte tied a franchise record with five power-play goals.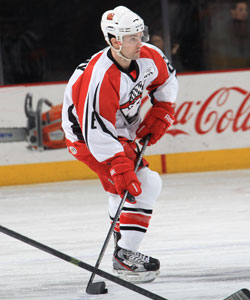 "His play showed that he had been up top for 40-plus games, just with the way he was skating and the confidence with the puck," said Jeff Daniels, who coached Murphy for eight games in April and May of last season. "It was night and day from where he was when he came in from junior last year.
"I thought he came down with a good attitude, which is always the key right away with the disappointment there. I thought he worked."
Despite a whirlwind few days leading up to his season debut with the Checkers – he had driven down from Raleigh that morning following a late arrival from Buffalo with the Hurricanes the night before – Murphy seemed to have a good understanding of his current situation.
"I had a good long chat with Kirk where we talked about my game and what he expects from me down here," said Murphy. "He wants me to work hard and try to get back up. I'm just going to enjoy it while I'm here."
Together with his four assists in last season's eight-game stint that included all five of the Checkers' playoff games, Murphy now has seven points and a plus-4 rating in nine career AHL contests. He was plus-3 on Friday and was on the ice for seven of the Checkers' nine goals scored during one of the wilder games in team history.
"I don't think I tried to do too much and kept it simple for the most part," said Murphy. "We came out with a pretty unusual win."
With the game, which set Checkers season highs for goals scored, winning margin, power-play goals and penalty minutes, in no way typical, Daniels said that he was looking forward to see how Murphy would respond against a physical Norfolk team on Tuesday. He won't have that chance with that game since postponed due to inclement weather, but Murphy could still end up playing a total of 12 Checkers games if he stays for the duration of the Olympic break.
As long as he's with the team, he'll continue to get plenty of ice time.
"He'll get power play time, but it might not be with the top unit just based on that unit going pretty well and Michal (Jordan) earning the opportunity to stay there," said Daniels. "We don't want to change the way we play and we don't want to change the way he plays, but we've got to make sure we're all on the same page and keep that structure to our game."
If all goes well, it's likely that Murphy will get another chance in Carolina before too long, even though the team's current glut of defensemen was part of why he did not crack the lineup for four games immediately preceding his assignment to Charlotte. Few of those defensemen have the offensive skill set that saw Murphy score 220 points in 228 junior games and become the 11th overall pick in his draft year, a clear need for the team's 26th-ranked power play.
Until another chance comes, Murphy will do what he can with the Checkers.
"Anytime you're going down a league you have a lot of confidence but this is still a great league with a bunch of good players," said Murphy. "This is still my first year pro and still a learning experience for me. I'm taking it day by day and learning as we go."