The NHL Central Scouting list of top North American skaters, that is. After leaving him out in his first two years of eligibility, the organization ranked Moore,
a former Jr. Checker and Charlotte Checkers stick boy
who was born and raised in Matthews, 195th in the category, raising hopes that he could be drafted next weekend.
Making the list was a goal and an expectation of Moore's when first eligible in 2012. That he made it for the first time in 2014 came as something of a surprise.
"Since I was getting older every year that goes by, I didn't really expect to be on there," said Moore, who, at 20 years of age, is among the oldest players ranked. "It made me happy that teams were looking out for me and watching. It's a really good feeling to have.
"After (not making the list in previous years), I just told myself I'm going to keep working and try to work my way back on it. I'm back on it now."
Moore, one of two native North Carolinians on Central Scouting's list of skaters (Josh Wesley, son of former Hurricanes defenseman Glen Wesley, is ranked 111th), made the list while posting 61 points (25g, 36a) in 58 total games with the Sarnia Sting and Sault Ste. Marie Greyhounds of the Ontario Hockey League – more than double the 30 points he scored in his rookie season with Sarnia one year earlier. After initially turning heads with a pronounced southern twang upon his arrival in Canada, he's now letting his hockey do the talking.
"My first year there, the guys made fun of me every day, every time I was at the rink, just because of the country accent I had," he said. "They said I was a big 'ol redneck. As the years went on I've been getting a Canadian accent so they haven't been making as fun of me as much as they were. Everyone says it's gone now. I'm still the same guy as I was five years ago, 10 years ago, 18 years ago, but being around all the Canadian boys, the accent starts to change a little bit."
In addition to the increased exposure of playing in the OHL and the expected curve of getting better as he's gotten older, Moore partially credits his increased notoriety as a prospect to a midseason trade that sent him from struggling Sarnia, which finished with the league's worst record, to surging Sault Ste. Marie, which won its division. Even though his point totals were similar at both stops (33 points in 31 games with Sarnia; 28 points in 27 games with Sault Ste. Marie), he feels his performances improved.
"I started playing a lot better and the coaches were pushing me harder and harder," said Moore, who did not appear on Central Scouting's midseason rankings. "Moving into that organization really made me a better player."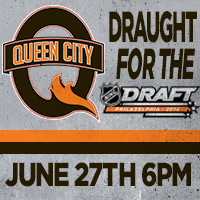 While with the Greyhounds, Moore spent significant time on the top line with Jared McCann, Central Scouting's 10th-ranked North American skater, and Hurricanes prospect Sergey Tolchinsky, who made his pro debut with the Checkers late last season. Moore was well aware of

the goal that made Tolchinsky YouTube famous

last season, although his perspective on it was different than most.

"I was on his line and I'm right behind him in the video," said Moore. "I was watching and thinking, "What is going on here?"

Even though Moore had never seen the move executed in a game, he'd seen enough of it in practice.

"He tries crazy things," said Moore of Tolchinsky.

Moore wouldn't be the first player to be chosen in later years of eligibility, something that Checkers forwards Brody Sutter and Brendan Woods can attest to. The Hurricanes took Sutter in his second year (193rd in 2011) and Woods in his third (129th in 2012).

Though the ranking is in no way a surefire indicator of what will come to pass once teams are on the clock, Moore's placement makes it no certainty that he will become the first locally-trained player to hear his name called at any NHL draft. It's something he realizes, and, given his unusually long wait, he's happy to take whatever comes.

"I'm just going to wait and see what happens and go with the flow," said Moore. "You can't really expect too much."

It took a little longer than he would have liked, but local product Bryan Moore is on the list.