On a young team that saw several players learn on the fly, few learned as much as Dennis Robertson.
A healthy scratch more often than not in the first half of his rookie season, the 24-year-old product of Brown University may not have created the lineup openings left by the Carolina Hurricanes' recalls of Ryan Murphy, Michal Jordan and Rasmus Rissanen and others, but he certainly took advantage.
After playing just seven of the Checkers' first 22 games, he played 50 of the next 54, including each of the last 27, and appeared to be a different player by season's end.
"As the year went on and all of the sudden we started losing all those guys to Carolina, he became a very good, reliable defenseman for us," said former Checkers coach Jeff Daniels. "When we needed a guy to step up, he was a guy that stepped up."
Listed as a bulky 6-foot-1 and 215 pounds, Robertson, once he hit his stride, showed signs of being an all-around contributor. Despite his limited playing time compared to some of the team's other defensemen, he finished tied second among Checkers blueliners with 17 points, only three of which came on the power play. He also displayed some toughness, with five of his 70 penalty minutes coming
from a fight
that teammate Kyle Hagel, someone who would know, described as getting "the meat tenderizer out on that guy's face."
For Robertson, the opportunity to improve came from an opportunity to play and rise to a challenge.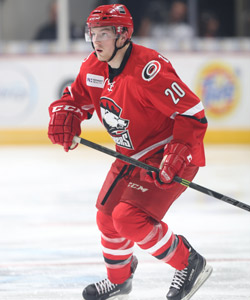 "That's the best way to learn – by doing," he said. "When guys get called up or injured, the players that play deeper roles have to step up and log more minutes. There can't be any slippage there."
When everything was said and done, Daniels, who dressed as many as five rookie defensemen on a nightly basis late in the season, three of whom were playing their first pro games after the conclusion of their junior seasons, listed Robertson as one of the team's most improved players.
"Without a doubt," he said. "The first two months of the season he had a tough time getting in the lineup because we had eight defensemen and him and Beau (Schmitz) were the odd men out for a long period of time. To his credit, he didn't complain about it and kept working in practice."
Something of an afterthought in Carolina's 2014 New Year's Day trade that also brought John-Michael Liles to the organization in exchange for Tim Gleason, Robertson, who the Toronto Maple Leafs drafted in the sixth round in 2011, could end up being one of the key veterans on next season's Checkers team. Though it will only be his second year pro, like teammate Danny Biega this past season, his age and physical development relative to the Checkers' junior hockey products suggest that he could be further along his development than some might think – especially now that he's made that adjustment to AHL hockey. As such, he could be counted on for more of a leadership role similar to the one he held at Brown, where he served as team captain for his junior and senior seasons.
After an offseason in which he plans to continue to work on his skating, he also hopes to put himself in a position to do what Biega, Keegan Lowe and Brendan Woods all did in their second years – get that first call to the NHL.
"To see guys like that who have put in their time and played well throughout the season get rewarded, even if it's just a couple of games to get their feet wet, that definitely motivates everybody in the locker room to put in that much work over the summer," he said. "It could be anybody's turn."