With a tough road trip behind them, the Checkers are back on home ice for the last time this regular season looking to break away from Cleveland and claim the last playoff spot.
Week in Review
Team Statistics
Overall record

35-29-5

Home record

23-10-1

Road record

12-19-4

Last week's record

2-1-1

Last 10 games

7-2-1

Division Standings

5th

Conference Standings

10th

League Standings

17th
Cleveland 3, Checkers 2 (OT)
To kick off a pivotal series against the team they're fighting for a playoff spot, the Checkers locked into a tight battle with the Monsters but couldn't quite pull out the two points. Aleksi Saarela lit the lamp in his first North American pro game, followed by a shorthanded marker from Patrick Dwyer to give the visitors a one-goal lead early on in the second, but Cleveland answered later in the frame to draw things back even. After 60 minutes wasn't enough to determine a winner, the contest headed to overtime, where a holding call on Jake Chelios resulted in the Checkers have to kill a penalty in the extra frame. Despite its best efforts, Charlotte couldn't keep the Monsters at bay, and former Checker Zac Dalpe connected on Cleveland's third power-play goal of the night to his team's win.
Full recap
Checkers 4, Cleveland 1
The Checkers left no doubt in the rematch two days later, throttling the Monsters to jump back into a playoff spot. The visitors overcame a slow start by picking up a pair of tallies in the second followed by a power-play blast from Philip Samuelsson early in the third to build a sizeable lead. Zac Dalpe struck again quickly after to put the Monsters on the board, but the Checkers snuffed out any comeback hopes and Danny Kristo put the final nail in the coffin late in the third to lift Charlotte to a 4-1 victory, buoyed by 30 saves from Tom McCollum.
Full recap
Checkers 3, Grand Rapids 1
With Tom McCollum away from the team for personal reasons, the Checkers turned to Daniel Altshuller for the following night's rematch, and the young netminder turned in a strong performance. Altshuller made 30 stops on the night and nearly notched a shutout until Matthew Ford found the back of the net in the final minute of regulation. On the offensive side, the Checkers were propelled by their two most recent additions. Valentin Zykov, fresh of his first NHL stint, lit the lamp in the first, then it was newcomer Aleksi Saarela who potted a pair of goals three minutes apart in the third to sink the Griffins and give Charlotte the win.
Full recap
Chicago 5, Checkers 3
The team then travelled to Chicago to wrap up their week-long road trip, but they couldn't replicate the success from Cleveland and Grand Rapids. Andrew Miller stayed hot with a tally in the middle frame, but the Wolves built themselves a commanding 4-1 lead halfway through the third period. The Checkers wouldn't quit, though, as Aleksi Saarela and Trevor Carrick tallied back-to-back power-play goals down the stretch to put the visitors within one goal. A late Cleveland penalty gave the Checkers a shot at netting another power-play goal to knot things up, but their extra attacker gamble backfired as former Hurricane Brad Malone deposited an empty netter from across the length of the ice to squash Charlotte's rally and put the game away for Chicago.
Full recap
Three Stars Of The Week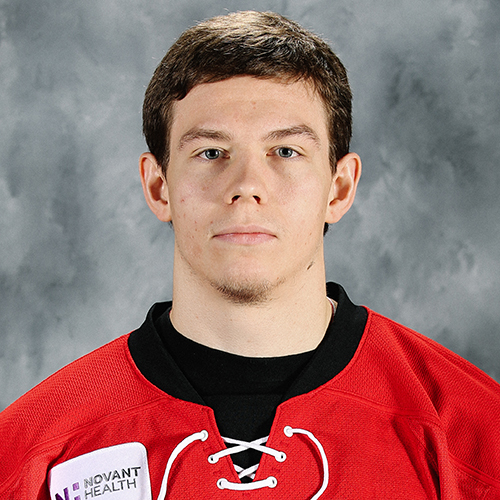 3rd Star
Valentin Zykov
1g, 2a
2nd Star
Aleksi Saarela
4g, 2a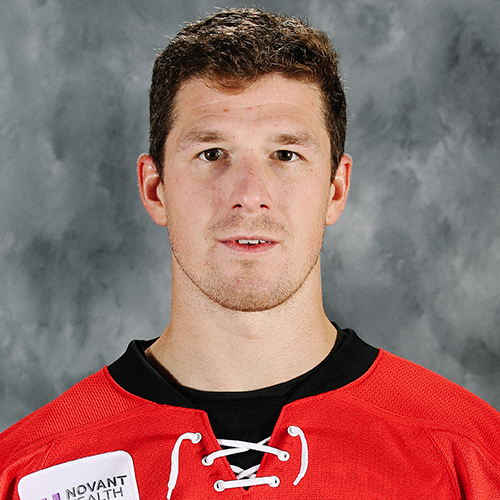 1st Star
Andrew Miller
2g, 5a
Notables
PLAYOFF PICTURE
It was an up-and-down week for the Checkers, but taking five of a possible eight points has currently put the team on the outside of the playoff picture looking in by a slim margin. The Monsters hold the final playoff spot with 77 points and six games to play, while the Checkers have 75 points and seven games to play, putting Cleveland in fourth place by virtue of points percentage. The teams are essentially dead even, however, as they would both finish with 89 points if they were to each win out.
Both the Checkers and Monsters have four games on the slate this upcoming week, with the former hosting San Antonio and Texas for two games each and the latter visiting Iowa, Milwaukee and Grand Rapids before hosting the Griffins on Sunday.
MILLER'S TIME
After recovering from a tough injury that sidelined him for over a month in the middle of the season, Andrew Miller has erupted to become hottest offensive player on Charlotte's roster. The 28-year-old forward is on a four-game point streak that has seen him pile up seven points, and over the last 19 games he has a staggering 24 points. Miller's recent surge has pushed him to third on the team in scoring with 36 points in 48 games.
FINN ON FIRE
It didn't take long for Aleksi Saarela to adjust to the North American game. It didn't take any time, as a matter of fact, as the 20-year-old forward is turning heads after just four games with Charlotte.
Saarela has recorded at least one point in each of his first four games with the Checkers, totaling six points (4g, 2a) overall. That performance was good enough to earn the Helsinki native the AHL/CCM Player of the Week award, making him the seventh player in franchise history to receive the honor and just the third skater.
NEXT MAN UP
Aleksi Saarela Named CCM/AHL Player of the Week Read More
Last Week's News
With Tom McCollum out of the lineup for a pivotal matchup against the Griffins last Friday, Daniel Altshuller stepped into the starter role and shined. In his first appearance since March 9, the third-year pro stopped 30 of the 31 shots he saw, with his shutout bid getting broken up in the final minute of regulation, and earned the Checkers a huge victory.
Spending much of this season as Charlotte's backup netminder, Altshuller is 3-1-0 in his last five appearances.
HOME FINALE
This week will mark the final home stand of the season for the Checkers as they host San Antonio for a pair of weekend matchups and Texas for a weekend series.
The Checkers have been enjoyed their best season on home ice in 2016-17, logging a franchise-best 23 wins thus far. They'll look to use that strength to buck a trend that has seen the Checkers struggle at home late in the season. In their six previous season, the Checkers have only completed their final home stand of the year over .500 twice, going 3-2-2 in 2012-13 and 2-1-0 in 2010-11.
MORE REINFORCEMENTS
The Checkers received another high-end prospect for the stretch run today in defenseman Jake Bean. The 6-foot-1 blue liner, who was selected in the first round of last summer's draft, recently wrapped his WHL season with the Calgary Hitmen, where he recorded 45 points (8g, 37a) in 43 games to lead team defensemen. At 18 years old, Bean won't be eligible to start next season with the Checkers, but could see game action at some point during the last seven games of this season. Getting into the lineup could prove to be tough, as the Checkers have rolled with the same six defensemen in the 18 games since acquiring Philip Samuelsson, going 12-5-1 over that stretch. Bean joins Hudson Elynuik, who has yet to make his debut, as the additions from junior currently on the Charlotte roster.
Ranks
Michael Leighton ranks sixth in the AHL in goals-against average (2.17)
Andrew Poturalski is tied for second among league rookies in scoring (48) and tied for third in assists (32)
Lucas Wallmark is tied for second among league rookies in goals (23), tied for 11th among rookies in points (42) and tied for second in shorthanded points (3)
Connor Brickley is tied for fourth in the AHL in game-winning goals (6)
INJURIES
Kyle Hagel missed 25 games starting Feb. 3
Michael Leighton missed 20 games starting Feb. 18
Erik Karlsson missed 10 games starting Mar. 17
Danny Kristo missed one game starting April 2
Transactions
Incoming
April 3: (D) Jake Bean assigned by Carolina (NHL)
April 3: (C) Lucas Wallmark assigned by Carolina (NHL)
April 3: (LW) Phil Di Giuseppe assigned by Carolina (NHL)
Outgoing
April 3: (LW) Bryan Bickell recalled by Carolina (NHL)
April 3: (C) Andrew Poturalski recalled by Carolina (NHL)
April 1: (G) Justin Fazio released from ATO
Coming Up
Wednesday, April 5 at 7 pm - Checkers vs. San Antonio

Winning Wednesday presented by Farm Bureau Insurance - enjoy $1 Bud Light draughts and get a free ticket to our game on Sunday, April 9, if we win!
College Night presented by Hendrick Acura - save on tickets by using your valid college email address! Click here for info.
Alumni Night
Saturday, April 8 at 6 pm - Checkers vs. Texas

Throwback night presented by Husqvarna. Players to wear special jerseys; free Husqvarna buffs to the first 5,000 fans
CEENTA Night
Family Night - save $45 (40 percent) on groups of four tickets when purchasing online!
School Supply Drive benefiting Classroom Central - donate at the game to receive a free ticket to the next day's game!
Teacher Appreciation Night presented by Piedmont Natural Gas - educators can get discounted $12 tickets. Contact Alice Garmon at

[email protected]

to make sure your school is included in this program
Sunday, April 9 at 1 pm - Checkers vs. Texas

Locals Day - local vendors, food, drink and merchandise will be on sale starting with a pregame party at 11 a.m. More info coming soon!
Sunday Brunch at the Red Line Club. More info
Postgame Party at Hickory Tavern presented by Coca-Cola - join Chubby, the CheckMates and some of our players at the Hickory Tavern's Metropolitan location after the game! Enjoy a $2.95 Bud Light special and show your ticket to get 10 percent off your entire bill (excluding alcohol).
Mommy/son day - $20 includes a Platinum ticket in section 124 and access to the VIP player tunnel to high five the players. Contact Alice Woods at [email protected] or (704) 444-1887.
By the Numbers
| | | | |
| --- | --- | --- | --- |
| CATEGORY | RECORD | AHL RANK | LAST WEEK |
| Power play | 11.7% | 30th | 30th |
| Penalty kill | 80.7% | t-21st | 20th |
| Goals per game | 2.70 | 18th | 18th |
| Shots per game | 30.39 | 11th | 11th |
| Goals allowed per game | 2.78 | 14th | t-15th |
| Shots allowed per game | 29.04 | t-8th | t-10th |
| Penalty minutes per game | 10.72 | 2nd | 3rd |
| | |
| --- | --- |
| CATEGORY | LEADER(S) |
| Points | Andrew Poturalski (48), Lucas Wallmark (42), Andrew Miller (36) |
| Goals | Lucas Wallmark (23), Andrew Poturalski, Valentin Zykov (16) |
| Assists | Andrew Poturalski (32), Andrew Miller (27), Chelios (22) |
| Power play goals | Valentin Zykov, Andrew Poturalski (4) |
| Shorthanded goals | Lucas Wallmark, Patrick Dwyer (2) |
| Game-winning goals | Connor Brickley (6) |
| Shots on goal | Andrew Poturalski (142), Jake Chelios (139), Lucas Wallmark (134) |
| Penalty minutes | Connor Brickley (57), Mitchell Heard, Valentin Zykov (53) |
| Plus/minus | Haydn Fleury, Lucas Wallmark (+11), Andrew Miller (+10) |
| Wins | Michael Leighton (11) |
| Goals-against average | Tom McCollum (2.06) |
| Save percentage | Tom McCollum (.928) |