It was a busy weekend for the Checkers, who picked up three of a possible six points during their final three-in-three scenario of the year.
The Checkers will now prepare for a five-game home stand as they look to climb their way back into the Central Division playoff hunt.
Week in Review
Team Statistics
Overall record

23-24-4

Home record

15-6-1

Road record

8-18-3

Last week's record

1-1-1

Last 10 games

6-3-1

Division Standings

6th

Conference Standings

12th

League Standings

21st
Milwaukee 6, Checkers 3
Kicking off their final three-in-three of the season in Milwaukee, the Checkers roared out of the gate, using an early strike and a pair of power-play tallies to build a 3-1 lead after 20 minutes of play. The Admirals cut that advantage down to one goal in the middle frame, but the Checkers still entered the third period ahead 3-2. That's where things fell apart for the visitors, however. With six minutes to go in regulation Kevin Fiala evened the score, then less than three minutes following that Justin Kirkland hammered home the go-ahead goal for Milwaukee. The Admirals would pot two empty-net goals as the Checkers desperately tried to pull back even, lengthening their lead to the final score of 6-3.
Full recap
Checkers 2, Rockford 0
The Checkers didn't have much time to dwell on the loss in Milwaukee, as they traveled to Rockford for another tilt the next night. Charlotte again built themselves a lead, with Valentin Zykov and Andrew Poturalski staying hot and tallying goals in the first and seconds periods, but didn't let it go this time. The IceHogs couldn't put anything behind rookie netminder Alex Nedeljkovic, who stopped all 32 of the shots that he faced to pick up his first career shutout.
Full recap
Milwaukee 5, Checkers 4
The final leg of the three-in-three weekend found the Checkers returning to Milwaukee for the second time in three nights and again falling victim to a comeback. Charlotte's offense, kickstarted by a Lucas Wallmark strike 19 seconds into the game, came alive and twice gave the team a two-goal advantage, but the Admirals wouldn't roll over. A tally by Derek Army in the waning moments of the second was followed by an early goal from Adam Payerl in the third that drew the score even at four. That would hold for the remainder of regulation, forcing the two squads to overtime for the third time this season. After hitting the crossbar almost immediately in the extra frame, the Admirals would end the game less than a minute later on a slick move from Frederick Gaudreau to lift the home squad 5-4.
Full recap
Three Stars Of The Week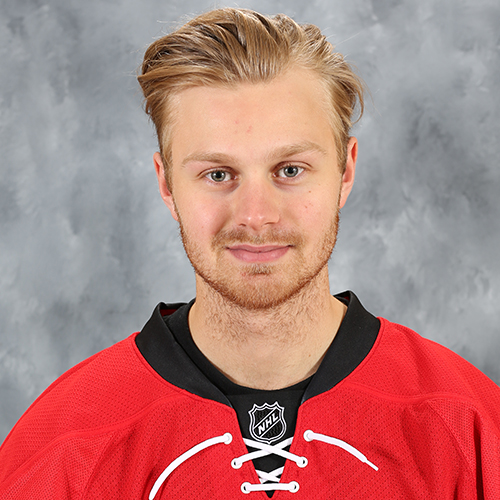 3rd Star
Lucas Wallmark
1g, 3a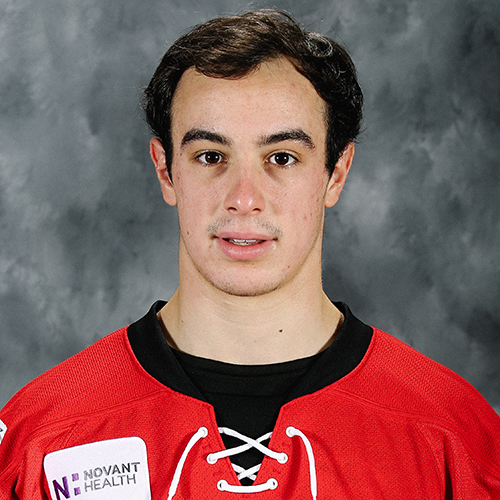 2nd Star
Andrew Poturalski
2g, 2a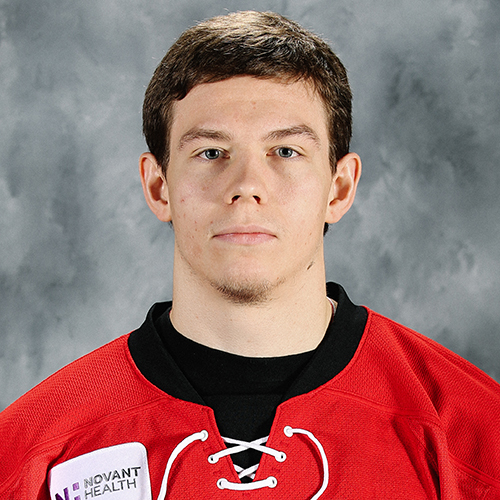 1st Star
Valentin Zykov
3g, 3a
Notables
MAKING MOVES
With the NHL trade deadline looming ahead next week, the Hurricanes swung a deal Tuesday afternoon, acquiring defenseman Philip Samuelsson from Montreal in exchange for longtime Checker Keegan Lowe.
Samuelsson, the son of Charlotte head coach Ulf Samuelsson, had five points (1g, 4a) in 40 games this season with the St. John's IceCaps. Selected in the second round of the 2009 draft, the 25-year-old product of Boston College has tallied 101 points (16g, 85a) in 344 AHL games with Wlkes-Barre, Portland, Springfield and St. John's.
Lowe departs as the third-longest tenured defenseman in Checkers history, with the eighth-most games played overall.
GAINING GROUND
While they endured some heartbreaking losses, Charlotte still managed to pull themselves up in the playoff race over the weekend. With 50 points, the Checkers are four points behind the Cleveland Monsters, who have played one less game than Charlotte, and will have a chance to erase that advantage when they welcome Cleveland for a two-game set this weekend.
Cleveland technically sits in the final Central Division playoff spot by virtue of their .540 winning percentage, but there is another team standing in the Checkers' way as well. The Iowa Wild lead both Charlotte and Milwaukee with 57 points on the season, but have played 54 games compared to Charlotte's 51 and Cleveland's 50. The Checkers will face the Wild two more times this season, both of which come in late March.
THREE-IN-THREE
By going 1-1-1 over the weekend, the Checkers are now 53-36-13 all time in three-in-threes. They finished this season 3-2-1 in three-in-threes, including going a perfect 2-0-0 in the middle leg.
INJURY BUG
The Checkers saw two big pieces fall to injury on Friday in Milwaukee. Patrick Dwyer, who was on a three-game point streak, suffered an injury during warmups that forced him out of the lineup that night as well as the following two games. Then in the second period netminder Michael Leighton had to exit the game with an injury of his own, leading the Checkers to recall Daniel Altshuller from Florida as the veteran was unable to dress for either of the next two contests.
With the team enjoying a much-deserved day off Monday, there is currently no update on the status of either player.
HOME SWEET HOME
Checkers acquire Philip Samuelsson from Montreal in exchange for Keegan Lowe Read More
Last Week's News
The good news for the Checkers as they continue to press for the final playoff spot is their remaining schedule skews heavily toward home games. Of the 25 games left on their schedule, 16 will be played in Charlotte, where the Checkers have a stellar 15-6-1 record.
Z HEATS UP
After a relatively quiet stretch that saw him tally just three points in eight games, Valentin Zykov came alive over the weekend. The powerful forward netted six points (3g, 3a) over the three contests, lighting the lamp in all three to match the longest goal streak by a Checker this season. With 28 points on the season, good for third on the team, Zykov has doubled his point output from last year's rookie campaign.
POTS ON A ROLL
Continuing his hold on the team scoring lead, Andrew Poturalski has rattled off an impressively solid offensive run over the last handful of games. With four points over the three-game weekend, Poturalski now has the fourth-highest point total by a rookie in franchise history, one shy of Sergey Tolchinsky's 2015-16 campaign and four behind Victor Rask's total. Should he appear in all 76 games, Poturalski is on pace to become just the second rookie in franchise history to reach the 50 points mark, though he would still be slightly behind Zac Dalpe's 57-point effort from 2010-11.
Poturalski is also currently riding a six-game point streak, one shy of the longest by a Checker this season, set by Brock McGinn earlier in the year.
KING LUCAS
It was another game, another goal for Lucas Wallmark Sunday, as he marked his 17th goal of the year 19 seconds into the contest in Milwaukee. The tally gives Wallmark the second-most goals by a rookie in franchise history, with six more to go before he catches Zac Dalpe's 23.
With six points in his last five games, Wallmark has pulled within three of Andrew Poturalski's scoring lead, something the rookie has held since the start of December.
SCORERS STEPPING UP
While the Checkers' top three scorers have done much of the heavy lifting as of late, the team has seen an increase in their scoring depth over the past few games.
While his season has been frustratingly plagued by injury, Andrew Miller has shown his ability as an established producer during the team's most recent stretch. The forward has piled up six points in his last seven games, including a career-best three-point effort Sunday against Milwaukee.
Then there's Andrej Nestrasil, who has been as consistent a force for Charlotte as anyone during his month with the team. The forward has 10 points in 15 games with the Checkers this season and has picked up a helper in each of the last three games.
SHUTTING THEM OUT
By stopping all 32 shots he faced Saturday in Rockford, Alex Nedeljkovic earned the first shutout of his pro career. With Michael Leighton picking up three already, this marks the first time that the Checkers have had at least two different goalies register a shutout in a single season since 2012-13.
Ranks
Michael Leighton ranks 2nd in the AHL in goals-against average (2.17) and tied for 5th in shutouts (3)
Andrew Poturalski ranks fifth among league rookies in scoring (35) and is tied for third in assists (24)
Lucas Wallmark ranks sixth among league rookies in goals (17) and tied for 14th in points (32)
INJURIES
Brendan Woods missed 45 games starting Nov. 2
Sergey Tolchinsky missed nine games starting Jan. 27
Kyle Hagel missed seven games starting Feb. 3
Patrick Dwyer missed three games starting Feb. 17
Michael Leighton missed two games starting Feb. 18
Transactions
Incoming
Feb. 21: (D) Philip Samuelsson traded from Montreal to Carolina
Feb. 18: (G) Daniel Altshuller recalled by Charlotte (AHL)
Feb. 18: (C) Clark Bishop recalled by Charlotte (AHL)
Outgoing
Fe. 21: (D) Keegan Lowe traded from Carolina to Montreal
Feb. 9: (RW) Phil Di Giuseppe recalled by Carolina (NHL)
Coming Up
Friday, Feb. 24 at 7:15 pm - Checkers vs. Cleveland

Go Red For Women presented by Piedmont Natural Gas
Carolina Hockey Night
College Night presented by Hendrick Acura - save on tickets by using your valid college email address! Click here for info.
Family Night - save $45 (40 percent) on groups of four tickets when purchasing online!
Saturday, Feb. 25 at 6 pm - Checkers vs. Cleveland

By the Numbers
| | | | |
| --- | --- | --- | --- |
| CATEGORY | RECORD | AHL RANK | LAST WEEK |
| Power play | 11.5% | 30th | 30th |
| Penalty kill | 80.7% | 20th | 18th |
| Goals per game | 2.51 | 24th | 26th |
| Shots per game | 30.76 | 10th | 10th |
| Goals allowed per game | 2.75 | t-10th | 8th |
| Shots allowed per game | 28.8 | t-7th | 6th |
| Penalty minutes per game | 11.33 | 5th | 5th |
| | |
| --- | --- |
| CATEGORY | LEADER(S) |
| Points | Andrew Poturalski (35), Lucas Wallmark (32), Valentin Zykov (28) |
| Goals | Lucas Wallmark (17), Valentin Zykov (14), Andrew Poturalski (11) |
| Assists | Andrew Poturalski (24), Jake Chelios (18), Lucas Wallmark (15) |
| Power play goals | Valentin Zykov (4), Andrew Poturalski, Phil Di Giuseppe (3) |
| Shorthanded goals | Five tied (1) |
| Game-winning goals | Seven tied (2) |
| Shots on goal | Phil Di Giuseppe (118), Lucas Wallmark (105), Andrew Poturalski, Jake Chelios (103) |
| Penalty minutes | Keegan Lowe, Mitchell Heard (53), Connor Brickley (51) |
| Plus/minus | Haydn Fleury (+9), Matt Tennyson (+7), Dennis Robertson (+6) |
| Wins | Michael Leighton (11) |
| Goals-against average | Michael Leighton (2.17) |
| Save percentage | Michael Leighton (.921) |