Two big road wins amidst a whirlwind of roster changes have the Checker back in the playoff hunt.
They return home this weekend for a pair of critical contests against Pacific Division foes the Ontario Reign.
Week in Review
Team Statistics
Overall record

28-27-4

Home record

18-9-1

Road record

10-18-3

Last week's record

2-0-0

Last 10 games

6-3-1

Division Standings

6th

Conference Standings

11th

League Standings

21st
Checkers 4, Manitoba 3
In the first of their final two matchups across the border, the Checkers used a hot start to stay out in front of the Manitoba Moose. The home team broke the ice less than three minutes in to regulation, but the Checkers would pick up the next three strikes to pull ahead. The Moose would add one more before the back-forth-opening frame ended, but the Checkers would escape the first with a one-goal lead. Danny Kristo would snipe a shorthanded tally early in the second period and, after one more response from the Moose, it would hold up as the game winner. With new addition Tom McCollum's gear not making it to Winnipeg in time, Daniel Altshuller manned the crease and stood tall, making a season-best 35 saves to pick up the win.
Full recap
Checkers 4, Manitoba 1
The next night saw the Checkers jump out to another quick lead, only this time the Moose had no answer. After Lucas Wallmark led things off with a shorthanded strike five minutes into regulation, the Checkers would pile on two more goals courtesy of Connor Brickley and Trevor Carrick to build a 3-0 lead halfway through the first period. Kyle Connor would put the home team on the board in the final minute of the period with a breakaway conversion, but that would be all they could muster. Andrew Miller potted one more in the third for good measure and the Checkers headed back to the states with a weekend sweep of the Moose.
Full recap
Three Stars Of The Week
3rd Star
Connor Brickley
2g, 0a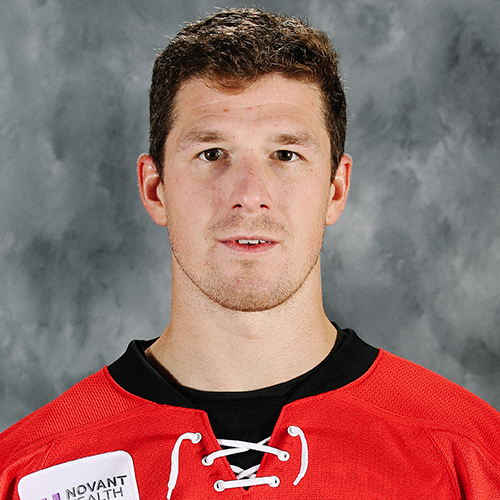 2nd Star
Andrew Miller
1g, 2a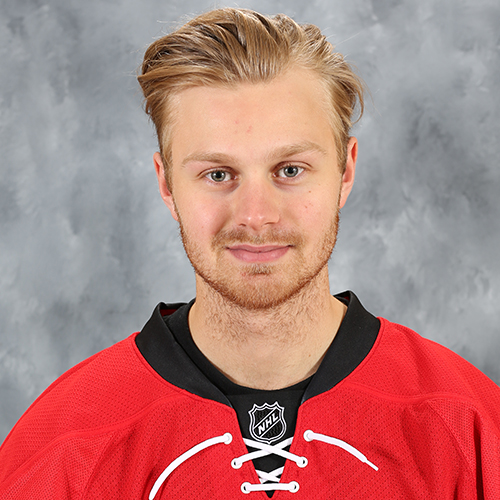 1st Star
Lucas Wallmark
2g, 2a
Notables
PLAYOFF PICTURE
This weekend's sweep of Manitoba puts the Checkers right back into the thick of the playoff race. They currently sit in sixth place, one point behind the fifth-place Cleveland Monsters and six points behind the Iowa Wild, who hold the final playoff spot but have played one more game than both Charlotte and Cleveland.
The Monsters, who are 4-5-1 in their last 10 games, have a busy three-game week coming up, playing at San Antonio Tuesday night before traveling to face the Texas Stars on Friday and Saturday. The Wild have a home-and-home series with the Milwaukee Admirals on Friday and Saturday.
The Checkers will play the Monsters and the Wild both two more times this season, with all four matchups coming later this month.
MCCOLLUM STEPS IN
Acquired at the AHL trade deadline, Tom McCollum joined the Checkers in time for Thursday's contest in Manitoba. Unfortunately, his goalie equipment did not, delaying his debut. McCollum took the ice for the first time with Charlotte the next night and stood tall. The veteran netminder was peppered with 50 shots from the Moose and made 49 stops, the most by a Checkers goalie this season and just shy of the franchise record, to help Charlotte to a 4-1 victory.
Michael Leighton, who has been out since Feb. 17 due to injury, took the ice Monday morning in goalie equipment for the first time since getting hurt, but was only out for a few minutes before practice. While he continues to recover, McCollum will team up with Daniel Althsuller, who picked up a win on Thursday, as the Checkers' goalie tandem.
ROSTER SHUFFLING
Injuries up and down the organization have had an impact on the Checkers lineup as of late. Brock McGinn and Phil Di Giuseppe, the latter of whom is still eligible to return to Charlotte this season, both sustained injuries in the past few weeks, which necessitated the recalls of Patrick Brown and Valentin Zykov to Carolina. Then, in his second NHL game, Zykov got hurt, forcing the Hurricanes to reach back to the Checkers, this time recalling the team's leading goal scorer, Lucas Wallmark. The Checkers would theoretically begin receiving players back once McGinn and Di Giuseppe return from injury, but their status doesn't appear too positive.
The Checkers also lost some players of their own to injury over the weekend. Erik Karlsson exited Friday's win early on after suffering an injury and did not return, and will be "out for a longer time," according to Checkers assistant coach Peter Andersson. Danny Kristo left that same game with an injury and, while he didn't practice with the team Monday morning, has a more positive prognosis for this weekend's series.
"Kristo I think is day-to-day," said Andersson. "We'll see later in the week."
Bryan Bickell rounds out Charlotte's injury report from the weekend, as he exited Thursday's game in Manitoba and missed the next night's rematch. But again, his outlook moving forward is optimistic.
"Yes, Bickell is an option this weekend," said Andersson. "He was practicing today, so he should be fine."
There's no telling what the team's lineup will look like by the time Friday rolls around, but the coaching staff is looking for somebody to step up.
"It's an opportunity to other guys to take over those spots," said Andersson. "They have been playing important roles for us."
WILD STARTS
Hurricanes Recall Lucas Wallmark From Charlotte Read More
Last Week's News
The Checkers have had some rough starts this season.
They have a -25 goal differential in first periods this season, the third-lowest total of any team in any period this season, and have allowed at least two goals in four of their last five contests.
While they have been on the wrong end of a lopsided goal differential this season, though, they have recently started a trend of coming out firing. The Checkers have scored three goals in the first period three times in the last five games, including in both games over the Moose this past weekend. Similarly, they have recorded at least two goals in the first period in seven of their last 14 games.
FRESHMAN PHENOM
With 22 points in his last 24 games, Andrew Poturalski is continuing to establish himself as one of the top rookies in the AHL.
The 23-year-old now has 43 points on the season, which ties him with Tucson's Christian Fischer for second among AHL rookies. The only player ahead of Poturalski remains Daniel O'Regan of the San Jose Barracuda, who has 50 under his belt.
Aside from this year's rookie scoring title, Poturalski has another spot in the record books within his sights. The forward needs 14 points in the final 17 games to match Zac Dalpe's franchise record, set in 2010-11.
MILLER TIME
Andrew Miller's offensive reign since returning from injury continued over the weekend, picking up a pair of goals and an assist in the two games against Manitoba. The forward is now on a red-hot stretch that has seen him rack up 16 over his last 15 games, propelling him to fourth on the team in scoring.
BRICKLEY BREAKS OUT
Hampered by an injury and adjusting to his new team, Connor Brickley had a slow start to his season, recording just seven points through his first 37 games with the Checkers. Since then, however, the forward has caught fire, racking up 10 points in his last 15 games and six in his last seven.
SPECIAL TEAMS SPLIT
As it has for the majority of the season, Charlotte's power play couldn't muster up anything over the weekend, going scoreless on four opportunities against the Moose. The Checkers are now 0-for-25 on the man advantage over the last 10 games, dropping their league-worst power-play percentage to 10.28. The lowest power-play percentage the Checkers have ever finished a season with is 13.7 in 2014-15, and the lowest in AHL history for a full season is 10.36.
On the other side, the Checkers penalty kill took center stage over the weekend, denying the Moose on all six of their man advantages and pumping in a shorthanded tally in each contest. Friday's first-period shorty from Lucas Wallmark was the seventh of the season for Charlotte, tying them for seventh in the AHL.
Ranks
Michael Leighton is tied for 4th in the AHL in goals-against average (2.17) and tied for 6th in shutouts (3)
Andrew Poturalski is tied for second among league rookies in scoring (43) and ranks fifth in assists (28)
Lucas Wallmark is tied for second among league rookies in goals (21), tied for 14th in the AHL overall, ranked 9th among rookies in points (39) and tied for the rookie lead in shorthanded points (3)
INJURIES
Kyle Hagel missed 13 games starting Feb. 3
Patrick Dwyer missed nine games starting Feb. 17
Michael Leighton missed eight games starting Feb. 18
Transactions
Incoming
March 8: (C) Clark Bishop recalled from Florida (ECHL)
March 8: (G) Tom McCollum acquired from Stockton (AHL)
Outgoing
March 12: (C) Lucas Wallmark recalled by Carolina (NHL)
March 8: (RW) Valentin Zykov recalled by Carolina (NHL)
March 8: Mitchell Heard assigned to Florida (ECHL)
March 8: Alex Nedeljkovic assigned to Florida (ECHL)
Coming Up
Friday, March 17 at 7:15 - Checkers vs. Ontario

St. Patrick's Day presented by Harris Teeter and Procter & Gamble
Special ticket package (game ticket, $10 in merchandise and two Bud Lights) for just $25! Purchase by noon on March 16. More info
Pregame party in front of Bojangles' Coliseum beginning at 4 p.m. featuring music, drinks and "The Oinker" food truck from The Improper Pig! More info
Players to wear special green jerseys that will be auctioned off after the game to benefit the Checkers Charitable Foundation
Enter at the game to win a St. Patrick's Day Specialty Jersey, 2017-18 Checkers season tickets and other great prizes
Saturday, March 18 at 6 pm - Checkers vs. Ontario

Golf Night presented by the PGA Championship - get your picture taken with the Wanamaker Trophy!

Golf Equipment Drive benefiting First Tee of Charlotte - donate used clubs, balls and other equipment at the game and receive a free ticket for Sunday, April 9!
Family Night - save $45 (40 percent) on groups of four tickets when purchasing online!
Slap Shot Saturday - stick around after the game and take a shot on goal!
By the Numbers
| | | | |
| --- | --- | --- | --- |
| CATEGORY | RECORD | AHL RANK | LAST WEEK |
| Power play | 10.3% | 30th | 30th |
| Penalty kill | 80.8% | 20th | 24th |
| Goals per game | 2.68 | t-20th | 21st |
| Shots per game | 30.85 | 11th | 11th |
| Goals allowed per game | 2.88 | t-17th | 18th |
| Shots allowed per game | 29.41 | 13th | 9th |
| Penalty minutes per game | 11.07 | 3rd | 4th |
| | |
| --- | --- |
| CATEGORY | LEADER(S) |
| Points | Andrew Poturalski (43), Lucas Wallmark (39), Valentin Zykov (30) |
| Goals | Lucas Wallmark (21), Valentin Zykov, Andrew Poturalski (15) |
| Assists | Andrew Poturalski (28), Jake Chelios (21), Andrew Miller (19) |
| Power play goals | Valentin Zykov (4), Andrew Poturalski, Phil Di Giuseppe (3) |
| Shorthanded goals | Lucas Wallmark (2) |
| Game-winning goals | Connor Brickley (3) |
| Shots on goal | Lucas Wallmark (126), Andrew Poturalski (123), Jake Chelios, Phil Di Giuseppe (118) |
| Penalty minutes | Mitchell Heard, Connor Brickley (53), Kyle Hagel (48) |
| Plus/minus | Haydn Fleury (+8), Matt Tennyson, Lucas Wallmark, Jake Chelios (+7) |
| Wins | Michael Leighton (11) |
| Goals-against average | Michael Leighton (2.17) |
| Save percentage | Michael Leighton (.921) |