It was another home stand, another sweep for the Checkers last week, as they moved to a perfect 4-0-0 at Bojangles' Coliseum after two decisive victories over the Rockford IceHogs.
The team will take their four-game winning streak on the road now, heading into the first of two three-in-three's this season beginning in Iowa Thursday morning.
Week in Review
Team Statistics
Overall record

5-3-0

Home record

4-0-0

Road record

1-3-0

Last week's record

2-0-0

Last 10 games

5-3-0

Division Standings

3rd

Conference Standings

5th

League Standings

9th
Checkers 4, Rockford 0
Michael Leighton got the best of his former team in their first visit to Charlotte this season, blanking the IceHogs for his second consecutive shutout. Brock McGinn broke through first in the tightly contested affair midway through the middle frame and then it was all Checkers. Sergey Tolchinsky doubled the lead with a power-play strike in the third, followed by empty netters by Patrick Dwyer and Lucas Wallmark to seal the 4-0 victory for Charlotte. The Checkers' defense wreaked havoc on the IceHogs, who only registered 17 shots on goal, all of which were stopped by Leighton en route to breaking the franchise shutout streak record.
Full recap
Checkers 2, Rockford 1
It didn't take as long for things to show up on the scoreboard in the following night's rematch, with McGinn again finding the back of the net less than five minutes in to extend his team-best point streak to six games and give the home team a 1-0 lead. The IceHogs would respond late in the frame, however, breaking Leighton's shutout streak and knotting the game up through one period. After a scoreless second, Andrew Miller roofed a shot on a breakaway early in the third period to put the Checkers on top 2-1, a score that would hold up as the final to give the Checkers a four-game winning streak Charlotte's defense again locked Rockford up, holding the visitors to a season-low 14 shots on goal, including just two in the final frame.
Full recap
Three Stars Of The Week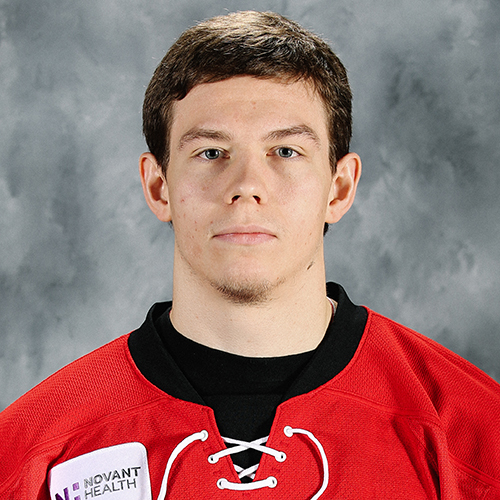 3rd Star
Valentin Zykov- 0g, 2a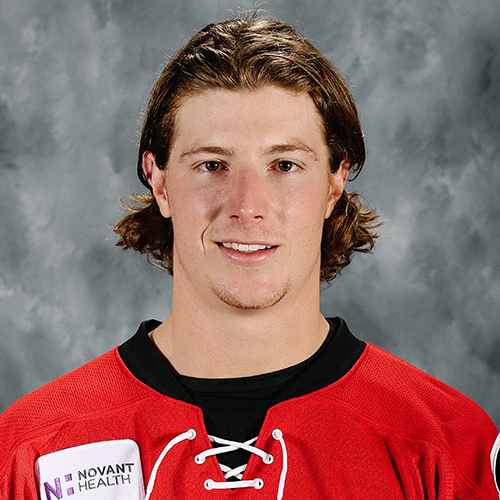 2nd Star
Brock McGinn- 2g, 0a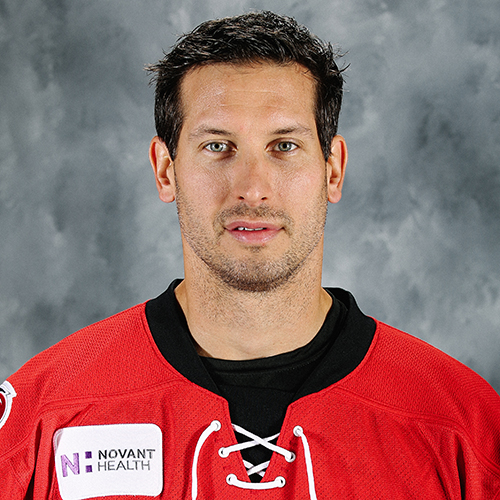 1st Star
Michael Leighton- 2-0-0, 30 saves, 1 SO
Notables
Brick Wall
It's only eight games into the season, but Michael Leighton has already found his way into the Checkers' record book. Already the AHL's all-time shutouts leader, Leighton went 192 minutes and two seconds from Oct. 29 to Nov. 3 without allowing a goal, breaking John Muse's previous franchise record set during the 2013-14 season.
Thursday's win over the IceHogs not only moved the netminder to 5-0-0 on the year, but also moved him past former Checker Drew MacIntyre into sole possession of eight on the AHL's all-time list. His 1.41 goals-against average stands as the lowest among AHL goalies with at least five games played and fourth overall.
What's Up Doc
Derek Ryan continues to scorch his way through the start of the season, with his team-leading point total moving to 11 points in eight games, meaning he has played a part in exactly 50% of all goals scored by the Checkers this season (excluding empty netters). The captain has been held scoreless just twice this season.
Ryan is besting his scoring pace from a season ago when he led the team, as he had seven points through the first eight games of the 2015-16 campaign. He didn't notch his 11th point that year until game number 15.
Brock'ed And Loaded
Curtis Joseph Brings Goalie Expertise To Charlotte Read More
Last Week's News
After going scoreless through the first two contests of the year, Brock McGinn has come alive offensively, running out to a (still active) six-game point streak, the best by a Checker this season and tied for the longest current such streak in the AHL. The third-year forward has had no trouble finding the back of the net as of late as well, piling up four tallies in his last four games.
Val-iant Effort
After missing much of his time with the Checkers last season due to injury, Valentin Zykov has been a strong contributor up front so far this season.
The Russian forward ranks fourth on the team in scoring and tied for second in helpers, as well as riding the team's longest assist streak of the year at three games. Zykov has been a solid fit on the team's top line, where he was inserted next to established scorers in Derek Ryan and Brock McGinn.
"Z is one of those players that I like to play with," said Ryan earlier this season. "He's a big body, he holds the puck down low and he can go in on the forecheck and get the puck back for us."
Home Cooking
The Checkers are 4-0-0 on home ice so far, marking their best home start to a season in franchise history and leaving them as one of just two teams (alongside Toronto) in the AHL who have yet to drop a game at home.
Last season, the Checkers earned six two-game sweeps at Bojangles' Coliseum, but only once earned consecutive regulation wins at home against the same team. They have down that twice already this season.
Goal Lockdown
Charlotte has ridden their recent success up the league's defensive rankings, currently sitting at second in the AHL in terms of goals-against per game. The Checkers have allowed five goals in their last five contests, including just one in their last three.
A big contributor to that has been their ability to stifle opposing offense's chances. The Checkers are averaging 25.13 shots against this season, the second lowest mark in the AHL.
Ranks
Derek Ryan is tied for 11th in the AHL in points (11)
Michael Leighton ranks 3rd in the AHL in goals-against average (1.41), first among goalies with at least five games played and tied for first in shutouts (2)
Andrew Poturalski is tied for fifth among league rookies in goals (4), tied for 11th in points (11) and third in plus/minus (+7)
Trevor Carrick ranks fourth among league defensemen in shots (29)
Injuries
Brendan Woods missed two games starting Nov. 2
Transactions
Incoming
Outgoing
Nov. 2 - Josh Wesley assigned to Florida (ECHL) from Charlotte
Coming Up
Thursday, November 10 at 11:30 a.m. - Checkers at Iowa

Friday, November 11 at 8 p.m. - Checkers at Iowa

Saturday, November 12 at 8 p.m. - Checkers at Rockford

By the Numbers
| | | | |
| --- | --- | --- | --- |
| CATEGORY | RECORD | AHL RANK | LAST WEEK |
| Power play | 12.8% | 24th | 23rd |
| Penalty kill | 89.2% | 3rd | t-6th |
| Goals per game | 3.25 | t-13th | 10th |
| Shots per game | 33.25 | 5th | 2nd |
| Goals allowed per game | 2.25 | 2nd | 12th |
| Shots allowed per game | 25.13 | 2nd | 11th |
| Penalty minutes per game | 12.88 | 12th | t-11th |
| | |
| --- | --- |
| CATEGORY | LEADER(S) |
| Points | Derek Ryan (11), Andrew Poturalski (8), Brock McGinn (7) |
| Goals | Derek Ryan (5), Andrew Poturalski, Brock McGinn (4) |
| Assists | Derek Ryan (6), Four tied (4) |
| Power play goals | Derek Ryan (2), Brock McGinn, Valentin Zykov, Sergey Tolchinsky (1) |
| Shorthanded goals | Patrick Brown, Derek Ryan, Brock McGinn, Patrick Dwyer (1) |
| Game-winning goals | Brock McGinn (2), Andrew Poturalski, Valentin Zykov, Andrew Miller (1) |
| Shots on goal | Brock McGinn (31), Trevor Carrick (29), Derek Ryan (26) |
| Penalty minutes | Mitchell Heard (14), Trevor Carrick (11), Valentin Zykov (10) |
| Plus/minus | Andrew Poturalski (+7), Trevor Carrick, Derek Ryan, Matt Tennyson (+5) |
| Wins | Michael Leighton (5) |
| Goals-against average | Michael Leighton (1.41) |
| Save percentage | Michael Leighton (.938) |