As the Checkers gear up for the final stretch of the regular season, Tuesday brought about some roster shuffling on the back end.
Longtime Checker Keegan Lowe, the third-longest tenured defenseman in franchise history, was traded to the Montreal Canadiens. In return, the Hurricanes received Philip Samuelsson, a sixth-year blue liner who will report directly to Charlotte.
A former second-round pick, Samuelsson has had a bit of a rough go this season with the St. John's IceCaps, recording five points in 40 games, but is just a year removed from racking up 31 points in 56 games with the Springfield Falcons in 2015-16.
With 101 AHL points under his belt, Samuelsson has shown in the past he can be a force in this league, a form the Checkers are hoping he can get back to.
"He's not having his best year due to a number of reasons, but a year ago he was playing at a very high AHL level," said Ulf Samuelsson, who holds the dual role of Checkers head coach and Philip Samuelsson's father. "It's up to us to get him back playing at that level, and if he does, he's going to be a valuable player for us."
Lowe, who was enjoying another strong season on the stat sheet, just two points shy of matching his career high, leaves a fairly substantial hole in the Charlotte blue line, as he had been a consistent presence on the third pairing. Filling that void may end up being more complicated than simply plugging Samuelsson in.
"We have a lot of moving parts on our blue line right now," said Ulf Samuelsson. "[Assistant coach] Peter [Andersson] has a lot of good ideas, so we'll take it a step at a time here and adjust on the fly. But there's a few things we're looking to change and improve on with our group of D."
In doing so, the coach has the luxury of being very familiar with his newest addition.
"It's kind of exciting," said Samuelsson on the prospect of coaching his son. "I did it in the Swedish Elite League with my other son (Henrik, who also plays in the AHL with Bakersfield Condors), so it's something I'm pretty comfortable with. It's probably more stressful on him than me. Hopefully he'll deal with it well."
Philip Samuelsson was not at practice this morning but is expected to be in Charlotte for this weekend's games.
INJURY UPDATES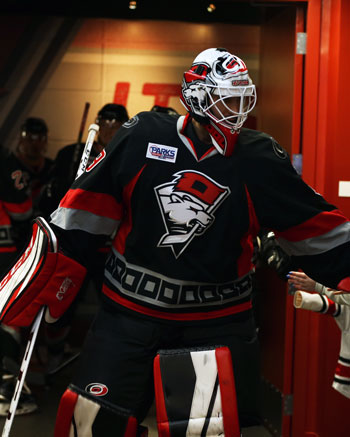 Speaking of players being absent from practice, this morning's skate had some key pieces missing.
Michael Leighton and Patrick Dwyer, both injured last Friday in Milwaukee, were at the rink but did not participate in practice, and their return does not appear to be coming up soon.
"They're both long term," said Samuelsson. "I'm not exactly sure how long, but nothing for this weekend."
The loss of Leighton puts the burden on the young duo of Alex Nedeljkovic and Daniel Altshuller. Nedeljkovic relieved Leighton on Friday and picked up both of the next two starts. It was an up-and-down weekend for the rookie, but the hope is that he can step in and lead the team.
"It's a great opportunity for Ned," said Samuelsson. "He's a quality goaltender. He struggled at the start of the year and then he went to Florida and played and found his game a bit. Then he got hurt. So now it's a matter of him finding his A game again because it's quite an opportunity for him."
That's not to say the starting job is being handed to him, though. While he hasn't made many appearances as of late, Altshuller's play when called upon could force the coaches' hands.
"It's whoever wants it," said Samuelsson. "It's some healthy competition, but both guys have a great opportunity."
Regardless of who it ends up being, Samuelsson would prefer that one of the two netminders takes the job and runs with it as Leighton recovers.
"I think right now it would mostly be one guy," said Samuelsson. "It's late in the year and we need to maximize our point production here in the next month to put ourselves in a position for a playoff stretch. If one of them comes in and plays well, they'll get the majority of the games."
As for the loss of Dwyer, the Checkers could be poised to get a pair of healthy bodies back to balance things out.
"I think Sergey [Tolchinsky] is available for the weekend. Both him and [Brendan] Woods. So that's exciting."
The former was riding a seven-points-in-10-games hot streak when he was injured and forced out for the last nine games, while the latter has been sidelined since October, diligently working his way back from surgery.
Valentin Zykov also did not participate in practice, but Samuelsson called it a minor injury and said the forward "should be available for the weekend."
IMPRESSIONS FROM THE WEEKEND
The Checkers wrapped up their second and final three-in-three of the season over the weekend, going 1-1-1 to take three of a possible six points in Milwaukee and Rockford.
The three-game set featured its fair share of ups and downs, but overall the coaching staff viewed it as a positive performance.
"I thought we played really good, particularly the last two games, we were solid," said Samuelsson. "In the first game we didn't generate enough offense, that's what was lacking there. But I though the defensive side of the game was there the whole weekend."
The two games bookending the series, both against the Admirals, featured the Checkers losing leads and eventually the game (though they salvaged a point in Sunday's overtime loss).
"It's a combination of things," said Samuelsson. "That's a good Admirals team, but we made some uncharacteristic mistakes at crucial times in the game. We really stress that your decisions and ice management depend on the time on the clock and those kind of things. There were a lot of young mistakes."
Overall, the weekend represented one of the toughest stretches remaining on the Checkers' schedule, as the majority of the rest of the games on the slate come in the friendly confines of Bojangles' Coliseum. While the preference obviously would have been to pick up three wins, Charlotte's play continued to push them into the playoff conversation.
"They did really well," said Samuelsson. "Those were the best games we've played being tired. I thought the compete there was good and there was certainly no lack of effort. They dug down deep to try to do their best."