During the season, Checkers broadcaster Jason Shaya checks in each week with his 10 Thoughts - a series of observations about the team and the hockey world in general.
---
1.
The two games this week against Manitoba are must-win games. The Checkers simply can't afford to go on another losing streak. With the Hurricanes poised to miss the post-season, I am sure neither organization wants to go another year with both the NHL and AHL clubs missing the playoffs. The Checkers have to find a way to win despite the absence of their AHL All-Star goalie Michael Leighton.
2.
Speaking of Leighton, he suffered a lower body injury a few weeks ago in Milwaukee and is still not practicing yet. There is no set timetable for his return.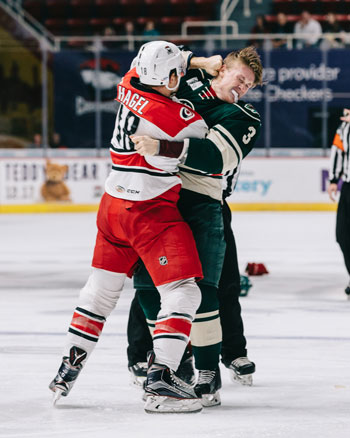 3.
Kyle Hagel has been recovering from an injury sustained in practice about a month ago and is projecting a return some time in April. Recently, his wife gave birth to their first child, a daughter, Liv Portlyn Hagel. From everyone on the staff here at the Department of Thoughts Column, congratulations to the Hagels.
4.
Isn't this usually the part of the season where John Muse comes back to play for Charlotte?
5.
The NHL general managers are gathered to discuss potential rule changes to the game. How about one that Derek Wilkinson has advocated for years: use only three faceoff dots. All of them in the middle of the ice - between the circles in both zones and one at center ice. Also, get rid of the trapezoid. I say this mostly because I am sick of saying "trapezoid" 1,000 times during each broadcast.
6.
Since I started refereeing hockey games, I have become a proponent of moving officials totally off the ice and onto raised platforms above the glass diagonal to each other located just inside the attacking zones. Officials can see the game much better and, best of all, they will never be run over by an old fat beer league player skating with his head down as fast as he can go.
7.
I'd also like to see smaller nets and larger goalie equipment. If people think that is ridiculous, maybe the pucks could be made bigger. I have tons more ideas. If anyone from the NHL is reading this, I am prepared to make a full presentation.
8.
Charlotte is scoreless in 21 man advantages over the last eight games. They hold the league's worst percentage at 10.5. The lowest power-play success rate for a season in AHL history is 10.36.
9.
Goaltender Nick Ellis of Bakersfield has come out of nowhere as an undrafted free agent out of Providence College to make a name for himself in the AHL this year. His performance this weekend against Charlotte was eye-opening. It's obviously very early for the 23 year old, but I would assume he has turned some heads in the Oilers organization, if not another NHL team.
10.
Games on Thursday and Friday are in Central time. Pre-game shows begin at 7:45 EST and 6:45 local time. Join us for the action on Twitter and listen in on the Checkers App.