Icy conditions outside couldn't slow down the Checkers Wednesday night as they stormed back to beat the Bridgeport Sound Tigers 4-3.
Playing in front of an empty arena due to inclement weather, the two clubs traded tallies early in the opening frame, a period that saw the Sound Tigers outshoot Charlotte 14-4. The visitors took a hold of the lead in the middle frame, however, knocking in a pair of goals to build up a solid two-goal advantage through 40 minutes.
Charlotte's rally kicked off early on in the third, when Trevor Carrick put a slap shot through traffic on the power play to cut the lead back to one. The Checkers continued to push on from there with Lucas Wallmark evening the score midway through the frame, then taking advantage of five-on-three power play in the final five minutes of regulation to complete the comeback win.
QUOTES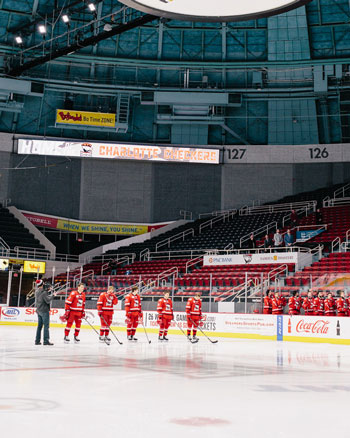 Coach Mike Vellucci on the team's ability to come back in the third period
We were terrible in the first two periods. We weren't into it. I talked to them before the game about how it wasn't going to be an easy game, and after the second period I let them know that I wasn't happy with the way we were playing. To their credit, they came out a lot better in the third.
Vellucci on getting the victory against Bridgeport
We needed it. This is a team we were chasing and had been pretty even with for the last playoff spot. To gain four points against them is like gaining eight points, so it was a big victory for us.
Vellucci on playing a game with no fans
It was a little different, but give (Bridgeport) credit because they came out flying and out-shot us 14-4 in the first period. The game was so important that it doesn't matter how many people in the stands, and I think it just took us a while to realize that the game was that important.
Lucas Wallmark on the comeback
We didn't play well in the first two periods, but in the third we were more as a group, came together and tried to start working out there to see what happens. We got a goal on the power play and after that we took over more and more.
Wallmark on beating Bridgeport twice this week
It was two really important games and wins for us. Because we had a tougher time before those two games, I was a really important four points for us. Hopefully we can keep going and find ways to win here.
Wallmark on playing behind closed doors
It's more fun to play with people out there, but we need to do our best no matter what the situation. It was the first time for me playing that type of game, but it's good to learn from that too.
NOTES
The Checkers trailed Bridgeport in the standings and had lost four straight games heading into this week's meetings. Charlotte is now 3-2-0 in the season series … The Checkers improved to 3-8-0 when trailing after two periods. Their three victories in such situations is tied for most in the league … This was Wallmark's first multi-goal game of the season … Forwards Nicolas Roy and Sergey Tolchinsky missed the game due to injury … Forwards Mike Ferrantino and Nick Schilkey and defenseman Josiah Didier were healthy extras.
UP NEXT
The Checkers' home stand rolls on this weekend as they welcome the Rochester Americans to town for a pair of games starting Saturday.