Facing one of the division's toughest opponents, the Checkers clawed their way to their seventh straight win, setting a new franchise record and furthering their playoff push.
Thirty saves in regulation and two more in the shootout gave Tom McCollum his sixth consecutive win with the Checkers, while Kris Newbury added to his prestigious career with goal in regulation and another in the shootout to send Charlotte to their 23rd home victory of the year, a new franchise record.
The Wolves pushed hard out of the gates and broke the ice early on the first after a bouncing puck in front handcuffed netminder Tom McCollum. The Checkers responded in the middle frame, however, as Kris Newbury turned and wired a puck from the slot to the back of the net, evening the score through 40 minutes of play.
Charlotte kept that momentum rolling into the third period, pulling ahead one Bryan Bickell's first goal as a Checker, a quick wrister off the draw that was initially stopped by Wolves' netminder Jordan Binnington but proceeded to careen up and over him into the net. That lead wouldn't last, though, as the AHL's leading goal scorer Wade Megan redirecting a point shot in the waning moments of the third to send the game to overtime.
The Checkers created some chances during the first half of the extra frame, but a tripping call put them shorthanded for the remainder of the overtime. Fortunately for Charlotte, the penalty killers stepped up to the challenge, keeping the Wolves off the board and further extending the game into a shootout.
The shootout saw McCollum stand tall, turning aside two of the three attempts he faced, while a fancy Sergey Tolchinsky conversion put the game on the stick of Charlotte's third shooter, Newbury. The veteran forward ripped a wrister with no hesitation, beating Binnington and securing the Checkers a 3-2 victory.
QUOTES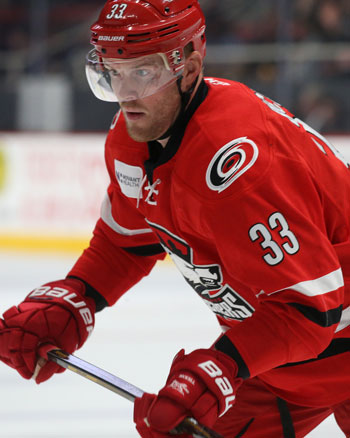 Head coach Ulf Samuelsson on the penalty kill in overtime:
"It was huge. Wallmark played it terrifically. He was out there most of the time and he read their plays and their switches on top. Cheli and Samuelsson had some big blocks there too. They really gave us big momentum going into the shootout."
Samuelsson on allowing the tying goal late:
"It's probably the same painful feeling to go through. It's certainly heartbreaking when you work so hard. It was a tough one, but that happens in this sport and you have to get through it, and we did."
Samuelsson on the key to the winning streak:
"Consistent play our commitment to play for each other. It's a really close group in there and the coaching staff is not the only people pushing players forward – you can hear some internal pressure growing as well. It's a great group of guys to work with."
Bryan Bickell on returning from his injury:
"It was kind of a pain in my butt really – that was my injury. Just joking. To come back and play and then get hurt, I took a couple of steps back, but today I felt really good. I was afraid since the guys were on a six-game winning streak that I'd come in the lineup and we wouldn't win, so we got a big win for the team to get us farther towards the playoffs."
Bickell on getting his first goal of the year:
"I felt pretty comfortable out there tonight and it's always nice to get goals and points. Most important is to do the right things systems-wise and be in the right place at the right time. I was happy to see that one go in, definitely."
Bickell on the key to winning again tomorrow:
"Get some rest tonight, hydrate, get ready for tomorrow and have a good meal. I know 1 o'clock games are tough for players to get going for the young guys who like to sleep in, but hopefully I can spark them and get them going. Coming to play on time is the biggest thing."
Kris Newbury on his shootout move:
"I don't think it used to be when they used to scrape the ice after the third period, but now it's so chopped up after overtime that you don't want to look foolish – you just want to make the goalie make a save rather than try to deke him and have it bounce everywhere. Just get it on net."
Newbury on the key to the winning streak:
"Just staying with it. I think we all believe in this room that if we play to our strengths we're going to have a good chance of winning."
Newbury on his 600th point:
"It means I've been around for a while and I've had a couple of good years and a lot of linemates, teammates and coaches to thank for that. I'm just trying to keep it going. I don't really worry too much about the points right now, but I'm sure after my career is over I'll look back and reminisce a little bit."
NOTES
The Checkers' seventh consecutive victory was a new franchise record, as was their 23rd home victory of the season … Newbury's goal was his 600th professional point and extended his current point streak to four games (2g, 2a). Of his 19 points on the season, 10 have come in his last 14 games. He is 2-for-2 in the shootout this season with two game-winners … Bryan Bickell's goal was his first as a Checker and first since he received his MS diagnosis in the fall. He had missed the last five games due to injury … McCollum remained undefeated as a Checker, improving to 7-0-0 with a 1.63 goals-against average and .945 save percentage … Trevor Carrick's assist gave him sole possession of second place in terms of all-time scoring by a Checkers defenseman, passing Bobby Sanguinetti (87) … The Checkers had lost three straight games against Chicago prior to tonight … The Checkers have won all three of their shootouts this season … Forwards Kyle Hagel, Erik Karlsson and Brendan Woods and goaltender Michael Leighton missed the game due to injury … Forwards Hudson Elynuik, Greger Hanson and Mitchell Heard and defenseman Tyler Ganly were healthy extras.
UP NEXT
The Checkers wrap up their extended home stand tomorrow with an afternoon rematch against the Wolves tomorrow at 1 p.m. for the team's annual Pooch Paw-ty.