Looking for redemption against Bakersfield, the Checkers came up empty, dropping a 7-2 decision to the Condors to wrap up Charlotte's six-game home stand.
Bakersfield was again able to jump out to an early lead, potting a pair of goals within the first seven minutes of regulation. Valentin Zykov would cut that advantage in half midway through the frame with a quick wrister, but the Condors would nab the next two tallies to reestablish their lead. Sergey Tolchinsky gave the Checkers a sign of life heading into the third period with a late breakaway conversion, but Bakersfield again snuffed out their comeback hopes. After a trio of goals in the final frame, the Condors skated away with a lopsided 7-2 victory.
Quotes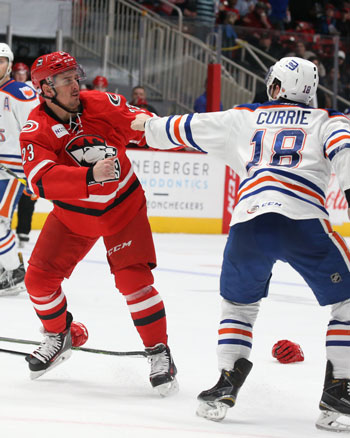 Head coach Ulf Samuelsson on his team's lack of offense:
"Not cashing in on our chances, and they cashed in early and got the energy. We kind of pushed, but we didn't push in a smart way. We took too many chances and they played really well on their rushes."
Samuelsson on the team's goaltending:
"We do have a game plan and we know areas that they need to improve on. They're two young goaltenders that are trying to find their footing in this league. We've just got to go back to work here tomorrow and try to make them better."
Samuelsson on fatigue from a busy last two weeks:
"It's the same for both teams and depends on how your schedule looked heading into it, but it is a very short rest period between Saturday night and the Sunday matinee here. It's part of our business."
Samuelsson on the team's defensive play:
"There are a few things that we did well. We did create a lot of scoring chances but we're not quite connecting on those last, telling plays. Defensively was mostly on the rush over this week where we weren't reacting quick enough. It's not so much effort, because if you're behind one or two strides you can't make it up. You've got to recognize where you are and what position you need to have."
Samuelsson on Sergey Tolchinsky finding the back of the net:
"He's healthy now and he's going to be a valuable player for us. That's always good going down the stretch."
Trevor Carrick on slow starts:
"It was a slow start for us and we've got to come out stronger and have a better first period. Coming out and letting up two or three goals, we're just chasing for the rest of the game and are having trouble getting those goals back. I don't know if we have to prepare better for the game or come out stronger, but I think the starts are killing us right now."
Carrick on fatigue from a busy last two weeks:
"It's a long season and there's no excuses there. Every team has the same schedule and those 6 o'clock to 1 o'clock games get you, but we've got to figure out a way to come out stronger and have a better start. It's a long season and this is when the good teams come to play."
Carrick on the team's takeaways from the weekend:
"I thought the last two games we played solid as a team. Obviously our starts weren't great, but in the third period last night I thought we were all over them and had trouble putting the puck in the net. We carried that on to today's game and I thought it was a better game for us and we still had lots of chances, we just couldn't really bear down."
Notes
Seven goals allowed was a season high for the Checkers … The Checkers have allowed four or more goals in four straight games and in seven of their last nine. The first of that nine-game segment was the game in which Michael Leighton suffered a lower-body injury … Since recording his first professional shutout on Feb. 18, Nedeljkovic has allowed 16 goals on 84 shots over his last four starts (.810 save percentage) … Charlotte has allowed the first goal in four straight games (1-3-0) … Bakersfield won its sixth straight game … Charlotte went 0-3-1 in the season series with the Condors … This was just the third time in 2017 that the Checkers lost consecutive games in regulation. It was the first time since Dec. 20 and 22 that the team lost back-to-back games against the same opponent … Tolchinksy's goal was his first since Jan. 14, with the winger having missed several games due to injury since that time … Philip Samuelsson's two assists marked his first multi-point game since Feb. 13 of last season … The Checkers missed another opportunity to move up to fifth in the Central Division. They trail Cleveland by one point with one more game played … Bakersfield forward Anton Lander has 20 points in 17 career games against Charlotte … The Checkers power play went 0-for-3 and has now gone eight consecutive games without a goal (0-for-22) … Forwards Patrick Dwyer, Kyle Hagel and Mitchell Heard and goaltender Michael Leighton missed the game due to injury … Forward Erik Karlsson and defenseman Tyler Ganly were healthy extras.
Up Next
The Checkers will have a week to regroup before a two-game set in Manitoba starting Thursday night.