Bojangles' Colisuem has become quite the nightmare for opponents this season, as the Checkers downed the IceHogs 2-1 to remain unbeaten on their home ice.
The Checkers got on the board less than five minutes into the game thanks to their hottest scorer, Brock McGinn, who received a cross-ice pass from Valentin Zykov on the rush and fired a wrister to extend his point streak to six games.
They couldn't escape the period with the lead, however, as the IceHogs would pull even with a power-play strike late in the second, sending the teams to the locker rooms tied at one.
Despite out-shooting the visitors 8-5 in the middle frame, the Checkers couldn't pull ahead, as several penalties slowed the game down considerably. But the IceHogs couldn't keep the home team at bay forever, and it was a breakaway snipe from Andrew Miller that would prove to be the game winner, clinching Charlotte's fourth straight victory 2-1.
Michael Leighton saw his franchise-record shutout streak come to an end tonight, but still improved to 5-0-0 on the year. The biggest factor to that, however, was the team's defensive play as a whole.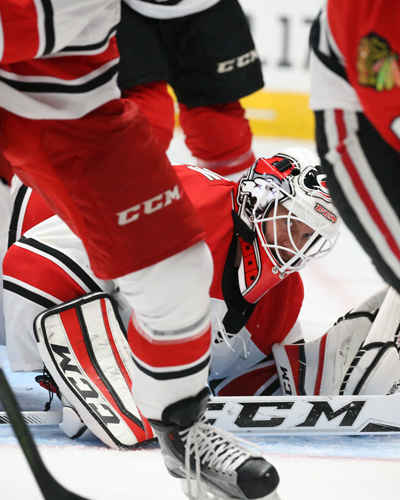 "It's a combination of our D trusting their skating ability and we're getting some good back pressure," said head coach Ulf Samuelsson. "Our forwards are working hard and it's making it hard for the opponent to create anything on the rush. We played well in our own end as well."
"I think it comes from the back end," said Miller. "We've started with some timely saves and some good defensive plays when we needed them. We've also started with a lead in three of the four games, and it's nice to play with the lead."
The Checkers were able to stifle any semblance of an attack from the IceHogs, holding them to 14 shots on goal all night and just two in the final period.
"I think we just try to deflect everything and deflect speed," said Miller. "We want to move our feet and get pucks in areas where it's going to be hard for them to challenge us. We did a good job of clogging up the middle and Leights was able to make some big saves."
Miller's goal was his first of the season, as an offseason injury kept him out of the lineup for the first chunk of the year, and the addition of his offensive prowess has been felt mightily.
"He's a top-end talent for sure on our team," said Samuelsson. "He had a big injury and a lot of time off so it takes a few games for a player to get back to that level. I think he's on good pace to get back to the player he is."
Beating a team two nights in a row is quite the feat in the AHL, so for the Checkers to be able to pull it off twice in one week points to a positive trend for the team.
"I think you've got to have a short-term memory and you've got to recognize that whoever loses the first night is going to get a kick in the (rear) from their coach," said Samuelsson. "You have to be able to match their intensity, and I thought for the most part we did tonight."
After this quick string of games, the Checkers will now enjoy a bit of time off before hitting the road for a set of three games in three days starting Thursday.
The key for that stretch will be balancing work and rest.
"We're going to have a hard workout today and then we're going to lighten up our schedule for a couple days and then try to get back to speed again," said Samuelsson. "We will use this time for a little rest because our schedule for now until Christmas is pretty tough. We're going to need a little break."
Heading into that break with four straight wins under their belts is certainly a positive for the Checkers, who are starting to see things come together.
"I think you need everybody to be pulling on the rope," said Miller. "Everyone's going to be asked to make plays and be in positions they're not normally in. In the AHL, good goaltending and good defensive play gets you a win."
NOTES
The Checkers' 4-0-0 start at home is the best of their seven AHL seasons. Prior to this season, they had started 2-0-0 only once … The franchise record for most consecutive wins at home is five … Toronto (5-0-0) is the only other AHL team with a perfect record at home … McGinn's goal extended his point streak to a career-best six games (4g, 3a). It is the longest streak posted by a Checkers skater this season … Leighton's team record shutout streak ended at 192 minutes and two seconds … Leighton's fifth win of the season allowed him to gain sole possession of eighth on the AHL's all-time wins list (226). He has been in net for all of Charlotte's wins this season … In addition to his 5-0-0 record, Leighton has a 1.41 goals-against average and .938 save percentage … The Checkers allowed their first power-play goal at home this season. They finished the four-game home stand by killing 19 of 20 (95 percent) … The Checkers have scored the game's first goal six of a possible eight times. They are 4-2-0 in those games … Forward Brendan Woods missed the game due to injury … Forwards Kyle Hagel and Mitchell Heard and defenseman Dennis Robertson were healthy extras.