The Checkers' record-breaking string of seven consecutive wins was finally snapped Sunday afternoon, as they dropped their rematch with the Chicago Wolves 3-1 to split the weekend series.
Charlotte's offense couldn't get much going on the night, and when they did create some chances they were shut down by Chicago's rookie netminder Ville Husso, who turned in a stellar performance between the pipes. His counterpart across the ice, Tom McCollum, was similarly strong in net, but the Wolves' high-end scorers found a way to pull out the low-scoring affair.
The Wolves again struck first, breaking through just as a four-on-four situation turned into a power play for them. The visitors continued to press the Checkers from there, doubling up their lead on a slick cross-crease feed to rookie forward Samuel Blais in the second and then tacking on another early in the third to build a commanding three-goal lead.
Charlotte finally broke through in the third period on their fifth man advantage, with Haydn Fleury ripping a slap shot from the point that found the back of the net and cut into the deficit. The Checkers couldn't build any more offense off of that strike, however, even skating with an extra attacker for nearly four minutes, and fell by a final score of 3-1.
QUOTES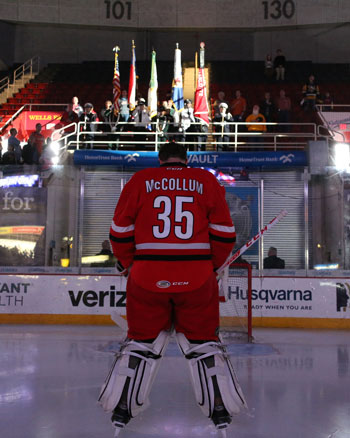 Head coach Ulf Samuelsson on Charlotte's offensive struggles:
"I think we didn't spend enough time in Chicago's zone and I think that started with them playing better in the neutral zone. We couldn't get many entries and we didn't get enough pressure or forecheck well enough."
Samuelsson on fatigue setting in:
"It didn't go our way. We weren't quite as sharp as we'd like to be with our puck execution. I think it's a tight turnaround and there are certainly a lot of tired guys on both sides."
Samuelsson on the quick turnaround:
"It's not too much of a gap because we leave tomorrow. We've got a tough schedule coming up in the next five or six games, so that's a good thing for us because we're playing well."
Trevor Carrick on what was missing today:
"It's hard to win a game when you only score one goal. I thought their goalie played pretty good. We had some good chances but just didn't put the puck in the net tonight."
Carrick on the Wolves:
"They have a really good team with a bunch of experience guys who are really solid defensively. We had it trouble getting it past them at the blue line."
Carrick on moving on from today's game:
"It's going to be a battle right down to the last game. We're fighting for a playoff spot with a couple of other teams and every point counts. We've just got to forget about those losses because we have two huge games coming up against Cleveland. It's just a new mindset tomorrow and we'll try to get back in the win column."
NOTES
The loss ended the Checkers' franchise record, seven-game win streak. It was their first defeat since March 5 … Though the two teams chasing them for the final playoff spot in the Central Division played later in the afternoon, Charlotte will retain its playoff position regardless of that outcome … Tom McCollum suffered his first defeat as a Checker, falling to 7-1-0 in the AHL this season … Charlotte fell to 23-10-1 at home … Fleury's goal was his second in his last three games and gave him five points (2g, 3a) in his last six … Kristo's assist gave him nine points (3g, 6a) in 11 games as a Checker … Forwards Kyle Hagel and Erik Karlsson and goaltender Michael Leighton missed the game due to injury … Forwards Hudson Elynuik, Greger Hanson, Mitchell Heard, Sergey Tolchinsky and Lucas Wallmark and defenseman Tyler Ganly were healthy extras.
UP NEXT
The Checkers are immediately hitting the road, traveling to Cleveland to face the Monsters on Tuesday and Thursday in a battle for the Central Division's final playoff spot.