Despite their best efforts in the latter portion of this particular contest, the Checkers' winless streak hit four games after a 2-1 loss in San Antonio on Saturday.
Valentin Zykov scored the lone goal for the Checkers, who fell behind 2-0 but out-shot the Rampage 25-12 over the game's last two periods, doing everything but score. Michael Leighton made 25 saves for Charlotte but ultimately lost the goaltending duel to San Antonio's Spencer Martin (33 saves), who bested the Checkers for the second consecutive day.
With the loss, Charlotte finishes its five-game road trip with a 2-3-1 record and will now get set to begin a four-game stand at Bojangles' Coliseum, where it is a perfect 4-0-0 on the season, this Tuesday.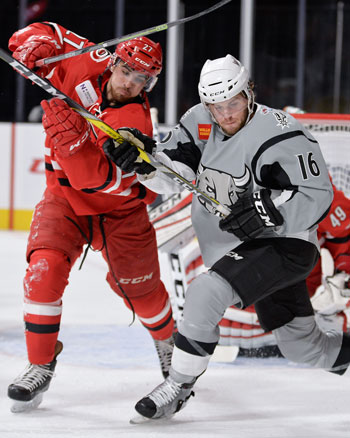 The Checkers had had tied a franchise record with a six-game win streak immediately prior to its current four-game skid. During the current slide, which has coincided with the losses of Derek Ryan, Brock McGinn and Matt Tennyson – three of the team's top five scorers - to NHL recall, the team has scored a total of four goals.
While the visitors were clearly the better team down the stretch, the Rampage led comfortably midway through Saturday's game thanks to a first-period blast by defenseman Sam Jardine and a second-period tally by Rocco Grimaldi that came just as a power play expired.
That said, it was all Charlotte after Zykov's goal near the end of the second period, in which the burly Russian was well-positioned in front of net to redirect Phil Di Giuseppe's quick shot on goal after the latter had collected a turnover along the boards. Zykov is now tied with McGinn, Ryan and rookie Andrew Poturalski for the team lead with five goals.
Taking the momentum from Zykov's goal, Charlotte spent the majority of the third period in the San Antonio zone but was unable to come through with the tying goal, even with Leighton pulled for the extra attacker for the final minutes.
The loss dropped Charlotte's road record to 3-6-1 on the season. Meanwhile, the team will attempt to keep its 100 percent record at home intact with games against the Chicago Wolves on Tuesday and Wednesday and dates against the Iowa Wild on Saturday and Sunday.
NOTES
This was just the fourth time in 14 games that the Checkers did not score the first goal … The game featured just three penalties, all of which occurred during the first period … Checkers forward Patrick Dwyer suffered an injury and did not complete the game … Checkers forward Connor Brickley was stopped on a breakaway for the third time in as many games, this time on a shorthanded effort in the first … Forwards Andrew Miller and Brendan Woods missed the game due to injury … Defenseman Josh Wesley was a healthy extra.