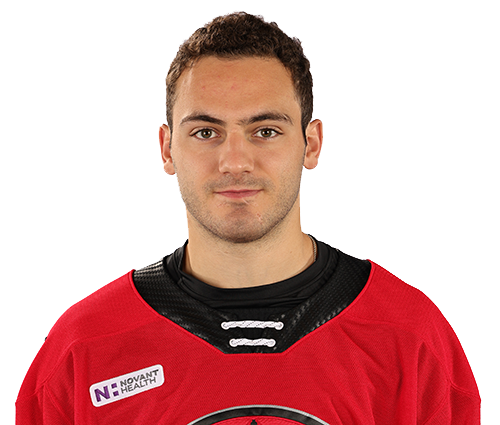 Born: Feb. 28, 2000
Birthplace: North Andover, MA
Shoots: Left
Drafted: CHI 2018 (3rd, 69th)
Signed a one-year AHL contract with Charlotte on 8/17/23
Career Statistics
Regular Season
Playoffs
Season
Team
League
GP
G
A
PTS
PIM
GP
G
A
PTS
PIM
2018-19
Boston University
NCAA
12
0
2
2
0
-
-
-
-
-
2019-20
Boston University
NCAA
33
2
11
13
12
-
-
-
-
-
2020-21
Boston University
NCAA
5
1
1
2
4
-
-
-
-
-
2021-22
Ohio State
NCAA
35
10
18
28
2
-
-
-
-
-
2022-23
Ohio State
NCAA
40
12
27
39
10
-
-
-
-
-
Charlotte
AHL
1
0
2
2
0
1
1
0
1
0

---

AHL TOTALS
1
0
2
2
0
1
1
0
1
0
NHL TOTALS
-
-
-
-
-
-
-
-
-
-
PRO TOTALS
1
0
2
2
0
1
1
0
1
0
2022-23
Signed an AHL contract with Charlotte at the conclusion of his collegiate season and recorded two assists in his professional debut @WBS (4/15) ... Scored in his only playoff game in Game 4 of the second-round series @HER (5/4).
COLLEGE
Spent five seasons at Ohio State and Boston University where he totaled 84 points (25g, 59a) in 125 games ... Ranked second on the Buckeyes in scoring in 2022-23 and third in 2021-22.
JUIOR
Spent two seasons in the USHL with the US National Team Development Program, recording 39 points (11g, 28a) in 51 contests.