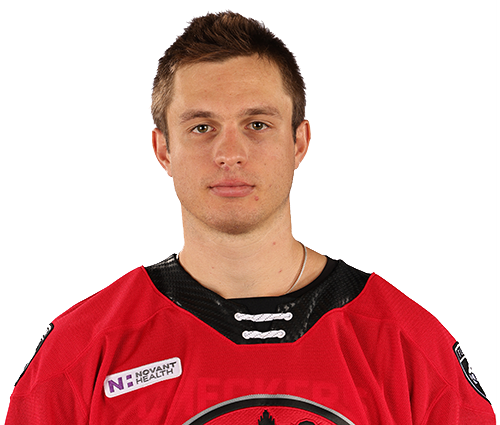 Born: Oct. 13, 1998
Birthplace: San Francisco, CA
Shoots: Left
Drafted: Undrafted
Signed a one-year, two-way contract with Charlotte on 8/8/23
Career Statistics
Regular Season
Playoffs
Season
Team
League
GP
G
A
PTS
PIM
GP
G
A
PTS
PIM
2014-15
USNTDP U-17
USHL
34
9
11
20
12
-
-
-
-
-
2015-16
USNTDP U-18
USHL
18
1
2
3
16
-
-
-
-
-
2016-17
Michigan State
NCAA
35
7
11
18
20
-
-
-
-
-
2017-18
Michigan State
NCAA
36
13
19
32
35
-
-
-
-
-
2018-19
Michigan State
NCAA
36
18
19
37
30
-
-
-
-
-
2019-20
Michigan State
NCAA
36
16
17
33
20
-
-
-
-
-
Hartford
AHL
1
0
0
0
0
-
-
-
-
-
2020-21
Hartford
AHL
22
3
7
10
4
-
-
-
-
-
2021-22
Hartford
AHL
66
10
17
27
39
-
-
-
-
-
2022-23
Hartford
AHL
4
0
0
0
0
-
-
-
-
-

---

AHL TOTALS
93
13
24
37
43
-
-
-
-
-
NHL TOTALS
-
-
-
-
-
-
-
-
-
-
PRO TOTALS
93
13
24
37
43
-
-
-
-
-
2022-23
Limited to just four games with Hartford due to injury.
2021-22
Set AHL career highs in games played (66), goals (10), assists (17), points (27) and penalty minutes (39) in his second professional season with Hartford ... Ranked sixth on the team in scoring.
2020-21
Played 22 games with Hartford in his first professional season ... Scored his first professional goal, which held up as the game winner, at PRO (2/11) ... Recorded his first multi-point game with a pair of goals at BRI (4/13).
2019-20
Upon the conclusion of his collegiate seaosn, made his professional debut with Hartford vs. PRO (3/11).
COLLEGE
Totaled 120 points (54g, 66a) in 143 games over four years at Michigan State … Led the team in scoring with 33 points in 36 games and named to the B1G First All-Star Team in 2019-20.